Accra by area
Get to know Ghana's capital, district by district
---
There are more boxing schools per square mile in Jamestown than anywhere else on earth – and the sport is Accra's citywide obsession...
Osu is the centre of Accra's nightlife scene with dozens of pubs, clubs, restaurants and fast food joints along Oxford Street. The challenge: do them all on one night!
---
Hotels in Accra Central
Backed by palm-studded grounds and a sweeping azure pool, Accra's newest luxury bolthole is certainly living up to its hype. Waiters on roller blades glide across the gleaming patio, supplying fresh snacks and icy drinks to holidaymakers stretched
This four-star family-friendly hotel might lack some of the pizzazz of the beach resorts, but the Novotel's selection of restaurants and facilities provides ample entertainment for holidaymakers of all ages. The walls are covered in local art, as
More hotels in Accra Central
---
Hotels in Airport
This hotel is a cut above what you might have come to expect from the Holiday Inn brand elsewhere in the world, and the cluster of expensive suits usually found milling around in the bar area is an accurate sign of the property's popularity with
If you like your hotels small, cosy and pampering, the Villa Monticello is just for you, not least of all for the excellent spa facilities which are some of the best in Accra.
1A Mankata Avenue Link, Airport Residential
More info
More hotels near the airport
---
Hotels in Labadi
The Labadi Beach Hotel is probably Accra's plushest residence. In keeping with its reputation, its restaurants are also highly renowned, particularly the Akwaaba Restaurant under the keen eye of chef Gary Howard. There are buffet and à la carte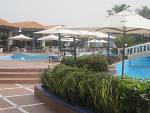 This hotel was once one of the best in Accra, but it is being eclipsed by the new openings: Mövenpick and other improved offerings. With that in mind, it is going through a needed refurbishment process. The rooms have always been good. The 152
More hotels in Labadi
---
Hotels in Osu
This gorgeous boutique hotel is a quiet and stylish escape close to the centre of Osu. Rooms invite relaxation with huge beds and muted tones spanning chocolates and creams, and a modest plant-fringed pool is overlooked by a high terrace perfect for
Price band: 1/4
Critics choice
This tower of self-catering apartments is a comfortable and convenient base in central Accra, just a block from Oxford Street. The standard apartments are acceptable, if a touch basic. It is worth upgrading to a superior room if possible as the
More hotels in Osu
---