Top bars to drink on the cheap
Our guide to quenching your thirst without breaking the bank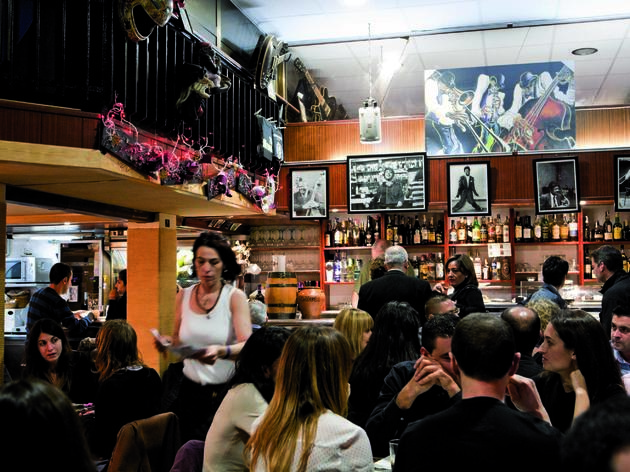 When you find yourself wandering around Barcelona, hankering for a drink yet all you find in your pockets is a bit of lint and the shrapnel that is the copper-coloured coins, don't fret. You can still quench that thirst with our guide to bars where you can drink on a budget.
The Mingus is just as much of a rarity among the tourist bars in the Gothic quarter as the black jazz musician Charles Mingus was, a man who dared to play a white man's instrument back in the day. Compared to all the plastic tapas in the surrounding bars, the Mingus produces tasty meatballs and an amazing ensaladilla rusa. And there's great beer on tap.
Read more
Named for the song by the Sonics, Psycho is a rock and roll bar that ticks all the boxes: red bar and walls, posters of The Who, The Dead Boys and Mystery Train; stickers of Black Flag, Shaft, Route 66, 13th Floor Elevators, Motorhead and Misfits; and a small back room where you can dance and sweat alongside the excellent sound system.Psycho's clientele is varied, but tattoos and the '50s look abound, with an age range from late-20s to early-40s. The big draw is Psycho's proximity to Apollo, and as it's open daily, it's the perfect place for a pre- or post-concert drink. You might even end up rubbing elbows with some of your favourite band members, as has been the case with Neurosis, Deer Tick and Swing Kids, who have all knocked back a drink or two in Psycho.
Read more
Another kitsch bar reminiscent of those in post-Transition Spanish films. The aesthetic code is from another dimension, a jumble of paintings, disturbing objects hanging from the ceiling, graffiti, grotesque figurines, velvet curtains... The décor itself is enough to make the place a World Heritage Site. Piscis is a place where no one will hear your screams, be they of joy or of terror, but mainly because the staticky top 40 radio is turned up so loud and every two minutes Ibiza-type house sounds send cats running for the roof. Piscis is not just a bar. It's a mood.
Read more
Bar 68 is a strange, delightful hole in the wall. Surrounded by Pakistani markets, shady cybercafés, and prostitutes and toothless junkies who come and go, it's not exactly a place where you'd see Carrie Bradshaw ordering cosmos. If I had to label Bar 68's style, it would Raval pop - a general tendency in the barrio to use second- and third-hand furniture for an ambience that's part indie and part John Waters's living room.Of course, a big attraction are the affordable and generous cocktails, among them such classics as tequila sunrise, margarita and old-fashioned - loaded with all the fuel you need for a night out in the Raval. Bar 68 is not for amateurs or the faint-hearted. It's one of those joints where you don't know how you ended up there and can't remember how you got out.
Read more
This epicentre of good beer on tap, the best tapas and superlative rock music closed its doors for a while following persistent complaints from neighbours. But rest easy - Bar Ramon is back, with top-notch soundproofing.The big surprise is that after such a complete refurbishment, everything is the same as it ever was: red walls, spiral staircase, the iconic rocker colors of black and white. Because Bar Ramon is all about rock, though they do veer from that with the the occasional rural blues track.
Read more
La Saltó is a pioneering venue that has helped to turn Poble Sec into one of the liveliest districts in the city. And even though their opening hours are more night-time bar than local shop, neighbours often drop by in the evening to fill up their jugs of wine from the barrels. But the wine is not Bodega Saltó's main attraction. There are not many places as picturesque as this in Barcelona. Renovated by designer Steve Forster in 2002, the bar operates as a small, quirky exhibition with all kinds of weird and wonderful things – antiques, stuffed tigers or dolls drinking from porrones.
Read more
This place grabs you for two reasons - one's right on the sign and the other isn't. The sign reads, 'Specialising in tapas and pintxos'. And special is just what they are. The pintxos are scrumptious and varied, hot and cold, assorted omelettes and croquettes, sausage with caramelised onions, scrambled eggs with ham, and cheese and anchovies ... Wash it all down with a glass of Estrella Galicia for just €1.40, natural cider or quality wine and cava. Taverna Blai Tonight also gets you with their youthful energy: the staff average age is about 25, and the clientele ranges from 20 to 30-something, all lending to the friendly and relaxed atmosphere.
Read more
If you're wandering exhausted along the Ramblas and looking for somewhere to rest your feet, this place is ideal: It's a 120-year-old bar that offers delicious menus, inexpensive beers and a cosy atmosphere.
Read more
Casa de la Pradera is a friendly local gay bar with a varied clientele and a fun, relaxed atmosphere. They serve good beer and a free tapa with every drink. On Friday and Saturday nights they have a DJ, while in the evening there's always a fun, lively atmosphere at the bar.
Read more
Show more