Bill Murray talks FDR, cheese and the meaning of life
The 'Hyde Park on Hudson' and 'Ghostbusters' actor speaks to Time Out
By Tom Huddleston Tue Jan 29 2013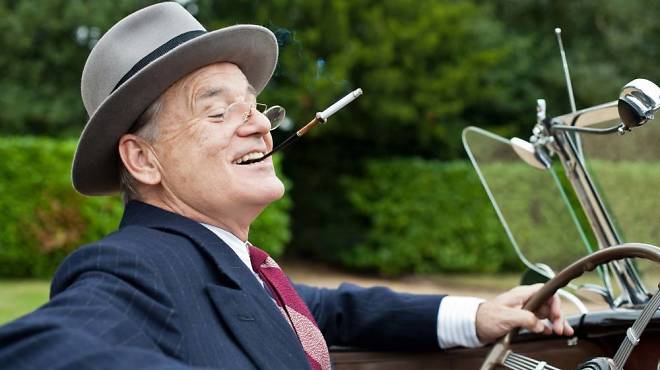 It was at a frenzied, celeb-loaded party following the London Film Festival premiere of 'Fantastic Mr Fox' in 2010 that I first encountered Bill Murray. Tipsy on champagne, I approached him nervously, intent on shaking the hand of this icon of screen cool. 'Bill Murray?' I inquired, as politely as I could. 'Can I ask you a question?' He peered down at me with an expression poised somewhere between annoyance and exhaustion, muttered 'You just have,' and walked away.

'I remember that party,' Murray says darkly. It's two years later. We've met in the plush Lanesborough Hotel to talk about his new film, 'Hyde Park on Hudson', in which he plays the wheelchair-bound US president Franklin Delano Roosevelt. 'It was a zoo. It was like the Korean War. The energy was really weird.'

My hopes begin to rise. But which Bill Murray will I get? The laidback hipster guru who starred in all those classic comedies, like 'Caddyshack', 'Ghostbusters', 'Groundhog Day' and 'Moonrise Kingdom'? Or the prickly loner who loathes publicity and shuns the Hollywood spotlight?

Dressed in a grubby pink sweatshirt, his crazy hair and droopy eyelids implying he's just woken up (it's after midday, but hey, jetlag), Murray slumps into an armchair, orders a cheese platter and eyes the impressive selection of high-end booze. 'You don't see those kind of bottles hanging around your hotel room for very long,' he mumbles, but manages to resist. So far so good.

'Hyde Park on Hudson' marks Murray's first leading role since 'Broken Flowers' in 2005, and while the film - a lighthearted comedy set on the eve of World War II focusing on FDR's complex affair with his distant cousin - has attracted middling reviews, critics have praised Murray's playful performance.

So was part of the reason he took the role the opportunity to explore the messy truth behind such a revered figure? 'I wouldn't have been interested if they'd put the president on a pedestal,' he admits. 'He comes off as real. He's aware that he's not a perfect person. Showing these sorts of flaws can be upsetting to people, especially with an icon like Roosevelt.'
He gives an impish grin, revealing a flash of the industry outsider who dropped his agent and forces movie producers to contact him via a freephone number. 'Everyone loves bursting bubbles,' he continues. 'I've been inside a bubble. It takes something big to puncture it. I wish I could've popped it myself, but it took a collision to pop the bubble.' The specifics of this 'collision' remain a mystery, but given his frequently chaotic personal life – two marriages, six kids and a whole lot of media attention – the possibilities are infinite.
So if he's now free of self-delusion, is Murray's temperamental persona just a distancing technique? 'A moat can be a pretty good thing,' he says, abruptly switching metaphors in midstream. 'It can be lovely. It keeps rodents away from the castle. It can have fish in it. Even fish that talk.'
Sensing I'm slightly lost, Murray explains: 'If you give people access, they take advantage. My phone would ring 75 times in a row. Finally, I would pick it up and say, "Who the hell is this?" "Oh, hi! I'm calling from so-and-so's office…" What kind of person would ever, ever let the phone ring 75 times? And I guess that's when I started thinking: ­I can do without these people.'
It paid off: 'Garfield' aside, Murray's CV is largely unblemished since his turn-of the-century career renaissance. 'I have no plan,' he shrugs. 'I just do the stuff I like. I guess the reason I get asked in the first place is because I didn't really embarrass myself. I've never made any horrible, horrible movies. If you don't ruin your reputation, you can always get work.'
But how does he manage to stay so calm, so downright sane? 'You have to do whatever you can to stay relaxed. There's tension in your brain, in your system, in your emotions. So you have to spread the awareness around to your various parts, then they can connect and go to work. I try to keep it light. Keep it positive. I am basically all about having fun.'
Legends of Murray's goofy off-camera antics are legion, from drunk-driving a golf cart through Stockholm to his notorious tendency to turn up unannounced at random student shindigs. 'I crashed one a week ago in St Andrews,' he admits coolly. Was it a good party? 'All parties are good,' he laughs. 'Parties are only bad when a fight breaks out, when men fight over women or vice versa. Someone takes a fall, an ambulance comes, and the police arrive. If you can avoid those things, pretty much all behaviour is acceptable.'
Then there's his tendency to pop up unexpectedly at public events, like the Steve Cropper and Donald 'Duck' Dunn show he attended at the 229 club in Great Portland Street during filming of 'Hyde Park on Hudson'. He ended up on stage belting out the chorus of 'Soul Man'. 'I've known those guys for years; they were the Blues Brothers Band. And of course they were Otis Redding's band, and the Stax band. Man, they can rock.'
But how did you end up on stage? 'I went to a restaurant I used to go to when I first came to London. The owner remembered me. She said,' – and here Murray switches to a frankly terrible Japanese accent – '"Go see Duck-a-Dunn?" I'm like, "Duckadun?" She says, "Duck-a-Dunn! He in town!" So I ended up stuffing all these crazy Japanese women into a car and rolling up to the gig. Steve and Duck killed it, they were unbelievable. For the encore I went out and banged the tambourine. I went to work the next day and people said, "Bill, were you on stage last night? Weren't you supposed to be learning your lines?"'
The cheese platter arrives. Murray beams and plies me with strong cheddar, and here, at last, is the man I was hoping to meet: the kindly, charming eccentric; the crumpled star of all those beautiful Wes Anderson movies. In 'Rushmore', Murray's sad-eyed magnate Herman Blume asks Jason Schwartzman's plucky young optimist Max Fischer to explain the meaning of life. 'You seem to have it pretty figured out, Max. What's the secret?' Today I fire the question back at him.
He squirms. 'Well, it puts a little pressure on me, to give away the secret.' For a second I worry that he's going to evade the question, but I needn't have. So as a Time Out exclusive, we present the secret to life according to Bill Murray – actor, thinker, party-crasher, legend.
'As I once said to one of my brothers, "This is your life, not a rehearsal." Somewhere there's a score being kept, so you have an obligation to live life as well as you can, be as engaged as you can. The human condition means that we can zone out and forget what the hell we're doing. So the secret is to have a sense of yourself, your real self, your unique self. And not just once in a while, or once a day, but all through the day, the week and life. You know what they say: "Ain't no try, ain't nothing to it but to do it."' He takes a breath and eyes the gouda. 'Here, have some more cheese.'
'Hyde Park on Hudson' opens on Fri Mar 1 2013.
Watch the 'Hyde Park on Hudson' trailer