Locomotion, the newest party at Razz
Actor Eduardo Casanova and DJ Laura Put debut a new monthly night out
By J. M. Sarri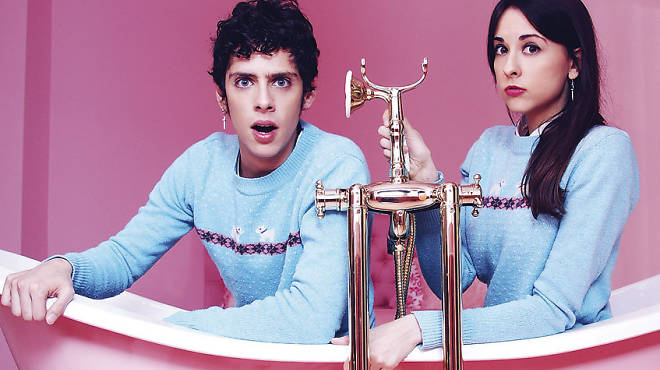 If you've been in Barcelona for a while, you might recognise Eduardo Casanova from his eight-year role as Fidel in the television series 'Aída'. Laura Put is a local DJ and actress, responsible for the SuperVixens event, which, for the last few months, has made its home in Madrid. The two have been friends for years and together they're a fun, energetic pair with a lot of projects on their hands. Their latest is a monthly event called Locomotion every Saturday at Pop Bar Razzmatazz. We got to have a chat with them over Skype, as they laughed, interrupted each other and munched on sunflower seeds.

What will Locomotion be like?
Eduardo Casanova: It's a hits party. We'll play our favourite songs and more. Laura provides her fantastic skills and I bring the fun. We'll play the big idols of the '80s and '90s, current songs that a 15-year-old girl can dance to or a Camilo Sesto tune that would make a 65-year-old woman get up and move.

Laura Put: The aesthetic is also very important. There will be very detailed projections. At the first event we're focusing on the '80s with cine kinki, neon lights and Farrah Fawcett ads.

How did you two meet?
LP: It was at the Shangay Awards in 2005. I'd read an interview with Edu and I saw that we had a lot in common. I approached him and told him that we had to be friends.

EC: In return I asked for a badge she was wearing, with a photo of Ana Rosa Quintana and Alaska. She wouldn't give it to me. I strongly reconsidered having a friendship with a girl who wouldn't even give me a badge. But in the end she gave in. She gave it to me and I gave her my Messenger name.
LP: And we started talking every day.

How would you define the relationship?
EC: With the blessing of our significant others, it's like a marriage. Without sex. We're very similar. With respect to art, we have the same tastes. And a similar view on life. We're like the same person.

LP: When we met, Edu wasn't very well known. He lived in Madrid and I lived in Barcelona, so we couldn't do anything together. But now we live in the same city and we have a lot of ideas. We're going to be flatmates. We'd love to start a music group together.

How would you describe each other?
LP: Edu is creative, dramatic, responsible and fun. A great artist.

EC: Laura is also creative, funny, and she's very cultured. We're quite similar, so we understand each other really well.

LP: Though I'm calmer. I have more patience than he does.

What are your next projects?
EC: I'm continuing with 'Aída'. Though it's becoming clearer to me that my future is writing and directing. I've already done three short films and I'd love to do a full-length one with Laura as the star.
LP: I'm studying at the Central de Cine. When I finish, I'm going to focus on my acting career.
---