Thursdays at Cabaret Berlín
Promotor Javi Zarco takes weekly control with a little help from Los Toros and Electric Gozarela
By Ricard Martín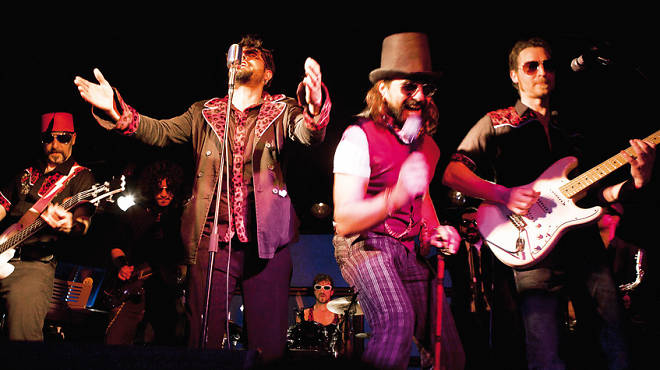 The naïveté of youth and an adventurous, ambitious spirit can get you quite far when it comes to achieving a goal. But sometimes there's nothing like someone who's been around the block a few times and still isn't afraid to roll the dice. And two heads are better than one: Javi Zarco - manager and promoter, who brought Ojos de Brujo into the spotlight - and Sergio Delgado - a long-time promoter currently representing Muchachito Bombo Infierno - have just taken over 'Dijous del Cabaret Berlín'. For a space as mistreated as this nightclub was when it was Bailén 22, Cabaret Berlín is like a breath of fresh air.

Talking of the type who like to take risks, Javi Zarco explains that they're not just reclaiming Cabaret Berlin as a concert venue but every Thursday they'll feature two local bands, which of course is double what you regularly get. 'We didn't come up with it, but it's a risky formula, yeah,' Zarco admits. The goal, he explains, is to bring back the days when bands like Fundación Tony Manero had the whole city's hips shaking.

Two local bands

The Thursday sessions start off at 10.30pm with Los Toros, the spectacular, over-the-top surf-rock band that turns 'Paquito el Chocolatero' into something out of a Tarantino movie soundtrack, and continues with a performance by Electric Gozarela, virtuosos of latin-funk and boogaloo. 'With Los Toros there may not be the same quality of music you get from Electric Gozarela, but they put on a great show: every couple of songs they grab somebody, or do a round of shots with the audience.'

The idea is that early birds who have an important meeting the next morning or babysitters to pay can still get a great night out, and the professional night owls who are used to staying out until the sun comes up, even on a weekday, will always have happy feet.

Zarco insists that their target audience isn't just teeny-boppers who already have a whole city of options. 'We want everyone from to coexist here, whether they're 20 or 60.' And it's quite refreshing just talking to a promoter with a bit more experience - he's realistic and isn't trying to sell you some new club concept or 'the party to end all parties'.

Zarco explains that they've made a few changes to give the club better acoustics. And their main goal, aside from capitalistic ones, is to bring live music back to Cabaret Berlín for good, and also to support quality music and good fun during tough times.

The Thursday team are open to any genre. Local bands and their styles are always changing, but good music and a great night out will always be their house brand. They've also got several DJs scheduled (they'll take over after 1am) and, rather than focusing on celebrities, they sought out skill and knowledge: they started off with master of music journalism and DJ guru Diego A Manrique (who will be coming back) and they've got journalist Luís Troquel as a regular, who they say will make his debut with some 'trans-Atlantic and gypsy surprises'.
---
More live music venues
Best beer bars