The best Berlin hotels
Whether on a budget or ready to splurge, find the perfect place to stay in Berlin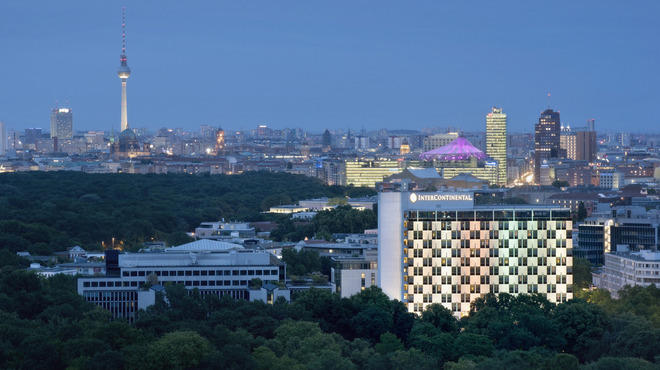 As with much in this city, Berlin is a city of massive contrasts with some of the most luxurious hotels in the world, as well as some of the best and most affordable hostels in Europe.
On the luxury front, the Adlon, Sofitel and the newer Das Stue steal the show, with extremely convenient central locations, though the very fashionable Casa Camper hotel in Hackescher Markt is snapping at their heels. So too is Soho House, which has opened a Berlin outpost in an old Jewish department store, installing a swimming pool on the roof. For a taste of more refined elegance head out to the Schlosshotel Grünewald which is located just outside the city near a large forest nature reserve. At the other end of the scale, there appears to be a new hostel opening up every month, and standards are generally high. There's now a trend for boutique versions, with arty DIY interiors, private rooms and affordable prices, the Michelberger Hotel in Friedrichschain extremely popular with visiting creatives or Generator Mitte, a great base for sightseeing. The tourist boom in Berlin has led to hundreds of new beds opening up but there's also been a huge rise in people renting out rooms over sites like Airbnb, something that's got local residents up in arms about rising prices and rowdy tenants.
---
---
---
Boutique hotels
---
Hostels and B&Bs
Price band: 1/4
Critics choice
More than just a hotel, Propeller Island City Lodge is a work of art. Artist-owner Lars Stroschen has created 32 incredible rooms, each themed, and decorated like jaw-dropping theatre sets. The Flying Room, for example, has tilted walls and floors, and a large bed seemingly suspended in air. The Therapy Room, all in white with soft, furry walls, has adjustable coloured lights to change with your mood. While each room has six channels of piped in music, they also have more functional mod cons such as room service and phones. Reservations can be made via the website, where you can view each room and choose your favourite three.
Albrecht Achilles Strasse 58, 10709
More info
Price band: 1/4
Critics choice
Berlin is full of surprises, and what's hidden in an old vacuum cleaner factory in a northern Neukölln is one of the most unexpected. The Hüttenpalast (literally, Cabin Palace) is a 150 square metre hall that was once the factory floor. Since summer 2011 it's been home to three vintage caravans and three little cabins, each sleeping two people. Set out like a mini indoor campsite, there are separate male and female shower rooms and a tree in the middle. Each morning guests emerge from their boltholes to discover the tree has borne fruit – well, little bags containing croissants. There's fresh coffee on hand and the streetfront café does an à la carte menu for those with particularly grumbling stomachs. Each caravan is different – Kleine Schwester (Little Sister) is decked out with white wood panelling and matching linen; the Herzensbrecher (Heartbreaker) has a domed metal ceiling; the Schwalbennest (Swallow's nest) is big enough to squeeze in a table. The huts, each unique in design and decoration, are perhaps slightly better for anyone prone to claustrophobia but they also have regular rooms available in various sizes. Free WiFi.
Price band: 1/4
Critics choice
Smack bang in the middle of a newly invigorated Schlesische Strasse, this former telephone factory – hence the name – with plenty of period charm, has 50 clean and comfortable no-frills rooms. No kitchen, no TV and no billiards. Just a bed and a locker. But with the café next door for breakfast, and plenty of restaurants, bars and galleries nearby, you don't need much more. It also produces its own solar-powered heating and hot water, and the bed linen is free. Discounts for children.
More hostels and B&Bs
---
Restaurants • Critics' choice