Berlin's 30 best restaurants and cafés
Discover the best places to eat in Germany's capital – from fine dining to munching on Berlin's classic döner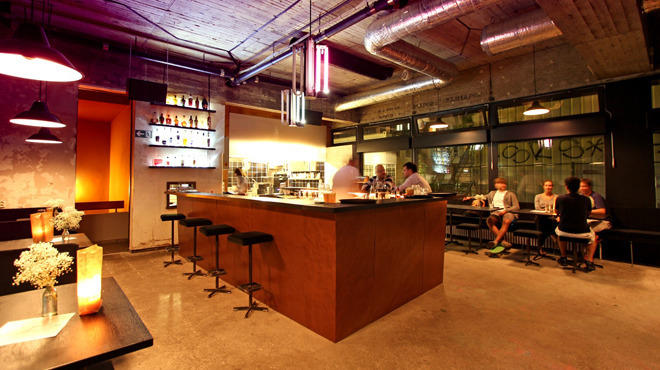 © Frederic Urban
Berlin's dining scene has evolved in leaps and bounds over the past few years, and today, there are a multitude of excellent places jostling for your belly's attention.
Where once, a limp sandwich and dessicated piece of cheese was held by many Berliners to be the epitome of culinary excellence, the city is now buzzing with choice venues, from esoteric food halls and hipsterish pop-ups flogging gourmet street food to grand, Michelin-starred institutions.
Still, for most of us with modest wallets, the Berliner's love of food on-the-go - the city claims to be the birthplace of the glorious Döner kebab - means there's no shortage of fast, hearty and cheap street food options. Attracting many worshippers is the unholy sausage trinity: Currywurst, Bockwurst and Bratwurst, found everywhere from the ubiquitous Imbiss snack-joints to the 'jet-pack'-toting street vendors. But should you feel the need to explore, diversity comes with the flavours of Berlin's ethnic communities that have made the city home over the decades, such as Turkish, Arabic, Vietnamese, Italian and Slavic and eating here can an exciting (or disappointing) experience.
But waves are also being made at the more salubrious end of the scale too, with high-profile openings such as Glass and Les Solistes. With the accrual of a fair share of the coveted Michelin stars, Tim Raue has picked up a second star and Hörvath a first. Contemporary mores for sustainable and locally sourced produce are flourishing too at places like The Store, Richard and Lokal and while home-grown contenders are beating the best of them, the New York Times' food critic recently described his pastrami-on-rye experience at Mitte's Mogg & Melzer as an experience 'only a handful of delis in New York can match'.
The last few years have seen the city's flourishing expat community fuelling the rise of hipster hangouts such as the fiendishly-tempting foodstalls at Kreuzberg's Markthalle and the equally eclectic (and delicious) participants at the fortnightly Bite Club. The latter, a riverside party of DJs, beautiful people and food stalls from around the city (and world) dispensing truly droolworthy offerings - brilliantly demonstrates Berlin's ability to assimilate and reflect its energetic, multi-cultural character.
So, for today's visitor, there is no excuse for huddling fearfully fast-food chains bemoaning tepid wurst - exciting things are happening in Berlin's kitchens and now is the time to explore!
---
---
---
---
---
Users say
It gives a great information to me who's gonna have the first business trip.
I love Sushi For You. We have had a number of deliveries to our home, even we are not being lazy. In fact we have had friends visit and we have had a sushi party a few times. Well worth it!
thanks you so much for this article, but you left out the funniest restaurant in Berlin called Das Klo, the toilet themed bar. I found an article with additional great places in Berlin: http://www.reformatt.com/blog/berlin
Art galleries • Critics' choice