Boston dive bar guide
Bostonians love a classic dive bar. Head for one of our favorites for a laid-back night of cheap drinks in an appealingly bare-bones setting.
By Time Out editors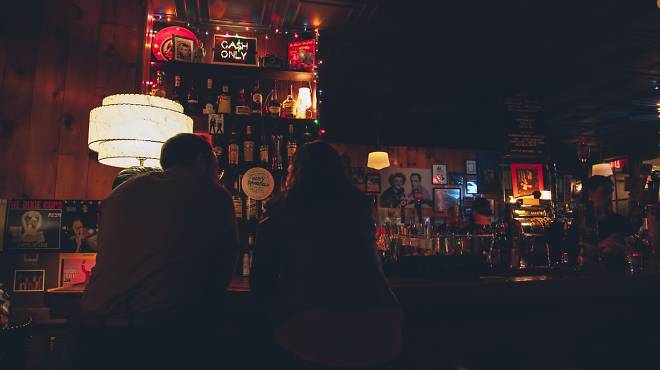 Boston dive bar guide: Delux Café Photograph: Michael Ascanio Peguero

Ask ten Bostonians for the definition of a dive bar and you'll get ten different answers. Dollar drafts? Unsavory locals? Big Buck Hunter? The term "dive" may have its roots in the Wild West, when bar patrons would dive under tables at the first sign of a drawn weapon. You've no need to fear loaded firearms in these neighborhood joints offering cheap drinks and a no-frills atmosphere. Many of the city's Irish pubs and sports bars also fit the description and while dive bars aren't usually associated with craft beer, Bukowski's is a much-loved exception.

RECOMMENDED: See the full list of the best Boston bars
If you don't mind a backdrop of loud rock, the beer selection (more than 100 choices) in this tiny bar is fit for the most advanced of beer geeks. If your taste runs to spirits, go elsewhere. As one employee aptly put it, "it's all about the beer"—but for hopheads, this perch above the Massachusetts Turnpike is heaven in a shoebox.
50 Dalton Street, (at Scotia Street)
More info
Despite the rampant fancifying of everything within a five-mile radius of Harvard, the stalwart Charlie's Kitchen has hardly changed a bit. This place may be known as the double cheeseburger king, but the loud, ready-to-drink crowd of punks, students, professors and local rock luminaries pile into the upstairs bar for the massive glasses of Hoegaarden, cheap eats, snippy waitresses and the best damn jukebox in Cambridge.
10 Eliot Street, (at Winthrop Street)
More info
A wall of record sleeves, graffiti-covered restrooms and a low budget, laid-back feel make this place a favorite with locals, passing bike messengers and people from all over town who appreciate a cheap drink or two. Friendly bartenders and the Cartoon Network on the TV add to the kind of jolly atmosphere that can only be found at a place that keeps a fake Christmas tree on the bar all year long. The Delux, in all its kitschy glory, is a hidden treasure.
100 Chandler Street, (at Clarendon Street)
More info
---
You might also like
---