Twenty Feet from Stardom: movie review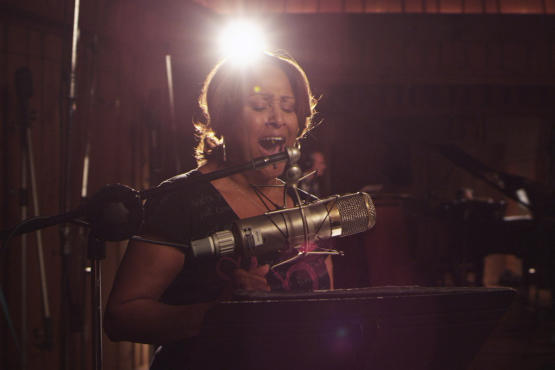 Time Out rating:
<strong>Rating: </strong><span class='lf-avgRating'>4</span>/5
Time Out says
Tue Jun 11 2013
You may not recognize their faces, but you certainly know their voices: They're the ones crooning those dulcet doo-doo-da-doos and sha-la-las, or shrieking about how Armageddon is just a shot awaaaa-ayyy, in your favorite golden oldies. Those game-changing grace notes come courtesy of backup singers, the largely African-American women who stand behind your Mick Jaggers and Stevie Wonders, belting out the bits you end up humming ad infinitum. Morgan Neville's tip of the hat to these ladies fits snugly into a particular subgenre of the rockumentary, in which the music industry's invisibles finally get to step into the spotlight (see also The Wrecking Crew, Standing in the Shadows of Motown). A legend like Darlene Love may now be in the Rock and Roll Hall of Fame and fellow backup all-star Lisa Fischer may have a Grammy to her name, but the sisterhood who have made this an art form mostly remain unsung heroes, as it were, of the hit parade. Their collective bow is long overdue.
Were Neville's film nothing but an attempt to give credit where it's due, the sheer abundance of vocal talent on display would still bring crowds to their feet; Jagger's jokily understated awe for Merry Clayton's showstopping turn on "Gimme Shelter"—"Fucking 'ell, that's good"—easily applies to every featured subject here. Yet the way the movie harmonizes the singers' highs and lows, success stories and stillborn solo careers, ego suppression and contributions to the era's social upheaval that puts this several cuts above your usual belated-victory-lap chronicle. (There's another, deeper movie to be made about the racial-cultural appropriation regarding the use of backup singers, a topic Twenty Feet gingerly touches on, and hopefully someone who isn't a semiotics professor will make it.) Yes, Neville moons and fawns over these songbirds, and that climactic jam is cringeworthy, but he nails the sense of joie de vivre these extraordinary artists put into every note—a tribute to doing it for the love of the expression over stardom that provides incalculable amounts of inspiration.
Follow David Fear on Twitter: @davidlfear
Author: David Fear
Users say
<strong>Rating: </strong><span class='lf-avgRating'>0</span>/5