Art Loop on hiatus
By Lauren Weinberg Mon Mar 11 2013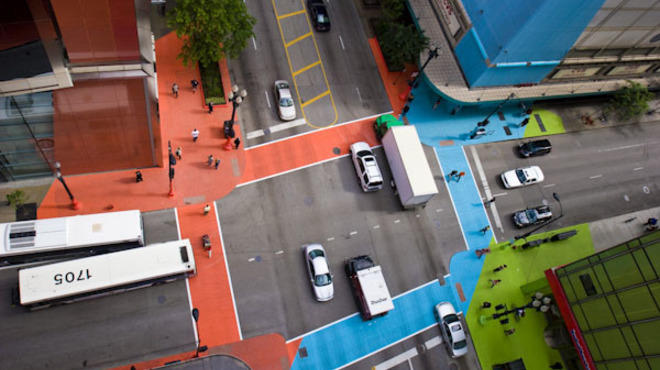 Color Jam Photograph: Courtesy Chicago Loop Alliance
The Chicago Loop Alliance won't commission an outdoor Art Loop project in 2013, CLA executive director Michael Edwards confirmed this afternoon. The CLA's Pop-Up Art Loop program, which brings temporary exhibitions to indoor spaces downtown—mostly vacant storefronts—continues, though Edwards tells me it will operate in only six locations this year, down from 15 in 2012, because many former venues have been rented. Find out why Art Loop is on hiatus after the jump.
By the time Edwards joined the CLA in December 2012, he reminds me, his predecessor Ty Tabing had been gone for almost six months. The CLA's curatorial committee, which helps select the Art Loop artists, has not met, according to member Julie Rodrigues Widholm, an associate curator at the Museum of Contemporary Art. "In July, there was a $350,000 cut to our budget, which impacted lots of our programs," Edwards says, adding, "There maybe wasn't enough money; there certainly wasn't enough time to do a thoughtful [Art Loop] project for this summer."
Though I hope the CLA brings Art Loop back, it's reasonable for the organization to pause and review the program this year. When Art Loop debuted in 2010 with the Tony Tasset sculpture Eye and banner installation Cardinal, I was struck by how daring the public-art initiative was. Tasset's 30-foot-tall eyeball, which sat throughout the summer in Pritzker Park at State and Van Buren Streets, was neither uplifting nor safely abstract: The ambiguous piece unsettled viewers. (Full disclosure: TOC vice president/group publisher Randy Hano is a member of the CLA's board of directors.)
Unfortunately, Art Loop has since struggled to find its way, despite its admirable emphasis on presenting new works by local artists in the most public settings possible. In 2011, an attempt to link Kay Rosen's cerebral, text-based installation GO DO GOOD to a United Way campaign came off as forced and fell short of its charitable goals, as TOC contributor John Greenfield reported that October. While I loved Jessica Stockholder's concept for Color Jam, traffic and gum ravaged her 2012 installation at State and Adams Streets until it bore little resemblance to her cheerful renderings.
When asked whether Art Loop will return, Edwards says, "I don't have an answer for you…but it's something we think is important and certainly worthy of conversation." The CLA has "just started our strategic planning process," he explains. It intends to release a five-year plan this June. "Everything's on the table, everything that we do, more or less," Edwards tells me, so the CLA must determine whether it should support its own arts and culture projects or "channel resources into what other people are doing." But, he concludes, "Arts and culture are what goes on in the Loop. So, I'm sure there will be some piece of the Chicago Loop Alliance that speaks to that."
You might also like
---
Send tips to:
Laura Baginski, Editor (@TimeOutChicago)
See more recent blog posts