Lars Von Trier: the world's most hardcore director?
The Danish filmmaker has taken a vow of media silence, so we got the lowdown on Lars from the cast of his new film, "Nymphomaniac"
By Dave Calhoun Tue Feb 18 2014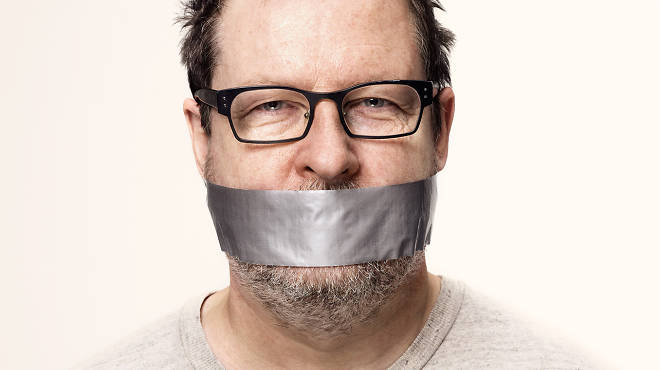 Twenty-two-year-old London-based actress Martin plays the younger version of Joe, a damaged sex addict and the main character of Nymphomaniac.
I was still training as an actress in London when I went for a screen test in Copenhagen. Lars was very quiet. When we started shooting, I made a deal with him: he said that if I ever felt uncomfortable, I had to tell him. You can't show the life of a nymphomaniac without showing sex: my concerns were that we knew the boundaries. I had a nudity contract, I had a porn double. I wore a fake vagina. I wasn't going to have sex: my porn double Cindy was going to do that!
The hardest part was giving a crap blowjob. Not that I give a good one, but Lars was shouting, "Stacy, you have to give him a bad blowjob!" It's a plastic thing they make look real. They were like: "Do you want cherry or blackcurrant gloss on it?" I was thinking: What? It has to look lubricated.
Watching the finished film was very strange. There I am, naked, and it looks like I'm having sex. I'm like: That's my sex face? No!
Watch the 'Nymphomaniac' trailer
Read our "Nymphomaniac" reviews
There's plenty of flesh, although the film is rarely, if ever, what most people would call erotic or pornographic. It's neither deeply serious nor totally insincere; hovering somewhere between the two, it creates its own mesmerising power by floating above specifics of time and place.
Read the full review
Is there any sign here of a chastened Von Trier after the 'I'm a Nazi' scandal? You only have to hear Skarsgård's character musing on how non-active paedophiles 'deserve a medal' to know the answer. He might not have been in control of the edit, but the frank, unflinching and playful two-part 'Nymphomaniac' couldn't have been made by anyone else.
Read the full review
---
The best films now showing
Amy Schumer is a comedy superwoman: Her stand-up is funny as hell, she's a viral sensation, and lately she's become every feminist's girl crush. Now she's the best thing to happen to Hollywood since the Tina Fey/Amy Poehler double act. Schumer's new autobiographical comedy, Trainwreck, about a commitment-phobic NYC writer, is the funniest film of the summer—outrageous and out to make you think. The posters say "from the guy who brought you Bridesmaids" (meaning superproducer Judd Apatow), but Trainwreck is more of a straightforward rom-com, with one big difference: Schumer plays the traditional "man" role. She's hard-partying, promiscuous Amy, a writer for a Maxim-esque rag that publishes articles like "How to talk your girlfriend into a three-way." But when assigned to interview a sports surgeon (Bill Hader, adorable), Amy cracks and gets serious.  Trainwreck isn't perfect. An emotionally weak ending feels like a cop-out. But you can forgive this film a lot. You forget how limited so many movies' ideas of women are until Schumer launches into an extended tampon joke. It's a film about everyday sexism and double standards. Schumer is calling this stuff out, but you only realize this when you stop laughing. Wince-inducing in many ways, Trainwreck has its priorities right.
A reinvigorating reminder of what indie filmmaking can—and should—do, this bracingly brilliant new movie from Starlet writer-director Sean Baker (who co-wrote the script with Chris Bergoch) tells an L.A. story so florid and electric that it feels like a Pedro Almodóvar remake of Crank. Set over the course of a sunbaked Christmas Eve in Southern California, the premise explodes out of the gate: Sin-Dee Rella (Kitana Kiki Rodriguez) is a rambunctious trans prostitute who's just been unleashed from a 28-day stint in prison. Enjoying a celebratory snack at Donut Time with her best friend and colleague Alexandra (Mya Taylor), Sin-Dee learns that her pimp boyfriend, Chester (James Ransone), has been sleeping around. Adding insult to injury, the girl he's been sleeping with has a vagina. And so begins a roaring rampage of revenge. (Sin‑Dee's furious first steps out of the restaurant are appropriately punctuated with blasts of gunfire on the soundtrack.) If Sin-Dee is the boiling blood of Baker's movie, Alexandra is its beating heart. Most of the story is seen through her eyes as she follows the wake of her colead's carnage. A proud fixture of Los Angeles' seediest streets, Alexandra has just started taking the hormones required for her body to catch up with her sense of self, and the vagrant path she cuts across the city palpably conveys the vulnerability of being trans in a world where people cling to their genders for shelter.
Joshua Oppenheimer's 2012 documentary The Act of Killing was a radical, disquieting thing: a bizarre forum for Indonesia's genocidal leaders (still feared nearly 50 years after their anti-Communist purge) to recreate their murders as fantasy skits. Dressing up as gangsters, these happy butchers seemed to really enjoy themselves, and if Oppenheimer never quite challenged them on their self-described heroism, his film ended up being a quiet indictment, trembling in the presence of evil men.The Look of Silence is Oppenheimer's staggering follow-up. It was made roughly in tandem with The Act of Killing (and sourced from the same research) and is the film for those who feel the director didn't go far enough. A superior work of confrontational boldness, it might be the movie Oppenheimer wanted to make in the first place. Again, we sit with the perpetrators, who speak of drinking their victims' blood or knifing hundreds of people down by a river. Shamelessly, a pair of ex-militia men make their way through the reeds and smile for photos at the site.But this time, the provocative presence of Adi, an optician whose older brother was among those killed, makes everyone squirm.