10 Chicago spots to find creative spins on hot dogs
Hot dog stands aren't the only places to get a dog, and Chicago-style isn't the only way to go. Here are 10 spots that offer their own hot dog permutations.
By Alexandra Kukulka Tue Jul 9 2013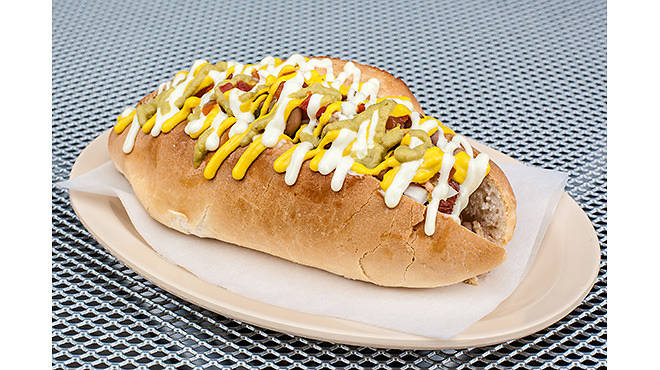 Big Star For a south-of-the-border flavor, try the Sonoran hot dog ($7) at this Wicker Park taco hot spot. First, the chefs wrap a dog in bacon and then deep-fry it. Next, it's topped with onions, tomatoes, lime mayo, yellow mustard, stewed pinto beans and housemade Serrano hot sauce. Then the dog is wrapped in a bolillo bun and served with a squeeze of lime juice.
Brother Tim's Don't eat meat? Then you'll appreciate Brother Tim's Super Link Soy Hotdog ($2.99), a housemade veggie dog on a housemade wheat bun. The dog is topped with mustard, ketchup, relish, onion, tomato and lettuce. If you're feeling saucy, order a meatless chili dog ($3.49). 1711 E 87th St (773-375-4722).

Butch McGuire's Every week, Butch McGuire offers a new hot dog and toppings. Its creations have included a charred hot dog with bacon and coleslaw, a bacon-wrapped hot dog with a pickle and mustard, and a hot dog with blue cheese and buffalo sauce. Or, you can keep it traditional and have a Chicago-style hot dog. All dogs $5.99.

Carnal Swine In spirit of the Chicago Blackhawks winning the Stanley Cup, this delivery-only spot is offering what it calls the Kaner, a hot dog smothered in buffalo sauce and served with blue cheese and celery on the side. Also try the dog topped with poblano and jalapeno peppers, mac and cheese, and onion, or one of the many other options, with toppings ranging from pulled pork to corn. All dogs $5. 1252 1/2 N Damen Ave (773-717-2887).

El Hefe This spot's Mexican twist on a hot dog ($8) is wrapped in bacon, topped with spicy mayo, charro beans, green chili and avocado salsa, and tucked in a bolillo roll. 15 W Hubbard St (312-548-6841).

Fat Tommy's Aside from the traditional Chicago-style hot dog (which you can order as a foot long), Fat Tommy's serves a Cleveland hot dog, topped with barbecue sauce, onion and French fries, and a New Yorker hot dog, topped with brown mustard, onions and sauerkraut. Both dogs $3.75. 3256 W 11th St (773-233-3287).

Greek Corner This Greek BYOB offers a Mediterranean-style hot dog served on a pita bread and topped with lettuce, feta, tomatoes, onions and tzatziki sauce ($3.50). Take your dog (and your bottle of wine) to the cute patio.

Pierrot Gourmet A French restaurant inside the swanky Peninsula Hotel offers a hot dog? Yes, and to throw you for even more of a loop, it's a German-style dog, slathered with Bavarian smoked cheese, mustard, sauerkraut and potato salad ($8).

Revolucion In yet another Mexican spin on a hot dog, this self-proclaimed "Mexican steakhouse" wraps the dog in bacon and adds chili, ancho-mayo, pico de gallo and Chihuahua cheese ($8.99). It's served with fries seasoned with chili and cheese powder. But hurry, these dogs sell out fast and are only served until 3pm.

Timothy O'Toole's Pub This subterranean Gold Coast sports bar takes hot dogs in a completely different direction: breakfast. Its Chicago-style breakfast burrito contains an all-beef hot dog, tomato, onion, shredded cheese and scrambled egg topped with chili and sour cream ($8.99). That will probably hold you for the rest of the day. Served only for brunch on Saturdays and Sundays.
You might also like
---