13 restaurants helmed by Trotter alums
Charlie Trotter's influence as a chef is wide-ranging—alumni of his kitchen have opened these 13 restaurants in Chicago.
By Time Out editors Tue Nov 5 2013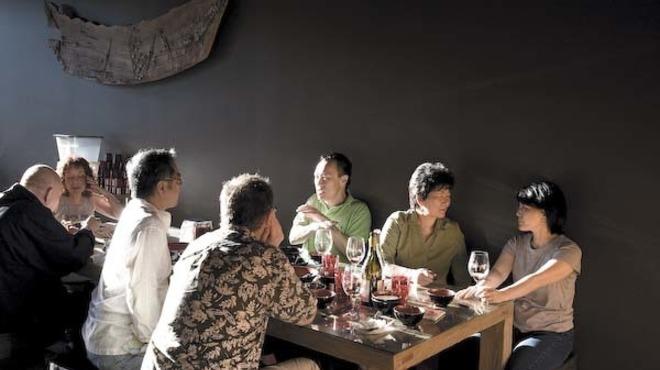 Urban Belly Photograph: Jeremy Bolen
Alinea Gourmet magazine anointed Alinea the No. 1 restaurant in the country. What's all the fuss? Chef/mastermind Grant Achatz serves food the likes of which you've never seen. Sit back and enjoy the show, a well-orchestrated ride that plays with textures, temperatures and notions of "normal" cuisine, while somehow remaining grounded in season, flavor and flawless execution. Past menu stunners have included the black truffle explosion with romaine and parmesan, and the hot potato, cold potato served with black truffle and butter. But you never know what dish will steal the show when you're in the audience. 1723 N Halsted St (312-867-0110). El: Red to North/Clybourn. Dinner (Wed–Sun) Average degustation: $230.
Billy Sunday Who would have guessed longtime Trotter's chef Matthias Merges would find his calling checking IDs at the door of a Logan Square bar? Granted, his is not just any bar: Here, barkeep Alex Bachman combines his penchant for unusual ingredients (a syrup made from maidenhair ferns, say) with an uncanny sense of balance, turning out creations that both pay homage to and defy tradition—often simultaneously. Though Billy Sunday is squarely a bar, the food is a worthy companion to the drinks: Don't miss the banana pudding. 3143 W Logan Blvd (773-661-2485). El: Blue to Logan Square. Daily 5pm–2am Average cocktail: $10.
Grace Curtis Duffy is no stranger to fine dining, and this lush eatery (which Duffy owns with sommelier Michael Muser) traffics in a lot of upscale tropes: textured fabrics, a hushed room and long, multicourse tasting menus. Yet Grace makes a few subtle tweaks to the fine-dining formula. However fussy the food may be, it is plated to appear as if it came from nature. And though much of it leans sweet, it's ultimately balanced and clean. Still, perhaps the biggest achievement is that even with three dessert courses (by pastry chef-to-watch Bobby Schaffer), you don't feel stuffed when you walk out of here. You simply feel satisfied. 652 W Randolph St (312-234-9494). El: Green, Pink to Clinton. Dinner (closed Sun, Mon). Average tasting menu: $185.
graham elliot Just how much you'll love Graham Elliot's eponymous restaurant depends on your tolerance for quirky. Want Whoppers with your peanut-butter brownie and Nilla wafers on peach cobbler? You'll be happy here. Still, even doubters should be silenced with straightforward flavors such as bison skirt steak with baked beans, a root beer–based barbecue sauce and onion rings. Expect frequent menu changes to keep things interesting on the plate and the chef's rock-star friends to keep it interesting in the dining room. 217 W Huron St (312-624-9975). El: Brown, Purple (rush hrs) to Chicago. Bus: 66, 156. Dinner. Average main course: $35.
GT Fish & Oyster Kevin Boehm and Rob Katz—the restaurateurs behind Girl & the Goat—created GT Fish at least in part to raise the profile of chef Giuseppe Tentori. Whether that will happen is unclear (the Trotter alum doesn't have the TV presence of, say, Stephanie Izard), but one thing is for sure: The food coming out from GT would make any cook a star. Sunfish ceviche sparkles with acidity but is never drowned by it, barbecued eel is geniusly paired with a potato-and-octopus salad, and pastas (squid-ink gnocchi; tortellini with crawfish) are nothing short of masterful. Yes, the desserts here are a major fail. And yet as a whole, the place remains a huge success. 531 N Wells St (312-929-3501). El: Red to Grand; Brown, Purple (rush hrs) to Merchandise Mart. Bus: 11, 33, 65, 125. Lunch (Mon–Fri), dinner. Average share plate: $14.
Hot Chocolate Mindy Segal rehabbed her Bucktown restaurant in the spring of 2012, making it sunnier and adding a huge garage door that opens to let in warm weather. Segal—first and foremost a pastry chef—also rehabbed her approach to desserts: Now, the pastry menu consists of a seasonal cake, pudding, pie, etc., and the dessert menu changes weekly. On the savory side, little has changed. The pretzel, the burger, the mac and cheese—breathe easy, it's all still there. 1747 N Damen Ave (773-489-1747). El: Blue to Damen. Brunch (Sat, Sun), lunch (Wed–Fri), dinner (closed Mon). Average main course: $19.
iNG Homaro Cantu's follow-up to Moto traffics, partially, in exciting, genuine food that needs no additional bells and whistles: a simple and light seaweed salad tossed with cubes of otherworldly egg custard; noodles—the result of the noodle-pulling going on in the restaurant's front open kitchen—like a standout bowl of la mian with a soy sauce–marinated soft-boiled quail egg. Unfortunately, Cantu can't resist overshadowing some of his food with conceptual high jinks, distracting from otherwise solid dishes. Some may coo when presented with Wagyu spritzed tableside with Japanese whiskey, or liquid-nitrogen–chilled salmon. But as far as we're concerned, the fewer distractions there are to iNG's food, the better. 951 W Fulton Market (855-834-6464). El: Green, Pink to Clinton. Dinner (closed Sun, Mon). Average tasting menu: $95.
Moto Chef Homaro Cantu has become known through the TV show Future Food for wacky-sounding ideas like ending world hunger with edible paper. But what's going on in the mad scientist's restaurant? It's anybody's guess what the night's tasting menu holds, but past trickery included a play on egg-drop soup in which frozen egg- and microgreen-pellets were dropped tableside into steaming soup, and triple-seared beef was paired with "caramelaserized wine." And yes, a laser was involved in a wine pairing. 945 W Fulton Mkt (312-491-0058). El: Blue to Grand. Bus: 8, 65. Dinner (Tue–Sat). Average degustation: $135.
Next To dine at Grant Achatz's follow-up to Alinea is a rare—and rarefied—opportunity to submit oneself to a very specific vision of what great dining might look like. That vision changes every three months, from French food to Italian food to modern plates that don't even look like food. Usually the experience is more lighthearted and lively than Alinea. But it is in no way less delicious. 953 W Fulton Market St (312-226-0858). El: Green, Pink to Morgan. Dinner (Wed–Sun). Average tasting menu: $205.
Real Kitchen The chefs at this carryout spot come from some of the best restaurants in the world (Charlie Trotter's, El Bulli), and in most of the food it shows. Not that this is necessarily fancy stuff. Perfect strands of housemade pasta are paired with savory bites of braised lamb; salads are concocted out of juicy shreds of roasted chicken and cornbread croutons; and one of the spot's signature desserts—a slice of oatmeal-chocolate cake—is as homey as it is comforting. 1433 W Montrose Ave (773-281-2888). El: Brown to Montrose. Bus: 22, 78. 10:30am–8:30pm (closed Sun). Average main course: $8.
2 Sparrows What happens when two Trotter's alums join forces to open a breakfast-and-lunch spot? Foie gras "pop tarts," that's what. But we found that it's better to play it safe at this collaboration between Gregory Ellis and Steven Fladung, with dishes such as honey-lemon doughnuts, big bowls of Israeli couscous and a soufflelike slice of quiche. The success of these dishes may tempt you to stray to one of the more esoteric items, like the breakfast noodles. But don't do it—the noodles swim in a broth that's boring and bland, and that's not what 2Sparrows is about (if you order right). 553 W Diversey Pkwy (773-234-2320). El: Brown, Purple Breakfast, lunch. Average main course: $12.
Urbanbelly You'd think a dish called the "Urbanbelly Ramen" would be the stand-out item at Bill Kim's (Charlie Trotter's, Le Lan) noodle shop. But as satisfying as that bowl of clove-kissed broth and pork belly is, the best dish here is the rice cakes. The chewy mini Frisbees are topped with a juicy, perfectly fried chicken breast and bits of mango, which help cool the fiery, chili-spiked broth. Like the rich lamb-and-brandy dumplings, it's the kind of dish you'll want to take your time with. But the crowds vying for your seat dictate that you eat your food fast and jet, so savor the food quickly or get it to go. 1400 W Randolph St (773-583-0500). El: Green, Pink to Morgan. Lunch, dinner. Average main course: $12.
Yusho Matthias Merges left his post as Charlie Trotter's executive chef to open this casual, late-night yakitori-and-cocktails joint. The room has an energetic design that makes you want to drink, which isn't a problem with cocktails this superb. Still, save some room for the Japanese-inspired food: juicy chicken wings, thinly sliced beef tongue, sumptuous tofu, beautiful mushrooms topped with a poached egg. Dishes rotate, but never disappoint. 2853 N Kedzie Ave (773-904-8558). El: Blue to Logan Square. Lunch (Sun), dinner (Closed Tue). Average small plate: $8.
You might also like
---