Chicago chefs share rhubarb recipes
At last, there is local rhubarb! And with two very different recipes, you have no excuse not to be eating it for breakfast, lunch, dinner and dessert.
By Time Out editors Wed May 11 2011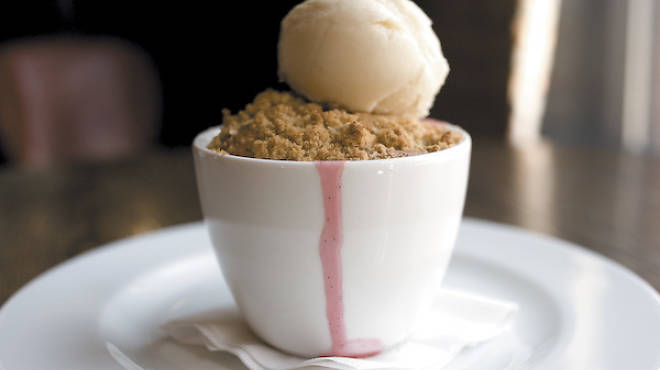 Rustic rhubarb buckle created for Time Out by Mathew Rice at Nightwood Photo: Martha Williams
Mathew Rice says this buckle—a rhubarb cake topped with a little crumble—got him his new gig at Nightwood (2119 S Halsted St, 312-526-3385). He makes it at the restaurant in individual ramekins, but it's easily adapted into a family-style dessert (served with ice cream, of course). It's not especially sweet, making it great for breakfast the next day, too.
Rustic rhubarb buckle
Filling
3 pounds rhubarb, cut into half-inch chunks (about 8 cups)
1 cup sugar
2 tbsp freshly squeezed lemon juice
2 ½ tbsp cornstarch, dissolved in 2 ½ tbsp water
1 vanilla bean, split and seeds scraped
Crumb topping
½ cup lightly packed light brown sugar
½ cup all-purpose flour
4 tbsp chopped oats
Pinch of salt
4 tbsp unsalted butter, cubed and chilled
Cake
2 cups all-purpose flour
¼ cup whole wheat flour
1 tbsp baking powder
¾ tsp salt
1 stick unsalted butter, softened
1 ¼ cups sugar
3 large eggs
1 ½ tsp pure vanilla extract
1 tbsp honey
¾ cup buttermilk
1. Preheat the oven to 350 degrees. Make the filling: In a large bowl, toss the rhubarb with the sugar, lemon juice, cornstarch slurry and vanilla seeds. Let it macerate for about 30 minutes.
2. Make the crumb topping: In a medium bowl, mix all of the ingredients with your fingers until combined. Refrigerate until needed.
3. Make the cake: In a medium bowl, whisk the flours with the baking powder and salt. In a large bowl, using an electric mixer, beat the butter with the sugar at medium-high speed until light and fluffy, about three minutes. Add the eggs, one at a time, beating well between additions. Beat in the vanilla extract and honey. Scrape down the sides of the bowl. Add the dry ingredients to the batter in three additions, alternating with the buttermilk.
4. Assemble the buckle: Pour the fruit filling into a 9-by-13-inch glass or ceramic baking dish. Spoon the batter over the fruit filling, spreading it to the edge. Sprinkle with the crumb topping. Bake in the center of the oven for about one hour, until the filling is bubbling and the crumb topping is golden.
Serves 12.
You might also like
---