Father's Day dining in Chicago: Where to eat with Dad
Check out our guide to burgers, beer, barbecue and other ways to treat your dad on Sunday, June 16. (Bonus: Many restaurants are offering gifts for fathers).
By Julia Kramer Mon Jun 10 2013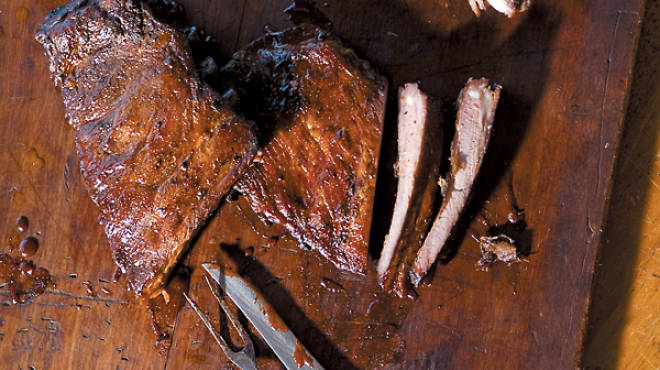 Food stylist Kim Loughlin; Prop stylist Sage Reed; Photo Assistants: Chandler West, Nick Foli, Tim Burkhart, Molly Raskin, Layton Ehmke, Stephanie Anderson
Fathers' Day is a great day to celebrate gender normativity. Begin by perusing these restaurant specials:
Chicago Cut Steakhouse
What's better than a steak? A steak that comes with a gift bag for dad, with items from Whole Foods Market, Haberdash and more, for the first 75 reservations made. For reservations: 312-329-1800.
Chicago Q
For dads who love 'cue, this Gold Coast spot offers a buffet with a carving station. Bloody Mary bar and bourbon specials (not included in price), too. $34; children $15. 11am–4pm. For reservations: 312-642-1160.
David Burke's Primehouse
How do you make Fathers' Day last two days? Go to David Burke's, where dads will receive a complimentary "to-go" lunch bag (including a steak sandwich, pasta salad and peanut-butter brownie) for the next day. For reservations: 312-660-6000.
deca
The Ritz-Carlton celebrates dads with a brunch buffet of beef, bourbon and beer. 11:30am–3:30pm. $79. For reservations: 312-573-5160.
Frontier
Three words: porchetta carving station. We're sure there will be other carnivorous things on Brian Jupiter's brunch buffet, too. June 16; 10am–3pm. $25. For reservations: 312-869-4803 or emily@pioneertaverngroup.
Hash House A Go Go
If you like enormous portions and plates of food stabbed with enormous knives, check out Hash House A Go Go, where June 16 specials include "Felix's 'Front of the TV Meal,'" a 14-ounce steak with sides. For reservations: 312-202-0994.
IPO
The restaurant in the W Chicago City Center is launching brunch (fried-egg sandwich, pesto–egg white breakfast burrito, chilaquiles), and to celebrate, dads will get a free "Monkey Bun" during the weekend of June 15–16. For reservations: 312-917-5604.
The Lobby at the Peninsula
If you haven't been to the new Lobby at the Peninsula, what are you waiting for? The buffet includes housemade brisket, hand-rolled cavatelli, a Peking duck carving station, dim sum, artisanal sausages and more. 11am–2pm. $105; $40 children under 12. For reservations: 312-573-6760.
Lottie's Pub
Stop by this Bucktown pub with pop to watch the U.S. Open and sample beers from Descutes, Greenbush and Ballast Point (for free). The kids' menu will be half-off, too. 2pm.
Magnolia Bakery
June 15 and 16, this New York import is offering cupcake "tool kits": a dozen vanilla and chocolate cupcakes "adorned with our favorite handy edible tools." $3.25 each; $24 for the "kit." To order: 312-346-7777.
Michael Jordan's Steak House
Get in early: The first 23 dads who order MJ's favorite, the Delmonico steak, will received an engraved steak knife. Lunch, dinner. For reservations: 312-321-8832.
mk
Michael Kornick's new barbecue spot, County, is opening on Taylor Street soon. Gear up with a meal at Kornick's flagship restaurant, where dads will receive a bottle of County barbecue sauce and a $15 gift card to the barbecue spot. For reservations: 312-482-9179.
Pasteur
Dads get complimentary Bloody Marys and a recipe booklet of Vietnamese grilling recipes at this Edgewater restaurant. But will dads get a seat on the enclosed backyard patio? That remains to be seen. Lunch, dinner. For reservations: 773-728-4800.
Prairie Grass Cafe
This Northbrook spot caters to suburban dads with a brunch buffet featuring made-to-order omelettes, carved New York strip steak, a crêpe station and fresh strawberry-cream pie. $45 adults, $15 children under 10. For reservations: 847-205-4433.
Rockit Bar & Grill
Of all the made-up restaurant words, manmosa is one of the hardest for us to type, let alone speak aloud. If you're "man" enough, order one ($5) at Rockit's Fathers' Day brunch, which also features 14-ounce ribeyes ($24) and $5 Tecate micheladas. For reservations: 312-645-6000.
Shaw's Crab House
You get: a buffet with omelettes, waffles, Alaskan King crab lefts, carved beef tenderloi and lobster bisque. Dad gets: all that, and a $25 gift certificate to Shaw's for a future visit. $65; kids 12 and under free (limit two children per adult). For reservations: 312-527-2722.
Taco Joint
Dad doesn't want to cook. Dad doesn't want to go to a restaurant. It would seem Dad would be out of options, if not for Taco Joint's "taco boxes," DIY taco sets including handmade tortillas, choice of meat (barbacoa, cochnita, al pastor, tinga or rajas), salsa, garnishes, chips and salsa. $30 for 12 tacos; $55 for 24 tacos. Order 24 hours in advance at either Taco Joint River North (312-337-8226) or Taco Joint Lincoln Park (312-951-2457).
You might also like
---