Mother's Day in Chicago | Where to brunch
Mother's Day is rapidly approaching; here's where to dine with mom.
By Time Out editors Fri May 3 2013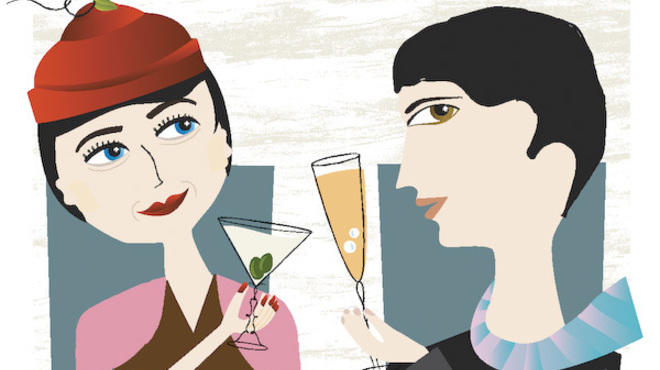 Mother's Day brunch spots Illustration: Karen Greenberg
Mother's Day is a time for eggs Benedict, french toast and mimosas. Lots and lots of mimosas. Here are our picks for where to take mom on Sunday, May 12.
Acadia
The concept: three-course prix fixe brunch (11am–2pm)
The options: "Duck ham in hay," buckwheat pancakes with Maine blueberries, the TOC-recommended "Acadia burger" and more
The bill: $35/person
Balsan
The concept: luxurious brunch buffet
The options: maple-bacon doughnuts, egg custard with salmon roe, white asparagus soup with truffle foam, an extensive raw bar, charcuterie, cheese, salads, a carving station and paris brest for dessert
The bill: $125/adult, $55/child
Club Lucky
The concept: Italian-American all-you-can-eat brunch buffet (10am–3pm)
The options: chicken marsala, fried calamari with cocktail sauce, applewood-smoked bacon and more
The bill: $27.95/adult, $15.95/kids ages 6–12, complimentary for kids under 5

Deca at the Ritz Carlton
The concept: all-you-can-handle brunch buffet (10:30am–3:30pm)
The options: In a word, everything. But we'd start with fresh seafood and end with beignets.
The bill: $135/adults, $45/kids ages 5–12

David Burke's Primehouse
The concept: three-course prix-fixe brunch of Primehouse classics (11am–3pm)
The options: French toast "cupcakes," filet mignon, cheesecake lollipops and more
The bill: $38/person, $20/kids 13 and under, complimentary for kids 5 and under
Moms get: bottomless mimosas for $10
Embeya
The concept: three-course Vietnamese-influenced prix-fixe brunch (11am–3pm)
The options: There are many, but what you want is the ribs with tamarind, roasted garlic and hoison.
The bill: $38/person
North Pond
The concept: super-seasonal three-course prix-fixe brunch (10am–5pm)
The options: Think along the lines of prosciutto consommé with ricotta–wild ramp ravioli, spring vegetables, green almonds, quail egg and olives.
The bill: $75/person
Pasteur
The concept: à la carte Vietnamese brunch (11am–3pm)
The options: We'd go for a seat on the backyard patio (if the weather holds up) and dau hu xao sa-te (crispy fried tofu).
The bill: Lunch entrées average $12 and come with the soup of the day, vegetable egg roll or steamed dumplings.
Moms get: a complimentary mimosa and a Vietnamese recipe booklet with the owner's family recipes
Takashi
The concept: a 10-course tasting menu dinner in honor of chef Takashi Yagihashi's 85-year-old mother (5:30–9:30pm)
The options: Japanese-ish dishes like "Age-Mono Bad Hair Day of Prawn, Kani Croquette, Age-Chicken-Shumai"
The bill: $100/person, with an optional $60/person wine pairing
Moms get: take-home macarons
Tesori
The concept: à la carte brunch
The options: brunch specials like apple ricotta–stuffed brioche with wild-berry sauce, maple syrup and chantilly cream
The bill: average brunch special $16
Moms get: a complimentary mimosa flight (one with St. Germain and hibiscus syrup, another with blueberry juice and the last with passion-fruit juice)
You might also like
---