The best things we drank at the Indie Spirits Expo
By Amy Cavanaugh Thu Sep 26 2013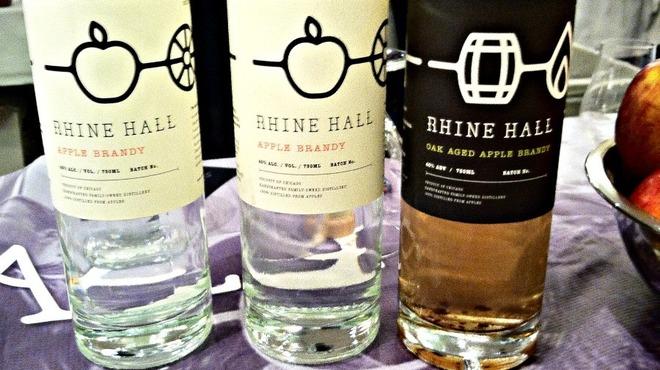 Rhine Hall debuted its apple brandy last night at the Independent Spirits Expo. Credit: Amy Cavanaugh
Big, boozy tasting events like the Indie Spirits Expo (or Tales of the Cocktail) can be totally overwhelming, since there are hundreds of spirits to try. Last night we put our livers on the line to sample as many bottles as possible and suss out the best new things you'll be drinking this fall. From new Chicago-made brandy to some funky Jamaican rums, here's what to look out for in stores and on drink lists.
Apple brandy from Rhine Hall
Rhine Hall opens its doors this weekend (2010 W Fulton St F-104F) for the first time as part of Craft Spirits Week and we got a little preview of what to expect last night. They're starting with apple brandy, an oak-aged apple brandy that "needs a little more aging time" and an grappa that wasn't ready yet either. But if the apple brandy is any indication, we're in for a treat. It has lots of great apple flavor and is a pretty ideal spirit for fall. The brandy will be available at the distillery as well as in bars around the city.
Hamilton Jamaican Pot Still Gold Rum
Ed Hamilton only lives in Chicago part-time, as the rest of the time he's sailing around the Caribbean drinking great rums. Seriously. Now the guy behind the Ministry of Rum is bottling his own rums from Jamaica and St. Lucia and they're going to be available in Chicago next week, at places like Three Dots and a Dash. Our favorite was the Jamaican Pot Still Gold, which is really funky and fun. It tastes almost salty and umami, and we can't wait to see what people do with it.
New Zealand Single Malt Whiskey from Journeyman Distillery
One of our rules at big tasting events is that we can't have anything we've had before. So when we visited Journeyman, we skipped the Ravenswood Rye (already love it) and the Bilberry Black Hearts Gin (ditto) to try out a New Zealand single malt that the distillery imported. They didn't make it themselves, but the whiskey is so good that now Journeyman has decided to release other one-off bottlings that they bring in from other distilleries. The New Zealand whiskey was distilled in Willowbank Distillery on the South Island and it was aged for six years in American oak then finished for four years in French oak from New Zealand red-wine barrels. It's a smooth and easy-drinking whiskey.
Mezcal Alipus Mezcalero #6
Ever since we discovered super smoky mezcals, we stopped drinking tequila. The richer, more complex spirit is made with roasted agave and unlike tequila, all mezcals are made from small, independent producers. Last night we tried some Alipus mezcals but were more into the Alipus Mezcalero line, which are numbered 1 through 7. They're each made with a mix of different wild agave varietals. There are only 816 bottles of the #6, which features three types of agave. It's very earthy, with notes of tropical fruit and mezcal's signature smoke.
Balcones Texas Single Malt Whiskey
We'd been hearing about this whiskey for awhile but didn't get to try it till last night. And oh, was it worth the wait. It's rich and buttery, with notes of burnt sugar, toasted bread and honey. Get this wherever you can find it.
You might also like
---
Send tips to:
Laura Baginski, Editor (@TimeOutChicago)
See more recent blog posts