Tony Mantuano's Harlem Avenue favorites
A fine-dining Italian chef steps out of his glass castle to gather fuel on Harlem Avenue.
By Heather Shouse Wed Jun 4 2008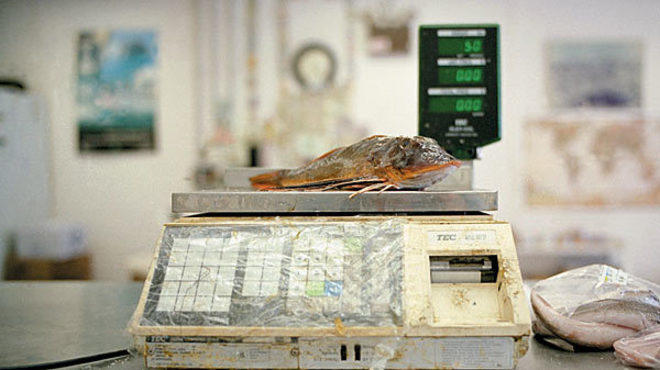 FISH OUT OF WATER Fresh catches abound at Mercato del Pesce. Photograph: Tim Klein
"Where else are you going to find this kind of cheese?" Tony Mantuano asks no one in particular as he holds up a fat, straw-yellow wedge plucked from a case at Caputo's Cheese Market (1931 N 15th Ave, Melrose Park, 708-450-0469). When a guy like Mantuano gets excited about cheese, you know it's good stuff. As chef-partner of Mag Mile gem Spiaggia, Mantuano personally oversaw the addition of a "cheese cave," or climate-controlled display case, and remains intent on schooling fine-diners on top-notch Italian products.
"Nowhere, that's where," he continues, answering his own question, cheese still aloft. "Vacche rose, or red cow, from Parmigiano-Reggiano will break the bank. So Caputo found this red-cow cheese produced in Latvia. It's $4.49 a pound, and it's delicious."
Though the cheese market is a hefty detour west from the Italian enclave of Harlem Avenue, it's always the first stop Mantuano makes when coming to the area. "Hey, where's your dad?" he asks Natale Caputo, son of the market's founder, Pasquale. "Where else? In Italy," Caputo replies. The cheesemonger and chef stroll the store and Mantuano picks up his favorite finds: Locatelli pecorino ("a great brand for the money; shave over pasta," he says); Sardinian Nuraghe ("delicious sheep's milk"); and Monte Caputo ("They have it made just for them, it's like a Crotonese table cheese, lightly sweet and salty").
After a quick stop in the cheesemaking room, where Caputo lets the chef grab little bocconcini of still-warm mozz from the production line, Mantuano heads for Harlem's main drag, where a handful of Italian-run specialty shops and cafés remain even after the scattering of the area's southern Italian immigrants. Caputo's Grocery (2560 N Harlem Ave, 708-453-0155) is a quick stop for cheap Italian produce (and it's owned by a relative of the Melrose Park cheesemongers). Mantuano points out good deals on Andy Boy Farm's rapini, cubanelle frying peppers and fresh fava beans, as well as pork belly for $2.69 a pound ("Apparently, no one told them it was in vogue"). But he scoffs at the basic supermarket-quality fish selection. For seafood around these parts, there's no substitute for Mercato del Pesce (2623 N Harlem Ave, 773-889-7909).
He's talking up the shop's mackerel as he enters, but it's clear he'll buy whatever looks good. Italian is spoken rapid-fire among two olive-skinned women and the fishmonger while Mantuano examines the case lined with sardines, baby octopus, red mullet, orata (dorade), spigola (striped bass), baby shark and fat clusters of mollusks in a few shapes and sizes. "I have no idea where they're getting some of this stuff, and they'll never tell me in a hundred years," Mantuano jokes, loud enough for owners Dominick Conenna and Vince DeVito to hear. A little more friendly banter, and Mantuano's ready for lunch.
"If I'm with the family, I'll go to Caponie's (3350 N Harlem Ave, 773-804-9024) for a pretty good Italian-American pizza cooked in a wood-burning oven," Mantuano confides. But today, there's a Diavolo sandwich at Riviera Italian Foods (3220 N Harlem Ave, 773-637-4252) with his name on it. Behind the counter in the back of the small deli, owner Carmelo Pugliese builds Mantuano's sandwich with nothing but foods he makes himself, stacking spicy soppressata, coppa, fresh mozzarella and chunky giardiniera onto a torpedo roll while the chef scans the aisles for Giuseppe Cocco noodles, his preferred brand of dry pasta. Pugliese's wife, Caterine, insists Mantuano take a twine-wrapped log of soppressata, and throws in a container of rosso marina, tiny ice fish in fiery brine traditionally spread on bread.
Just as Mantuano's finishing off the sandwich at a sidewalk table in front of the adjacent "social club" Societa San Pietro & Paolo (3222 N Harlem Ave, no phone), a silver-haired guy wearing a T-shirt with a map of Italy pops his head out of the bar and insists Mantuano come in for an espresso. The guy introduces himself as "Nicky," and motions to the man behind the tiny bar who's digging into a little soppressata of his own. "Hey, Rocky, pull a couple," and in minutes tiny cups of espresso appear. Mantuano's impressed by the brew and learns the beans come from nearby Caffe Italia (2625 N Harlem Ave, 773-889-0455). "This would be perfect with those sesame-seed cookies across the street," Mantuano says, motioning to Palermo Bakery (3317 N Harlem Ave, 773-777-5957). "They make them the best, browned and crisp."
"The best," Nicky boasts, "is this soppressata from Carmelo next door." He motions to the sliced-into sausage lying on butcher paper on the bar. As if on cue, Carmelo appears, still in his apron, and looks sheepish as the men in the bar brag about him loudly. Nicky turns to Mantuano and bellows, "You're a chef so you know your stuff, so tell him, isn't this stuff the best?"
You might also like
---