Vienna Beef factory tour: This is how Chicago's sausage is made
Once you've seen how a hot dog is manufactured, will you still eat one?
By Jake Malooley Mon Jul 29 2013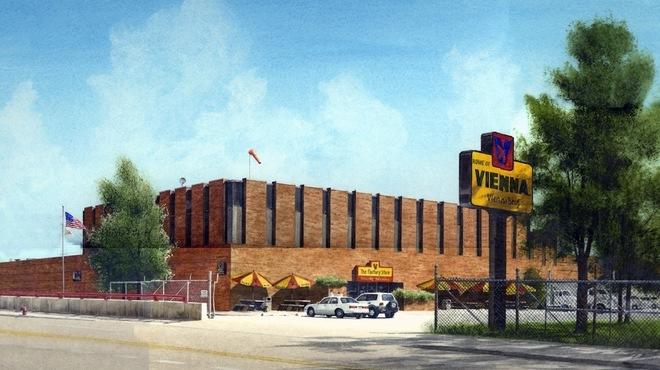 The Vienna Beef factory has been producing hot dogs since 1972.
One morning in early July, I'm standing in a small puddle of beef blood in the refrigerated bowels of what is perhaps Chicago's most exclusive attraction. Most people sit on a wait list for years to gain access to this cavernous, largely windowless brick building on the northernmost edge of Bucktown: the 150,000-square-foot Vienna Beef factory, which since 1972 has churned out countless millions of hot dogs at the corner of Fullerton and Damen Avenues.
RECOMMENDED: Chicago's best hot dogs reviewed
A few years ago, the 120-year-old company decided, Wonka–like, to open its manufacturing floor to staff-led tours. In an attempt to peel back the thick casing of mystery and lore surrounding hot dog production—they're 100 percent pig anus, right?—Vienna began telling its story, showing it had nothing to hide when it comes to how its sausage is made. Just one problem: the free tour—held weekly for only six people on Wednesdays from 10–11am—became too popular. Get your name on the wait list today and, according to the tour website, the earliest you'll get in is October 2015.

By then, Vienna Beef's factory most likely will have relocated to Bridgeport; last month, the city approved a $5 million subsidy that will finance the company's move south so the Department of Transportation can rebuild the tangled junction of Damen, Elston and Fullerton Avenues. With the move on the horizon and with July being National Hot Dog Month, I talked my way onto a tour.

On the day of the factory visit, a secretary at company headquarters hands over a release that the six other people on the tour and I must sign. "During the tour, you may be exposed to certain Confidential Information of Vienna Beef," read the form. "This Confidential Information is an extremely valuable and important asset of Vienna Beef, and any unauthorized use of the Confidential Information will cause irreparable economic and business injury to Vienna Beef." (Is the company worried Slugworth might get his hands on its secret formula?) Among the many tour no-nos are cell phones, cameras, purses and jewelry (wedding bands are the lone exception). All it would take is a single nose stud ending up encased in someone's sausage to stain the Vienna name like mustard on a white T-shirt.

Before long, we meet our tour guide, Michael Carlino, a Vienna Beef vice president and genial, old-school Chicago guy. He hands out the items of clothing that all the workers passing by us are wearing: white butcher coats, hard hats and hair nets. I'm the only one who is given a "beard net," which makes me feel like I'm wearing a pair of skimpy women's underwear on my face. I feel slightly embarrassed about it until I realize that many of the factory's workers—the vast majority of whom are Hispanic men—also require the facial-hair buffer.
You might also like
---