Cool culture | Lincoln Park Neighborhood Guide 2011
By Time Out editors Wed Jun 1 2011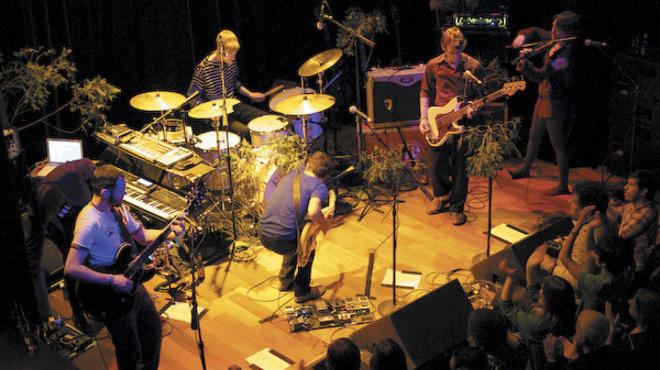 British Sea Power at the Lincoln Hall. Photograph: Rory O'Connor
Chicago History Museum The institution once known as the Chicago Historical Society stepped up its game with a makeover back in 2006. Today, in addition to viewing archived library photographs, visitors can marvel at an assortment of temporary and permanent displays ranging from a colossal hot dog exhibit geared toward kids ("Sensing Chicago"), to a tricked-out lowrider ("Treasures"), to the Abraham Lincoln gallery. Other highlights include informative pub crawls, tours and museum-sponsored discussions. See sidebar for more highlights. 1601 N Clark St (312-642-4600). El: Brown, Purple (rush hrs) to Sedgwick. Bus: 22, 36, 72. Mon–Sat 9:30am–4:30pm; Sun noon–5pm. $14, seniors and students $12; members, kids under 12 and Mondays free.
Lincoln Hall Lakeview's Schubas club owners used their Midas touch and booking finesse to transform the old 3penny's budget cinema into an upscale bar/restaurant/music venue. Since 2009, concertgoers have been flocking to this hall to catch live performances from about-to-blow-up bands in a cool, clubby setting. Bonus: Some shows are open to the 18 and up crowd. 2424 N Lincoln Ave (773-525-2508). El: Brown, Purple (rush hrs), Red to Fullerton. Bus: 8, 11, 74. Sun–Fri 11am–2am; Sat 11am–3am. During shows, the bar may be available only to ticket holders.
Lincoln Park Conservatory This Victorian greenhouse is a go-to venue for a tropical vibe, boasting ferns, hibiscus and palms. If you're interested in learning more about the seasonal flower showcases, orchids and banana plants, complimentary docent-led tours are available on the hour and half-hour on Fridays (1–4 pm), Saturdays (9am to noon; 1–4 pm), and Sundays (1–4 pm). 2391 N Stockton Dr (312-742-7736). Bus: 151, 156. Daily 9am–5pm. Free.
Lincoln Park Cultural Center Word has it that once inside, you can actually hear the nearby Lincoln Park Zoo hyenas howling. Set on 1,208 acres, the Chicago Park District's multiuse cultural and recreational facility is home to the annual Lincoln Park Art Faire, New Life residential production company and the Arts at Large Wednesday night concert series. The 1926 Victorian-style lakefront landmark also houses a wood shop, ceramics studio, stained glass store and children's activities including dance and karate lessons. 2045 N Lincoln Park West (312-742-7726). Bus: 151, 156. Mon–Thu 9am–9pm; Fri 9am–7pm; Sat 9am–4pm. Free.
Peggy Notebaert Nature Museum Finding a place to park might bug you, but it's worth it, especially if you're bringing the kids. These ecofriendly quarters offer interactive lessons in the kind of birds and bees that won't make parents squirm. But, the green space's cockroach exhibit might. Adults will love the educational demos, workshops, lectures, film screenings and fitness classes. For guaranteed ooohs and aaahs, be sure to check out family-favorite Judy Istock Butterfly Haven. The 2,700-square-foot greenhouse is filled with more than 75 colorful species from across the globe. 2430 N Cannon Dr (773-755-5100). El: Red to Fullerton. Bus: 74, 151. Mon–Fri 9am–5pm; Sat, Sun 10am–5pm. $9, seniors and students $7, kids ages 3–12 $6, kids under 3 free. Thursdays are free. Discounts for Chicago residents.
You might also like
---