New gyms and yoga studios of Lincoln Park
By Time Out editors Wed May 23 2012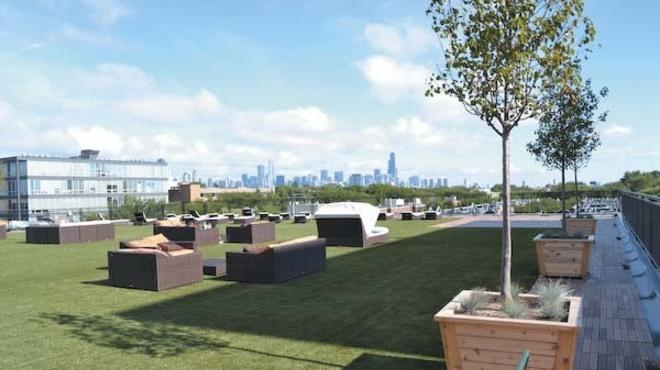 Chicago's Lakeshore Sports & Fitness rooftop Oasis
i.d. gym This gym with a chillaxed "everyone knows your name" kind of attitude has been around for a couple of years, but it offers new group fitness classes so often it's always getting buzz—we're partial to Fly Yoga, Kettlebell Challenge and the Caveman Workout. If the killer classes don't float your boat, there are strength and cardio machines. And unlike the big chains that lock you into a year membership, you can snag a month-to-month plan ($65), as well as a 6-pack ($108) or 12-pack of passes ($180), each good for one class or workout session. 2727 N Lincoln Ave (773-477-8400).
Power Yoga Chicago Proving bare-bones environs can still deliver a solid workout, the classes at this one-room studio skew toward the athletic. The introductory offer of unlimited classes for 30 days for $30 attracts scores of advanced and newbie yogis—so arrive a little early to snag a good spot. 806 W Armitage Ave (773-880-9642).
Pure Wellness If you've ever found yourself in a yoga class packed mat-to-mat and wondered why studios don't cap class enrollment, say "ay." So have we, which is why this fitness studio/yoga center's policy of 10–12 students max has us smitten. The more affordable pricing (starting with $15 drop-ins and $77 for your first ten-pack using the promo code on the website), the variety of classes (from pure vinyasa to yoga classes with light hand weights), and the option for personal training just sweeten the deal. 2536 N Halsted St (847-420-7930).
Vision Quest Coaching Last summer, this popular training center moved into new digs in Lincoln Park. Taking advantage of all 8,000 square feet, athletes sweat hard to prep for their next big event. (Think Iron Man, not 5K.) There's a bike storage room (a great perk for winter trainees), an airy strength training area, schmancy locker rooms, and a bike studio where cyclists hone their pedaling skills and improve their strength using CompuTrainers. In addition to myriad coaching bells and whistles, a chill recovery yoga class is offered on Monday mornings. 1880 W Fullerton Ave (877-851-8787).
Lakeshore Sport and Fitness New owners invested millions of dollars into updating the former Lakeshore Athletic Club, the ginormous space with everything from Pilates to tennis to two swimming pools. The result: shiny new cardio machines, top-notch instructors poached from gyms all over town and sparkly clean environs. In short, it's an awesome fitness destination. 1320 W Fullerton Ave (773-348-6377).
You might also like
---