We Three Lizas at About Face Theatre | Theater review
An embittered fashion designer is visited by three fabulously sequined spirits in Scott Bradley and Alan Schmuckler's Seuss-like, delightfully queer new holiday piece.
By Kris Vire Thu Dec 6 2012
Time Out Ratings :
<strong>Rating: </strong>3/5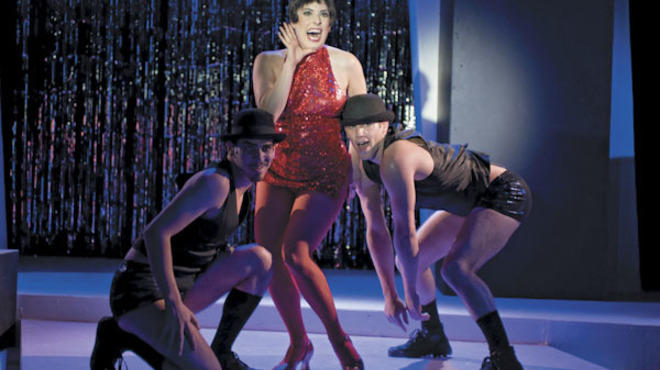 Danielle Plisz with Arturo Soria and Ryan Lanning in We Three Lizas at About Face Theatre Photograph: Michael Brosilow
Like generations of holiday entertainments, Scott Bradley and Alan Schmuckler's new piece riffs on those that came before it, from Dickens to Rudolph. But Bradley and director Scott Ferguson's decidedly queerer tale lifts a little more from Ye Olde Tabloids—not those of the Stone Age, but rather the Stonewall Age.
Bradley, perhaps better known as "Scooty" of the Scooty & JoJo Show and their Alien Queen mash-up, teams up well with straight ally Schmuckler to recast Scrooge as a struggling designer who gets visited not by spirits of Christmas but offspring of Garland. The narrative's more than a little goofy and frankly hard to follow, given that the focus bounces between initial protagonist Scott Duff and eventual heroine Dana Tretta. But Schmuckler's pleasant, poppy score provides plenty of hooks—particularly in the numbers penned for the three over-the-top incarnations of Liza (Bradley, Sean Blake and the divine Danielle Plisz)—and the overall tale is undeniably original and joyously queer.
You might also like
---