15 Super Bowl ads made by Chicago advertising agencies (VIDEO)
Some of the most classic Super Bowl ads, from Spuds MacKenzie's debut to the Jordan-Bird McDonald's spot, have come from Chicago advertising agencies.
By Jake Malooley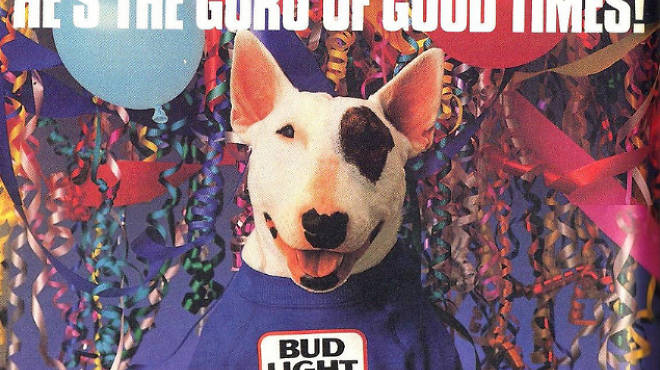 Spuds MacKenzie, "the original party animal," made his debut in a 1987 Bud Light ad that aired during Super Bowl XXI.
The most contentious battle of Super Bowl XLVIII will have almost nothing to do with football. This war will not be waged on the field of New Jersey's MetLife Stadium, but rather right in your own living room. (And I'm not talking about the tussle over the last chicken wing.) As the most-watched TV event of the year, the Super Bowl is also the most in-demand forum for advertising—as much a competition over consumer eyeballs as the Lombardi Trophy.
RECOMMENDED: Seahawks-Broncos Super Bowl guide
To this most super of super Sundays, brands (and their ad agencies) bring their creative A-games and loads of money—this year, 30 seconds of airtime costs an average of $4 million—to deter viewers from running to the bathroom or kitchen during commercial breaks, and to get them talking around the watercooler (or, the 21st century version, Twitter). This is why Super Bowl ads are the domain of anthropomorphic animals, celebrity cameos, infants acting like adults and not-so-sly attempts at slipping corporate catchphrases into the cultural lexicon.
Details on this year's Super Bowl ads are scant, but work from at least one Chicago agency will air on Fox during the fourth quarter of the February 2 game. Cramer-Krasselt is behind a spot for Heinz ketchup that, according to a spokesperson, emphasizes the pleasant, familial nostalgia that comes with using the condiment. The Loop-based firm is just one Chicago agency that has been playing the Super Bowl ad game for decades. Local companies have produced some of the big game's most iconic ads, from Spuds MacKenzie to "Whassup?"
Master Lock "Sharpshooter" by Cramer-Kasselt
Aired during Super Bowl VII on January 13, 1974
The gist Based in Chicago since the '80s, Cramer-Kasselt was actually a Milwaukee firm when it made this stunty spot, one of the Super Bowl's first iconic ads.
Bud Light "Spuds MacKenzie" by DDB
Aired during Super Bowl XXI on January 25, 1987
The gist "The original party animal" made his debut, proving that a bull terrier in a sport jacket can get beer and chicks. Never mind the implication of bestiality.
McDonald's "Showdown" by Leo Burnett Chicago
Aired during Super Bowl XXVII on January 31, 1993
The gist An epic game of H-O-R-S-E transpires between Michael Jordan and Larry Bird. Over a fucking Big Mac. Sidenote: Did Prince do the jingle?
Budweiser "Frogs (Winter)" by DDB Needham Chicago
Aired during Super Bowl XXX on January 28, 1996
The gist D'Arcy Masius Benton & Bowles inflicted the plague of "Frogs" upon the world during Super Bowl XXIX. DDB's Chicago office stepped in to produce the rest of the spots, including this one.
Bud Light "I Love You, Man" by DDB Needham Chicago
Aired during Super Bowl XXX on January 28, 1996
The gist For all his NRA chest-thumping, the late Charlton Heston must've had a decent sense of humor about himself. After a winning cameo in Wayne's World 2, he starred in this ad that lightly lampoons his legend. Defending his Bud, Heston might have used the quote for which he later became famous: "From my cold, dead hands!"
---
You might also like
---