Game-day parking and transportation | Wrigley Field
If you plan to drive to a ball game at Wrigley Field this season, a little planning can save you time and money.
By Shawn Flemming Tue Mar 22 2011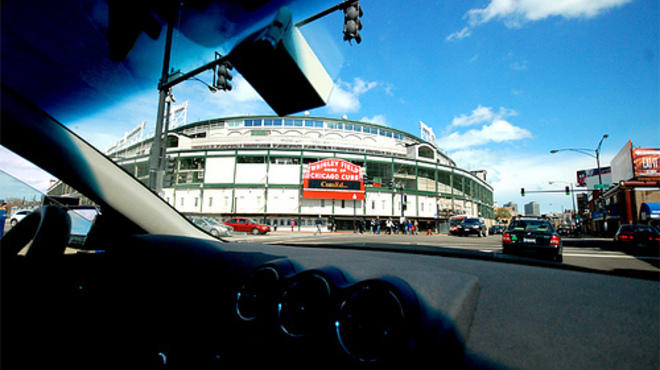 Wrigley Field Photograph: Esther Lee
Admit it, some of us just like driving to a destination, period. So for those wanting to arrive in the cradle of their own car, we've got a few pointers for finding the perfect parking spots in and around Wrigley Field.
RECOMMENDED: Chicago Cubs baseball guide
Cubs parking and shuttle service
The Cubs-operated parking lot is located behind the stadium at 1126 W. Grace. Reserved spaces can be purchased only by calling 1-800-THE-CUBS. Spaces are available for weekday games—no weekend, night or holiday parking is offered at this location. The Cubs also offer a shuttle service to and from the DeVry University campus parking lot just west of the ballpark. The shuttle is FREE and parking is just $6. The lot is located just off Addison near Western (3300 N Campbell), with shuttle service running from the campus to Wrigley Field 2 1/2 hours before all games and two hours after day games. Weeknight shuttle service is limited to one hour after the game's end.
Directly across the stadium on Clark Street and on Addison Street, you can try your luck at either the McDonald's or Taco Bell parking lots. Parking attendants are on hand to take your money. Parking spaces are limited and fill up fast.
Reserved parking services
Park for Wrigleyville and ParkWhiz are two companies selling reserved parking spots at several locations "close" to the stadium. While some lots are within walking distance of the stadium, other locations may inspire you to grab a quick ride on the #22 or #36 bus or take the El to the Addison stop. If you choose to use a parking service, tickets must be purchased in advance by going to the company's website or calling them directly.
You might also like
---