The Liars Issue
We uncover Chicago's biggest fibbers—and the lies we tell ourselves.
Illinois Gov. Rod Blagojevich Photograph: Seth Perlman/AP
When other charges fail, lawyers nail criminals for lying.
These companies are forthright about their lying ways.
A new form of lie detection could stop crimes before they happen.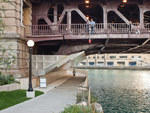 Follow these steps to get the fibs flowing.
---
You might also like
---