Things to do in Chicago this winter: Best 2013-2014 activities
Your essential guide to the best things to do in Chicago this winter, including Christmas parties, NYE celebrations, ice skating, skiing and more activities.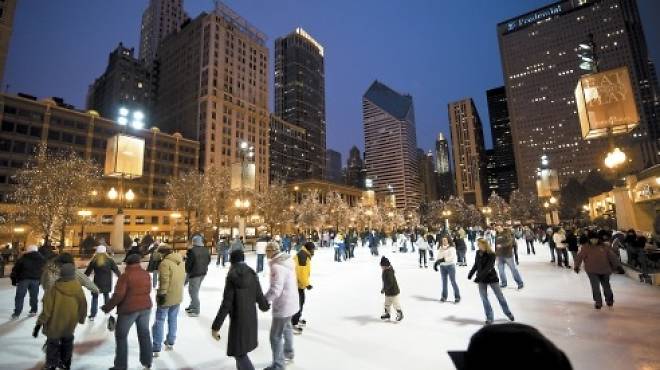 Ice skating is on our list of things to do in Chicago this winter (followed by hot cocktails, plenty of them).
We'll admit that sometimes Chicago winter is best enjoyed via pseudo-hibernation: hunkering down indoors, basking in the glow of a full-spectrum lamp, ordering pizza, streaming Netflix. Cabin fever inevitably sets in, though, and then it's time for some new winter activities (especially if it's weeks after Christmas and NYE and you're still in pajama pants). This season, make a resolution to get out and about. Catch a concert—Paul Simon, The Breeders, Justin Timberlake, and Jay Z are just a few of the artists coming to town. Go downhill skiing or snowboarding without leaving the Midwest. Cozy up by a fireplace in a public space, or hit the salt caves, or a spa. Check out our guide for things to do in Chicago during the winter months.
Get your winter sports fix within a day trip from Chicago.
Cold days don't put a damper on these scenic spots.
Stomp out the late winter blues with snowshoes.
---
You might also like
---