Your guide to 2014's TV renewal bubble
With the fates of several network shows still undecided, we make our case for what should stay and what should go
By Jessica Johnson Fri May 2 2014
Enlisted
Summer's on its way and that means the network TV season is coming to a close. Many shows have already aired their finales, but for several, the future is still unclear. Network upfronts—where CBS, NBC, ABC and Fox present the next season's programming slate to potential advertisers—begin Monday, May 12, and the hammer will finally fall for several struggling series. But before those big decisions are made, we make our case for what should stay, what should go and round up everything else that's still up in the air.
Here's our ranked list of the ten series we'd like to see more of next year.
Renew These, Please!
Already pulled from Fox's schedule after being unceremoniously dumped on Friday nights, it's likely too late to save this overlooked family sitcom. That's not going to stop us from trying, though. Enlisted is the unique comedy that deftly mixes humor and emotion as it tackles the tricky stories relating to the lives of military families, bolstered by a game ensemble cast that's wildly likeable.

UPDATE: Enlisted has been canceled.
Creator Bryan Fuller has done the impossible in breathing new, innovative life into a universe that's been well-trodden. In its second season, Hannibal has crawled deeper into the dysfunctional relationship between the emotionally fragile Will Graham (Hugh Dancy) and sociopathic murderer/cannibal Hannibal Lecter (Mads Mikkelsen), and the result has been delectable. Fuller has already said he has a plan for how the third season will progress and we want to see his vision play out.
UPDATE: Hannibal has been renewed.
Despite sporting an impressive cast and consistently delivering funny episodes, Trophy Wife has struggled to gain an audience in its first year. While its title may seem salacious, this might be one of the more wholesome family comedies on TV and they'll do anything to convince you to watch, even if it means paying homage to one of their network's more successful shows.
UPDATE: Trophy Wife has been canceled.
As the last in a trio of nostalgia comedies to air this TV season, Surviving Jack started at a bit of a deficit. However, it's proven that, despite the occassional American Gladiators or Jurassic Park reference, there's more going on here than wistful rememberences of '90s pop culture. Christopher Meloni's hard-nosed father figure delivers a hilarious brand of tough love to his teenage children that is at once funny and heartfelt.
UPDATE: Surviving Jack has been canceled.
5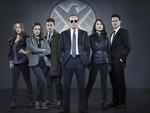 Marvel's Agents of S.H.I.E.L.D.
It seems unlikely that Marvel's first foray into television won't get another season, but unlike its fellow networks, ABC has yet to renew any of its shows, so Agents of S.H.I.E.L.D. rests on the bubble nonetheless. While the series started slow and took a lot of time warming up, it's been on fire since Winter Soldier turned this corner of the Marvel Cinematic Universe upside down. Whether the creators were biding their time waiting for the film to come out before they unleashed the full power of this series or simply used it as an opportunity to right their mistakes makes no difference. Agents of S.H.I.E.L.D. has finally become the appointment viewing that it should have been all along.
UPDATE: Agents of S.H.I.E.L.D. has been renewed.
While its young cast is a little flat, we were impressed with how well this CW series melded teen melodrama with dystopian sci-fi concepts. Bringing to mind the darkest sides of Lord of the Flies and Battlestar Galactica, it's a grim drama that isn't afraid to put its characters through hell. Now if they'd just give the tired teen love triangles a rest.
UPDATE: The 100 has been renewed.
After last year, it seemed like putting Community out of its misery might have been the best course of action. But with the return of creator Dan Harmon, the sitcom got back to its weird and wonderful roots. Just one more unlikely renewal will put it close to reaching the fan goal of "six seasons and a movie" and how could NBC resist such a request? If it's granted another year, we sure do wish Donald Glover would change his mind and return to Greendale to close things out, as his mid-season departure left a gaping hole in the tight ensemble.
UPDATE: Community has been canceled.
8
The Carrie Diaries
While she may grow up to be an annoyingly vapid sex columnist who frequently slings back cosmos with her gal pals, teenage Carrie Bradshaw and her band of high school buddies are surprisingly irresistible. Maybe it's the '80s flair, the John Hughes–style approach to teen melodrama, the adorable young cast or maybe it's just this Sex and the City prequel always knows how to tug at our heartstrings. Now that the young Miss Bradshaw has graduated from high school, we're anxious to see what happens when she stops playing at being a grown up and actually has to learn to be one.
UPDATED: The Carrie Diaries has been canceled.
Parenthood's "real people, real problems" plotting means there are rarely huge questions left unanswered at the end of season, but we're still not ready to quit the Braverman clan. While its fifth year had its rocky moments (let us never speak of Christina's run for mayor ever again—or Drew's struggle with casual college sex, for that matter), there's really no other show like this on television. Wholesome, sweet and heartwarming, the Bravermans are like a second family. Even when they're driving you crazy, you still can't help but love them.
UPDATE: Parenthood has been renewed.
We've come to terms with the fact that Suburgatory, for all its charms, will always be a flawed show, forever struggling to balance its down-to-earth leads with the zany caricature of suburban life they're surrounded by. Still, the trials and tribulations of the Altmans vs. Chatswin continue to have more highs than lows—including a full-on musical number that was so adorable we almost forgot it was about two high school students getting engaged. Also, we can't and won't imagine a television landscape without Carly Chaikin's hilariously deadpan Dalia Royce.
UPDATE: Suburgatory has been canceled.
---
You might also like
---