The Good, the Bad, the Weird (R)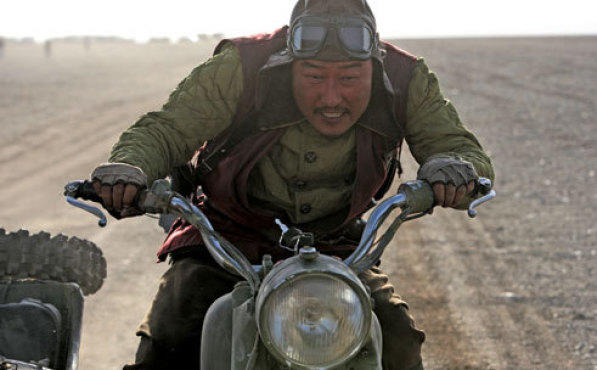 Time Out rating:
<strong>Rating: </strong><span class='lf-avgRating'>4</span>/5
Time Out says
Mon Apr 19 2010
A slavish, supercharged riff on Sergio Leone's epic three-the-hard-way spaghetti Western, Kim Ji-woon's all-star spectacle wastes little time in lighting a fire under its unholy trinity's derrieres. The "Bad" (Lee), a criminal-for-hire sporting the best peekaboo mullet this side of the Manhattan Inn bar, is stealing a treasure map from a moving train. During this wowza set piece, a shambolic bandit (Song), the "Weird," accidentally grabs the booty in question and bolts. That's when a bounty hunter (Jung)—yes, he'd be the "Good"—swoops in to collect his due. The Japanese Army, Chinese gangsters and other dodgy characters join in hot pursuit. Once the principles gather together for one climactic game of quick-draw, the close-ups of steely eyes and echoes of Morricone-ish reverb are all but assured.
Set in the wild, wild east of '30s Manchuria, The Good, the Bad, the Weird offers an interesting cultural wrinkle; it's an Asian cover version of a European take on the most American cinema imaginable. The fact that Kim largely avoids the era's nationalistic free-for-all over the country suggests he's less interested in the genre's two politicized Sergios—Corbucci and Sollima—than simply hijacking Leone's operatic flair, which is a shame. Still, for a director previously known for generic exercises (A Tale of Two Sisters, A Bittersweet Life), he's seriously enlivened his filmmaking with perfect hyperkinetic pacing and a keen eye for chase-scene choreography (dig that Road Warrior--ish desert romp). At its best, this pomo oater gets within chaw-spitting distance of action-flick greatness; at its worst, the movie is simply unadulterated guns-and-guts fun.—David Fear
Watch the trailer
Users say
<strong>Rating: </strong><span class='lf-avgRating'>0</span>/5