Things to do in Kuala Lumpur • The best restaurants, attractions and more
Time Out's KL team offer their insider's tips on things to do in Kuala Lumpur – for the perfect holiday in the Malaysian capital
By Time Out editors
Kuala Lumpur city guide: Putrajaya
---
Kuala Lumpur overview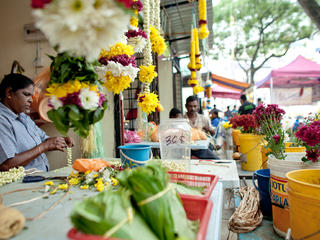 Malaysia's vivacious capital is bursting with things to do; whether you fancy hitting the stylish shopping centres and luxury boutiques, visiting KL's many historical sites, museums and attractions or taking in the sights from the dizzying heights of the city's sauve sky-high bars and clubs. In this guide, the Time Out Kuala Lumpur team offer their insider's tips on where to find fantastic theatres, music venues and art galleries, mouth-watering food stalls, cafes and restaurants, and, of course, the perfect hotel to return to after a great night out.

Like many Asian cities, Kuala Lumpur appears to be quite a haphazard city, and as such it might not look all that exciting on the surface. Yes, we have the gleaming Petronas Twin Towers, but after an hour of trying to fit them within the frame of your camera, you want something more authentically local, something gritty, something a little bit more street. And KL (as the locals call it) has that in spades.

The Merdeka Square is bordered by beautiful Moorish architecture built during the colonial times. Though it has and will never snow in Malaysia, it is believed that the British colonialist built these dome roofs to withstand several feet of snow. Away from these well-kept buildings, but still within the old part of KL where Chinatown is, the scenes may look a tad dilapidated, but this bustling area is a treasure trove of local eats, souvenir shops and graffiti art (check out the river banks beneath the Pasar Seni LRT station). So is Brickfields. Tourism authorities like to market this historical area (where the brick kilns used to be, hence the name) as the city's Little India, but in reality, it's more of a microcosm of Malaysia where you'll experience the identities of the three major ethnicities that make up multi-cultural Malaysia - Malay, Chinese and Indian.

Contrast your Brickfields experience with the cool 'hood of Bangsar, which is just a train stop away. This city suburb is the model of successful gentrification, where independent boutiques and spas sit side by side with some of KL's best cafés and restaurants. A day here will round off your KL experience quite comfortably.
Around town
Steps to the Batu Caves
A close-up gander of KL will reveal towering skyscrapers, snaking highways and a capital girdled by pockets of green. But this busy metropolis isn't always about excess. Get some green at the National Garden Shah Alam where you can partake in SkyTrex, an aerial obstacle course that allows thrill-seekers to glide, swing, crawl (and curse) from one vertiginous tree bridge to another.

Ask for a map of KL and you'll be sure to hit all the major parks. But the ones that truly command awe are in Putrajaya – Malaysia's federal administrative centre. Cycle, watch birds, jog, go boating or stroll down the 4.2km boulevard flanked by government buildings with modern Moorish designs.

One immediately slows their pace upon entering the Islamic Arts Museum Malaysia (IAMM). A paragon of KL's distinctive architecture, the grandiose museum features travelling world exhibitions and contemporary Islamic artworks.

Heritage walks (gratis) are the best way to experience the gritty side of old KL. Rakan KL's walkabout reveals the city's secret gems (Fancy a traditional trim in the back lanes of Petaling Street?), rich art deco, street graffiti and hidden eateries. Then tap into the nostalgic charms of Brickfields through the KL City Hall guided tour, where locals bring you to see the century-old Sri Kandaswamy Temple, Vivekananda Ashram and famed Wei-Ling Gallery in a pre-war shophouse.

When the sky recedes to darkness, ascend to the giddy heights of the Petronas Twin Tower Observation Deck on the 86th floor, which offers a stunning wraparound view of the city's skyline. For one night at least, head to a pasar malam (weekly night market) for a smorgasbord of hawker food, knickknacks and souvenirs. Go to Taman Connaught on Wednesday for stinky tofu, Lorong Tuanku Abdul Rahman on Saturday for cheap textiles, and Taman Tun Dr Ismail on Sunday (TTDI) for variety.
Batu Caves is the poster attraction of Kuala Lumpur, and rightly it's worth a visit, even if just to climb the 272 steps up to the rather Spartan cave temples. But time your visit to coincide with the annual Thaipusam festival, where the grounds transform into a loud, vibrant, exciting, kitschy, spiritual and extremely crowded affair. Be prepared for culture shock.
---
---
What's on in KL
Get ready to be served a series of intense matches...

Chen Wei Meng's artistic journey has seen him delv...

The mundane activities of everyday Malaysians are ...
21

more events »