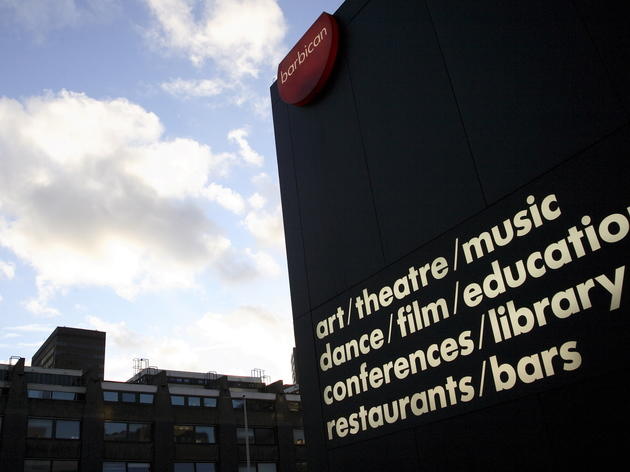 1/7
Tove K Breitstein / Time Out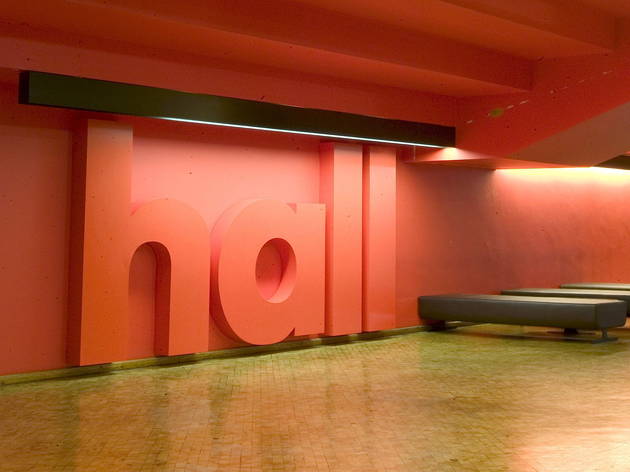 2/7
Rob Greig / Time Out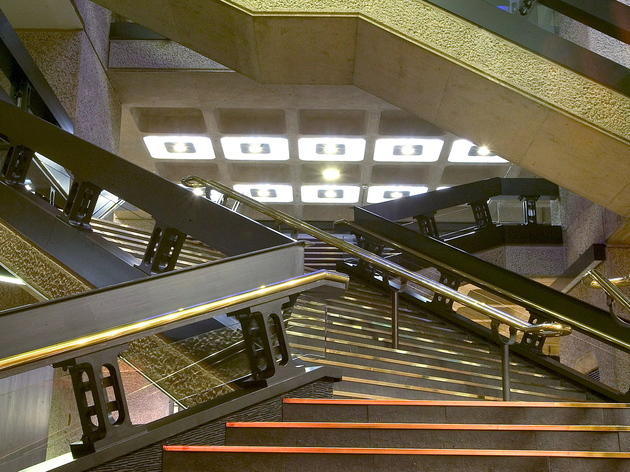 3/7
Rob Greig / Time Out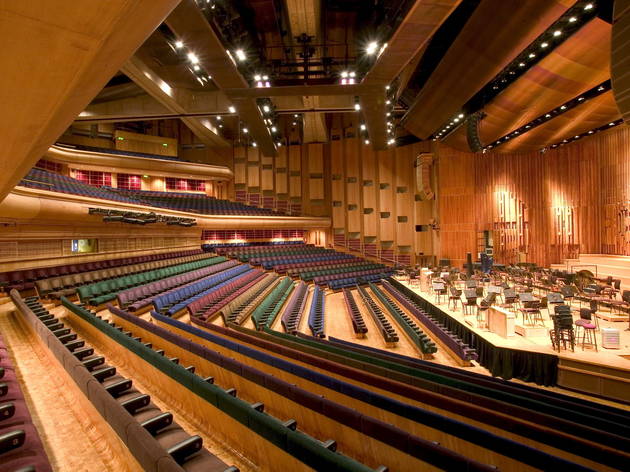 4/7
Rob Greig / Time Out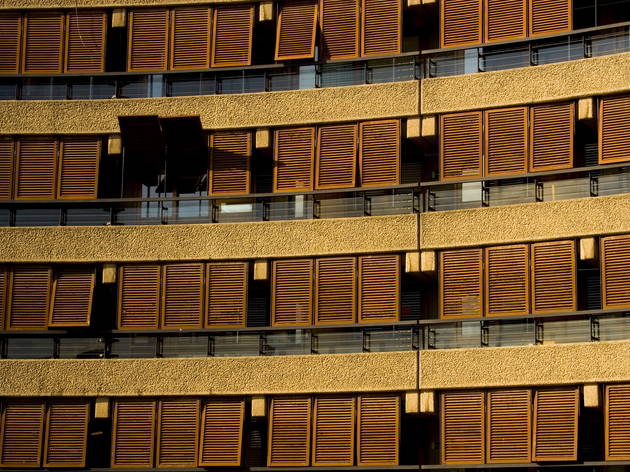 5/7
Nigel Tradewell / Time Out
6/7
Tove K Breitstein / Time Out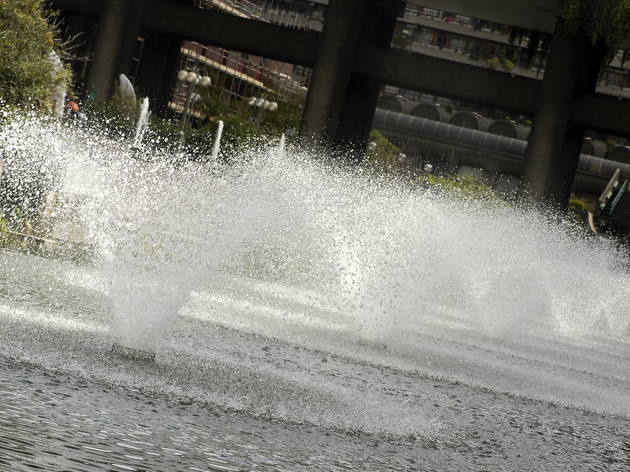 7/7
Andrew Brackenbury / Time Out
The UK's leading international arts centre
The Barbican Centre, a vast concrete estate of 2,000 flats and a leading arts complex, is a prime example of brutalist architecture, softened a little by time and rectangular ponds of friendly resident ducks. The lakeside terrace and adjoining café are good spots to take a rest from visiting the art gallery, cinema, theatre, concert hall or library within the complex. The art gallery on the third floor stages exhibitions on design, architecture and pop culture, while on the ground floor, the Curve is a free exhibition space for specially commissioned works and contemporary art. At the core of the music roster, performing 90 concerts a year, is the London Symphony Orchestra (LSO). The annual BITE season (Barbican International Theatre Events) continues to cherry-pick exciting and eclectic theatre companies from around the globe. The Barbican regularly attracts and nurtures experimental dance, and the Pit Theatre is a perfectly intimate space.
Find out more about the past, present and future of the Barbican with our complete guide to the Barbican Centre.
Venue name:
Barbican Centre
Contact:
Address:
Silk St
London
EC2Y 8DS

Opening hours:
Centre Mon-Sat 9am-11pm; Sun noon-11pm. Art Gallery Mon, Tue, Wed, Sat, Sun 10am-6pm; Thu, Fri 10am–9pm. The Curve Mon, Tue, Wed, Sat, Sun 11am–8pm; Thu, Fri 11am–9pm
Transport:
Tube: Barbican
Do you own this business?
Though faithful to the text of Shakespeare's The Tempest, Greenaway's characteristically dense film could hardly differ more from literal adaptations like Branagh's Henry V. Structuring its motifs around the 24 books Prospero took into exile (as i...

Read more

Animated feature from Disney in which the one true rival to the old coke-fiend lives down in the basement of 221b Baker Street. Basil, like his alter ego, plays the violin; he also has his Moriarty, in the shape of the magnificent Professor Ratiga...

Read more

Clever old Bridget. There's been a hell of a lot criticism of her for crimes against feminism. But here she is, triumphantly returning in her forties, less of a twit, funnier, wittier, and – perhaps most importantly – happier with herself. And unl...

Read more

New York filmmaker Ira Sachs is so humane he couldn't write a villain to save his life. That's even true in his latest film, the story of a family evicting a sweet seamstress on to the street. The Jardines are decent people: Brian (Greg Kinnear) i...

Read more

Taika Waititi – a core member of the New Zealand hipster comedy group responsible for 'Flight of the Conchords' – rambles into sort-of-family-movie territory in this massively endearing road movie on foot. There's a strong whiff of 'Up' in its sto...

Read more

As things go bump in the night in 'Under the Shadow' you might find yourself jumping out of your seat or grabbing the person next to you. This smart, terrifying and brilliantly feminist Farsi horror is the UK's first entry in 25 years for the Best...

Read more

Ron Howard, the Oscar-winning director of 'Apollo 13' and 'The Da Vinci Code', doesn't sound like the most obvious choice to direct a documentary about The Beatles, being neither a regular doc-maker nor, as he admits, much of a music nut. But he h...

Read more

Director Tim Burton likes his films busy: watch a classic like 'Beetlejuice' or 'Batman', and you'll be pushed to find a single frame that isn't packed with background detail, weird creatures, ornate furnishings and intricate costumes. The problem...

Read more
Bedwyr Williams: The Gulch

The Welsh artist purveyor of bleak, absurd and appallingly funny art will be creating a large-scale installation for the Barbican's Curve. It's a notoriously difficult space to get right – apparently it'll feature a depressed hypnotist and a talking goat....

Installation

Until Saturday January 7 2017

Parisa

The singer from Iran performs the poems of Rumi. Meshk Ensemble supports.

Latin and world

Saturday October 1 2016

The Machine

It's not just another night at the theatre when, as a punter, you end up wearing a lab coat, safety googles, pink skirt and a cake-shaped hat and find yourself trying to discuss communism with other theatre-goers in Esperanto. 'The Machine' is a collaboration...

Experimental

Until Saturday October 8 2016

Rafiki Jazz

Dynamic world music collective featuring 11 members (all based in Sheffield) who stunningly blend such instruments as the Senagalese kora, the Gambian banjo, and the Zimbabwean marimba with creole and bossa nova stylings.

Folk, country and blues

Saturday October 1 2016

Stars Of The Lid

The duo comprising Adam Wiltzie and Brian McBride that hails from Texas, performs its post-rock and ambient material.

Rock and indie

Sunday October 2 2016

Songlines Music Awards 2016 Winners's Concert

The four winners of the competition, Mariza, Songhoy Blues, Debashish Bhattacharya and Sam Lee, perform their original material.

Latin and world

Monday October 3 2016

BBC Symphony Orchestra/Oramo

The orchestra join forces with Shakespeare's Globe Theatre to combines music and drama for a performance of Antony And Cleopatra, featuring music by Florent Schmitt.

Classical and opera

Tuesday October 4 2016

Ju Percussion Group 30th Anniversary Tour

The ensemble performs its melange of traditional Asian, Western classical and contemporary drumming.

Latin and world

Wednesday October 5 2016

Michael Clark Company: to a simple, rock 'n' roll . . . song.

Maverick choreographer Michael Clark's 'to a simple, rock 'n' roll . . . song' is a new work for four dancers. He's known for bringing dance to new audiences, including performing on the Pyramid Stage at Glastonbury 2015, with his provocative, experimental...

Modern

Thursday October 6 2016 - Saturday October 15 2016

Symphonic Fantasies London: Jonne Valtonen, Yoko Shimomura, Hiroki Kikuta, Yasunori Mitsuda, Nobuo Uematsu

Eckehard Stier conducts Jonne Valtonen's Fanfare Overture, Yoko Shimomura's Fantasy I: Kingdom Hearts, Hiroki Kikuta's Fantasy II: Secret Of Mana, Yasunori Mitsuda's Fantasy III: Chrono Trigger / Chrono Cross and Nobuo Uematsu's Fantasy IV: Final Fan...

Classical and opera

Thursday October 6 2016

Show more
Average User Rating
4.2 / 5
Rating Breakdown
5 star:

5

4 star:

11

3 star:

0

2 star:

1

1 star:

0
The Barbican is always worth a visit if you are in the area, regardless of what's on. It's a beautiful complex which has so much to see, both inside and outside. I always wonder who lives around the Barbican as I understand the apartments / flats that surround it are housing designers / artists / locals which adds to its community feel.

This brutalism monster might seem scary on the first visit but the more you see it the more you love it! Ageing has definitely made it more special and in combination with the new activities it hosts, it's one of the most important cultural centres London is offering. Any kind of art exhibition can be found here from time to time, as well as theatre, music and cinema shows. And all of them always carefully selected and with special prices for young and older people. Even if you're not interested in anything that's on, visiting is still an experience itself -as it feels like a journey to the past- and you can always enjoy sitting at the ground floor cafeteria by the ponds or even next to them when it's sunny!
I would love to do a gig here as this is London's answer to Carnegie hall on 7th Avenue. It is however sad to read the comments from the dissatisfied bride below. So anyone getting married in London should have a look at recommended venues: www.youtube.com/watch?v=DIB4nvvLkNk Notwitstanding, the Barbican does other things very well and is worth a visit.
I love going to shows, the art gallery and cinema here. Really cool 60s building.
I had a lovely wedding, the location was spectacular and I had a fantastic day as did all my guests. It ended rather abruptly though with the music being turned off at 11 on the dot. I can hardly complain, but I do have some serious complaints regarding the service. The food at the wedding was a much lower quality than what I was served at my tasting. The appetiser, which had been lovely at the tasting, held no resemblance to what I was served at my wedding and the creme brulée instead of being luscious and creamy as it had been at the tasting, was a stiff gelatine. After the wedding the staff didn't pack up my crockery hire correctly which made me lose my deposit and they were completely unremorseful about it, ignoring my emails and not helpful at all. The cherry on top of the cake, 2 months after the wedding, after we had settle all accounts the wedding planner started bothering us for another 600 pounds. We had spent the budget, the invoices had all been settled and he was haggling us for more money. Quite unprofessional.
So looking forward to Blaze...thanks to the Big B!