Making Colour at the National Gallery
A new show at the National Gallery looks at how minerals, pigments and dyes have changed the course of art over the past 500 years. For a preview, Time Out takes a spin round the colour wheel
By Martin Coomer Wed Jun 18 2014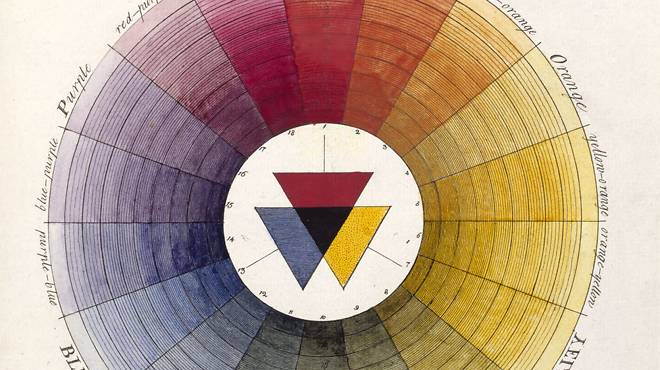 © Royal Academy of Arts, London
Whose hue?
© The National Gallery, London
Red
Every on-trend Neolithic cave painter knew that for the best in beast-based wall art, you first had to mine yourself some cinnabar, then pummel the mineral into submission to give up its bright scarlet colour. Plant and insect dyes have been used since the Middle Ages to make solid pigments mixed with egg or oil to become paint. The best known is cochineal which, crushingly for the Mexican insect, is made by squeezing out the poor critter's purplish-red innards. Vegetarian options can be sourced from brazilwood or the madder plant but, as with all translucent colours, these are prone to fading.
Prime example For heady reddy eroticism, try 'Combing the Hair', c1896, by French impressionist Edgar Degas.
© The National Gallery, London
Orange
Since pure orange pigments are rare, artists have always mixed red and yellow pigments for their dose of orange. But traces of realgar, a rare orange mineral, can be found in paintings by Titian and in seventeenth-century Dutch flower painting. The downside for artists? It's full of arsenic.
Prime example 'Flowers in a Vase', c1685, by Rachel Ruysch. Painting toxically orange lilies did this famous female still life painter no harm – she lived to be 85 years old.
© The National Gallery, London
Yellow
Early muted ochres were extracted from the earth. Later, lead-tin yellow was created by firing oxides of lead in a furnace to over 800C to produce a pale primrose colour – and a lingering death for anyone who came into regular contact with it. It wasn't until the 1820s that a whole range of new yellows began to be manufactured from compounds of the metal chromium. Without these, there'd be no heavenly glow in Turner's sunsets.  
Prime example 'The Painter's Daughter Chasing a Butterfly', 1756, by Thomas Gainsborough reveals a new hue in town – Naples yellow, which replaced lead-tin yellow in the eighteenth century. Containing the metalloid antinomy, though, it was just as poisonous.
© The National Gallery, London
Green
Green earth mineral clay was used widely in Renaissance Italy to underpaint flesh tones, which explains why some of those Madonnas look a bit peaky today. But, prior to the sixteenth century, when landscape started to become a separate subject in art, there wasn't much call for green pigments. You could always leave copper and bronze outside to form a corroded crust, known as verdigris. Or you could wait until emerald green and viridian were invented in the 1800s.
Prime example 'Hillside in Provence', 1890, by Paul Cézanne reveals the variety of greens available to the first wave of modern artists. Cézanne used these to reinvent the landscape as a fragmented patchwork.
© The National Gallery, London
Blue
Derived from the semi-precious stone lapis lazuli (meaning 'beyond the sea'), ultramarine – the purest, richest blue naturally available – was once so highly prized that it cost more than gold. You could settle for azurite, which was cheaper, but had a greenish tinge. During the eighteenth century, a chance discovery made during the oxidation of iron meant that Prussian blue was available to artists. By the nineteenth century, synthentic French ultramarine put deep blue on the palettes of every seaside painter in the world.
Prime example 'The Virgin in Prayer', 1640-50, by Sassoferrato is a stunning example of how blue, the colour of heaven, was usually reserved for the Virgin's cloak.
© The National Gallery, London
Purple
As early as 1570BC, the Phoenicians managed to get sea snails to spew out their innate purpleness, producing a dye so costly that it graced only the fanciest togas (hence the saying 'born in the purple'). It's always been less bother to mix together red and blue.
Prime example 'The Virgin and Child Enthroned with Angels and Saints', 1475, by Michael Pacher. In religious paintings, angels were often shown wearing purple but unidentified bishop on the right of the painting wears the deepest, most luxurious shade.
---
See more highlights from the show
Possibly by Girolamo Genga
'A Jesse Tree', c1535
© The National Gallery, London
---
---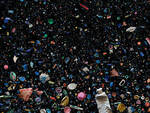 ---