The Human Factor at the Hayward Gallery
What links Jesus, Hitler and a man with a beehive for a head? They all feature in the Hayward Gallery's new sculpture show, that's what. Time Out gets under the skin of 'The Human Factor'
By Martin Coomer Thu Jun 12 2014
'That Girl (TG Awake)', 2012–'13, by Paul McCarthy © the artist, courtesy the artist and Hauser & Wirth. Photo: Genevieve Hanson
Bodies. We've all got one, apart from baddies like Krang from the 'Teenage Mutant Ninja Turtles'. So it's not surprising that our variously taut and wobbly bits have provided inspiration for artists since creativity's mud-flinging beginnings. Nor is it surprising that we find looking back at ourselves endlessly fascinating. As a subject for sculpture, though, the human body was noticeable by its absence for much of the twentieth century. This, reckons Ralph Rugoff, Hayward Gallery director and curator of 'The Human Factor', is down to modernism. With its love of the fast, new and machine made, cutting-edge art during much of the last century tended towards abstraction. 'There were a few people still working with the figure, like Giacometti and Picasso,' says Rugoff. 'But the body seemed like a relic of the past. By the time you hit the 1960s with minimalism and installation art, it pretty much disappears altogether. '

When it returned in the 1980s, figurative sculpture no longer looked like the stuff that had come before. There was Jeff Koons employing Italian craftsmen to produce not polychrome religious statues but kitsch works like 'Bear and Policeman' (1988). There was Katharina Fritsch (of Trafalgar Square's blue cock fame) making monochrome sculptures that came with their own photographic backdrops. 'The work isn't just representing a body and it isn't a portrait either,' explains Rugoff. 'It becomes a point of departure for looking at and thinking about how we respond to images of humans. There was a shift from all those traditional sculptural questions about surface and mass and volume. Spatial dynamics had been replaced by an interest in trying to deal with this large cultural and social landscape, our relationship to consumer culture and a world dominated by photographic media.'
'The work isn't just representing a body and it isn't a portrait either'

If artists in 'The Human Factor' look back, they do so with a quizzical eye. For Pierre Huyghe, a neoclassical subject like a reclining nude is given a working beehive for a head, turning the figure into what Rugoff describes 'part of an open system '.
'Him', 2001, by Maurizio Cattelan © the artist Courtesy Maurizio Cattelan's Archive
Appropriately, much of the work in the show has a sense of time and decomposition built in, from Urs Fischer's candle sculptures (collectors get to light the wick if they choose), to Pawel Althamer's disintegrating self-portrait (see below). And while there are works that pull few punches, like Cady Noland's 'Bluewald' (1989), which depicts Kennedy assassin Lee Harvey Oswald as a fairground shooting target, there are plenty that trade in ambiguity, including Maurizio Cattelan's 'Him' (2001), a sculpture of a kneeling child given the adult head of Adolf Hitler.
Perhaps the most disquieting work of all is Paul McCarthy's 'That Girl (TG Awake)', three sculptures depicting a naked female figure in three slightly different poses, each sitting on a glass table with her legs open. 'It's the most realistic looking depiction of a human being I've ever seen,' says Rugoff. 'You really just keep waiting for the figure to breathe.' Unnerving hyperreality makes sharing a space with the work seem like a huge invasion of privacy. 'It raises questions about where our comfort zone lies in terms of voyeurism,' says Rugoff. 'I think if people went into that room alone they might not have an issue with it. But when other people are looking at you looking at the sculpture, it's something else. So your own performance is an important element in a lot of these works because they most are inherently theatrical. You start to ask: "is this pornographic? Is this too explicit?"'

Such uncomfortable questions, of course, are part of what makes the show so human. As Rugoff says: 'It's definitely not Madame Tussauds.'
Still lives: standout works from 'The Human Factor' exhibition
Pawel Althamer
'Monika and Pawel', 2002 (detail)
© the artist. Image courtesy Foksal Gallery Foundation
The artist and his wife become a twentyfirst- century Adam and Eve – distracted by technology. Made from animal intestines, the work is decomposing before your eyes.
---
---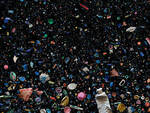 ---