King's Cross bars and pubs
Find the perfect place for a pint or a cocktail in King's Cross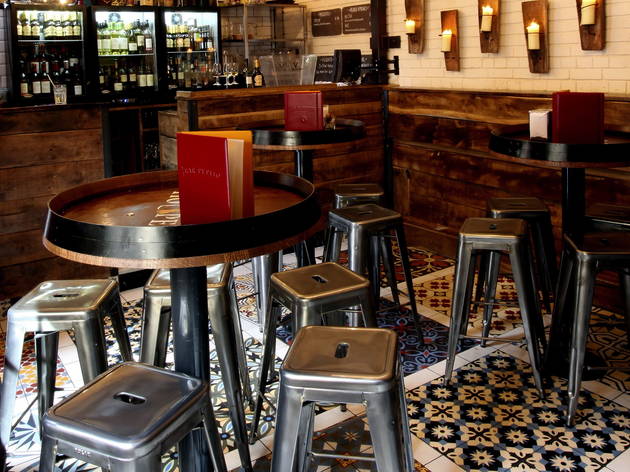 After decades of being a hub for travellers, King's Cross is becoming a destination in its own right. Case in point: the number of bars and pubs in the area. Bar Pepito it an Andalucían sherry bar and VOC is modelled on a seventeenth-century punch house.

Think we've missed a great drinking spot in King's Cross? Let us know in the comment box below.
"Victorian-inspired cocktails and modern-British cuisine in an historic setting."
To sit in, or to sit out? Inside, Sir George Gilbert Scott's lofty interior; outside, you have a nearly ceiling-level view of St Pancras International station.
Book now
Tucked away in a courtyard accessible via an alley at the foot of Pentonville Road, this rustic, Andalucían-themed bar is dedicated to sherry.
Book now
This London bar continues to earn acclaim from fans who are inspired by the artwork and tickled by the signage ('brothers' and 'sisters' on the toilet doors).
Don't let fatuous claims about this being the longest bar in Europe spoil what is a lovely pre-travel experience: glass of champagne in hand and tickets at the ready.
"Beat the festive fatigue with our healthy January offer! Any salad and a virgin cocktail for £10. T&Cs apply."
From Fluid Movement, which brought us Purl and the Worship Street Whistling Shop, VOC occupies a smallish, cosy space in one of north London's most restaurant-intensive precincts.
Book now
Find more bars and pubs in King's Cross
This site was once a tawdry, tired and transient tanking house showing big-screen sport, but it's now been transformed into a great little neighbourhood pub.
In Clerkenwell, this place would almost go unnoticed. Here, amid a Legoland of housing estates and shops catering chiefly to custom from the Indian subcontinent, it's practically miraculous. Comprising a simply furnished room of stripped wood and tables occupied by after-work regulars, this corner pub enjoys considerable local status for being a smart but unpretentious spot for a decent pint, a natter and a Sunday roast. Früli, Timothy Taylor Landlord, Erdinger, Amstel, London Pride and Staropramen pour from the beer taps lining the long bar counter, staffed by friendly foreigners. Festival tables outside offer extra seating on sunnier days. Standard gastropub fare is well put together and fairly priced.
Hidden from the outside world, this homely pub provides rare ales, many whiskies, a roaring fire and the day's papers to the surprisingly few regulars who frequent it.
Sponsored listing
Ember
A restaurant and bar close to Monument, serving a pan-Asian menu alongside a lengthy wine list and a selection of cocktails ranging from classics to those with a nod or two to Asia.   The inventive-looking food menu includes dishes such as salmon and nori crackling with sweet chilli jam, crispy squid with sesame salt, sweet yuzu and paprika mayo, sake and fennel-cured swordfish sashimi and slow-roasted pork belly in a bao bun with peanuts, lotus root piccalilli, a wombok and green radish 'slaw and cola-soy ketchup. The cocktails include a tiger balm (Ocho Blanco tequila, green Chartreuse, lime juice, wasabi syrup and nori tincture) and a nashi no hana (Bacardi Carta Blanca rum, Asian pear, pomegranate and thyme syrup and soda). 
"25% off food throughout the whole of January. Book now! T&Cs apply."