1/5
2/5
3/5
4/5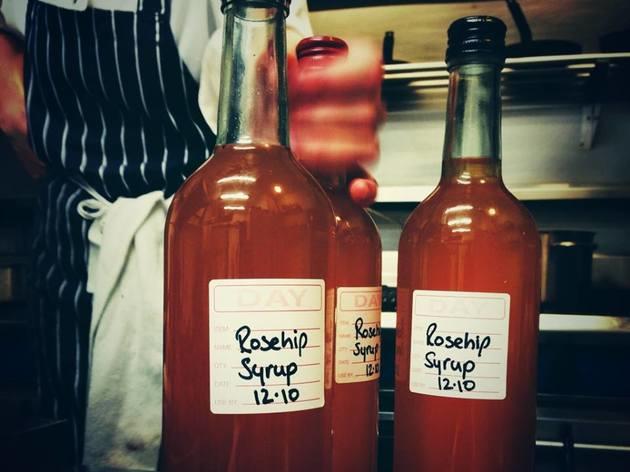 5/5
At Clapton's newly refurbished Windsor Castle, every inch has been spruced, smartened and straightened up, and it's almost unrecognisable from its old self. The pool table's gone; the pub boar is now stuffed and hangs above the bar in taxidermy form. A few local craft beers (Truman's or Five Points, say) have been added to the long list of standards, and there are simple but proficently made cocktails. The Windsor's chefs cook food fit for a king, comparatively speaking, or at least a future one. Dishes such as grilled mackerel with gooseberry, or trotter toast and pickles, are of a standard found nowhere else around here, although you may feel you need access to the privy purse to satisfy a big appetite. No one will get Fergie-sized on these portions.
The Windsor is definitely now a pub aimed at the Hackney gentrifiers rather than old-school Claptonites – whippets have replaced staffies as the beer garden dog of choice. However, when I visited, a few groups of more 'traditional' locals were showing the hipsters they weren't for giving up their old pub. A slightly uneasy union: something the Windsors are used to.
Reviewed by Euan Ferguson
Venue name:
Windsor Castle
Contact:
Address:
135 Lower Clapton Rd
London
E5 8EQ

Opening hours:
Open noon-midnight Mon-Sun; Food 6.30-10.30pm Mon-Fri; 12.30-4.30pm, 6.30-10.30pm Sat; 12.30-4.30pm, 6.30-10pm Sun.
Do you own this business?
Average User Rating
3.8 / 5
Rating Breakdown
5 star:

9

4 star:

4

3 star:

0

2 star:

0

1 star:

4
Amazing food and great drinks, fantastic service, love this place.
One of my favourite local pubs. Great for a roast & a really lovely drink selection too. I bring my friends & family here when I want impress but fancy somewhere casual & friendly.
I went for my birthday and had around 25 guests. It was suggested we go for the banquet so all the food would come out at the same time which i thought was a great idea...we arrived on time and the staff were lovely on arrival. However after a 3 hour wait for food I was starting to lose it...the staff looked stressed and the chef was angry. Really not surprised given his workload however surely they would have planned for my bday - I had booked at least 2 weeks prior so it's not as if it was a last minute booking. Then my friends veggie option came out - it was cauliflower cheese with truffle oil - isn't this a side dish??! It goes without saying that we refused to pay for this.
Regardless of all of the above, the roast was delicious and they also gave us prosecco as compensation for the wait which was really kind. The staff did their best and dealt with 25 hungry diners with a lot of patience - thank you!
So, other than the loooooong wait for our food, all in all I was a very happy birthday girl and would still go back. I'd just warn my guests about the wait on food - as long as you know what to expect, you'll love this place.

Amazing pub with really friendly bar staff, delicious food and wine menu and a nice atmosphere.. highly recommend anyone in Clapton going and trying one of their roasts.. perfect cosy pub in Winter and equally lovely spot for Summer drinks in their really cute garden!
I've been to the Windsor Castle several times and it's just as good on a Friday night as it is on a Sunday afternoon.

The food is amazing and the staff always really friendly. It's definitely worth a visit.
What a great night, really friendly staff and tasty grub that goes well with the beers on tap - liked the selection from our local micro breweries. nice friday night atmosphere, great addition to the local scene.
Friends had recommended this place, so we gave it a try for Sunday lunch on my birthday. Very disappointed - although the staff were efficient and friendly, the food was very poor. Roast topside of beef was extremely tough; overcooked in places and virtually raw in others. Plus no yorkshire pudding. A chicken breast was panfried to cremation; totally overcooked and burnt on the bottom. They knocked £3.50 off a bill of £60. The ales/lager selection looked pretty good, but we definitely won't return for food.
This used to be a horrible place that most people in the area were scared to go in. Now it's a decent pub with good food and local ales.
Ace vibe... a lovely little outdoor courtyard & generally a great haven to hang out in (food & drinks seasonally lush)
Great place... What a shame some of the reviews aren't as positive as my experience there. I went for dinner with my partner and friends last week and we left saying it was the best pub food and drink we have had before. The service was just right: relaxed and friendly yet very efficient! The cocktails are seasonal and very fresh, suiting the delicious food they serve... I will be a regular customer from now onwards, especially when wanting to impress my friends!
Ate here for Sunday lunch. Lovely atmosphere, friendly service (something I don't often experience East), and good food. We had the Pork Belly and Lamb Shank. Both dishes were delicious and of a much higher quality than you'll find in any of the neighbouring pubs, although a bit pricier as well. Great selection of local beers on the bar also. Very enjoyable.
Treated ourselves to lunch here today. Though we were one of only three occupied tables, it took an hour to serve our choice of six little dishes from the bar snacks menu - excellent potatoes, decent fish pie, freezing prawns, freezing ham hock terrine served with burnt toast. Well, they delivered five of the dishes, one was given to the next table. We realised the mistake when we heard our neighbouring diners (who'd come in 10 minutes after us) saying "Who ordered this?" to each other. When we asked the waitress if it might just be the chicken fillets we were waiting for she chastised us, telling us in a very patronising voice that they weren't ours and we just needed to be patient because ours would be coming - she didn't even bother double checking with the kitchen. Ten minutes later we realised we were sitting like a pair of idiots waiting for nothing and after checking with another waitress, she discovered the mistake. We paid up and left - the rude waitress left the worst taste in our mouth of a very variable dining experience. They tell you on arrival that with small plates they serve them as they emerge from the kitchen - but they really need to be able to organise service far more efficiently and teach some staff manners.
It used to be a place for people from the area to hang out, now it's empty during the day - opens up to serve hipsters food in the evening, charges far too much for bog standard grub and stinks of gentrification.
Used to be a mixed pub. Is now entirely white. The new owners have done nothing to cater for the locals. Why not just open a restaurant and leave the pubs alone?
More venues
Sponsored listings