Council estate cabaret
As HS2 looms over the estate where he lives, progressive show-off Scottee fills its community centre with alt-cabaret's finest
By Ben Walters Mon Dec 9 2013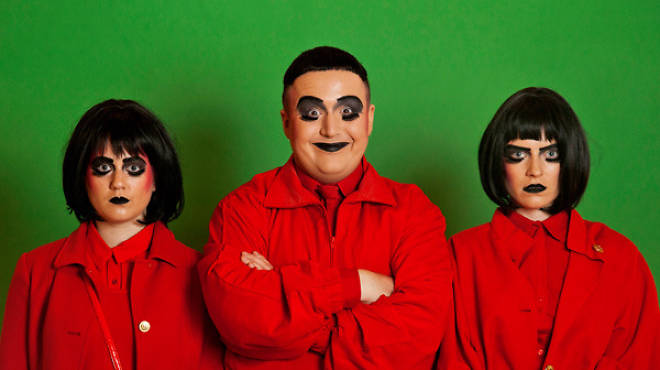 Holly Revell
'I've only ever lived in a council flat,' says Scottee. 'On TV, they're always associated with drugs and violent crime but I think they're the only places in London where community still exists. People look out for each other.'
The Camden-born performer grew up on the Kentish Town West Estate and has lived since 2008 at the Regent's Park Estate a mile down the road. Last year, residents at Regent's Park Estate received notice that it would be affected by the planned expansion of Euston station for the High Speed 2 rail link. The scheme includes the demolition of 200 homes, a police station and the Dick Collins Hall, home to the estate's social events, from bingo and boozing to underage discos and pensioners' lunch clubs. The plans are not yet confirmed but the hall is scheduled for demolition whatever happens.
'That's when I knew how I could get involved,' Scottee says. His brainwave? 'Let's do "Camp" on the estate!'
While his exuberantly messy, confrontational work has earned him avant-garde acclaim, Scottee's shows have always drawn on populist – dare we say working-class – entertainment formats, from game shows to beauty pageants. 'Camp' is his version of an old-school variety show, a tongue-in-cheek mix of progressive politics and tits-'n'-teeth showbiz. It first ran in 2012 at the Roundhouse, which is supporting its latest incarnation.
'Camp (on the Estate)' has several aims: to celebrate the Dick Collins Hall as a working venue; to raise awareness about HS2's impact (even on the estate, many residents are still in the dark); to introduce local residents to acts they might not otherwise see; and to encourage Scottee's artsier fans to get over any qualms they might have about setting foot on a council estate.
The show will reflect this spirit of outreach. 'It's the line-up I want at my funeral,' Scottee says. And it's great, with some of the scene's weirdest, most wonderful performers giving their own takes on themes of local community. Alt-drag star Jonny Woo will appear as high-street tsar Mary Portas (put him in a ginger bob and they're peas in a pod), while musical terrorists Bourgeois & Maurice perform an ode to the uniqueness of British town entres. Live artist Bryony Kimmings will get to grips with advice for the broken-hearted and Dickie Beau will channel the words of Kenneth Williams, who lived on the estate.
So, for that matter, did the singers Boy George and Marilyn, and Lucian Freud model Sue Tilley – so the turf has a rich lineage of camp, queer and artistic residents. Not that they've always had an easy time. Scottee has sometimes felt like a persecuted outsider there himself; a rendition of Radiohead's 'Creep' is part of his own contribution to the line-up.
All in all, anticipation for the show on the estate is high, especially among 'the mums that run the Dick Collins Hall', Scottee reports. 'They keep saying, "We've heard it's going to be like 'Britain's Got Talent' but a bit more gay…"'
---
See the latest cabaret galleries on Time Out
---