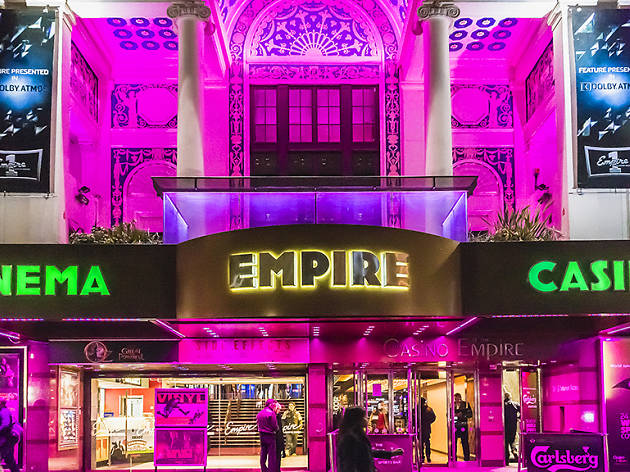 One of London's oldest cinemas (it opened as a theatre in 1884, and as a cinema following World War II) the Empire in Leicester Square was until recently home to London's biggest non-Imax cinema screen. It's now been refurbished, with its massive main auditorium separated into one full Imax screen and one smaller, 400-seat Impact (ie, big but not quite Imax) theatre. There are also a number of smaller screens tucked away throughout the building, making a total of nine. Don't come here to watch an award-winning three-hour Turkish drama. The programme is as mainstream as you'd expect from a central London multiplex, with all the big Hollywood hitters. The prices, too, reflect the cinema's tourist-friendly location. Snacks are the usual hot dogs, nachos and popcorn.
Venue name:
Empire Leicester Square
Contact:
Address:
Leicester Sq
London
WC2H 7NA

Do you own this business?
Probably the single neatest expression of Tim Burton's cute-gothic outsider sensibility, this highly likeable 1993 stop-motion fable also proves a perfect match for Disney's impressive new 3D technology. The spindly, ragged tactility that always...

Read more

Has JK Rowling been taking divination lessons at Hogwarts? With spooky clairvoyance, the first movie in her new five-film wizarding franchise opens with two factions in America at each other's throats. No, not Republicans and Democrats. It's 1926,...

Read more

No, 'Trolls' is not a movie about the haters with terrible spelling who threaten people on the Internet. This musical kids' animation is based on the plastic dolls with frizzy hair that were big in the '90s. And against the odds, it's funny and sn...

Read more

If Jason can be Bourne again, there's no reason why his analogue, gadget-free equivalent, 'The Da Vinci Code' hero Robert Langdon, shouldn't have another crack at the multiplex. In 'Inferno', the Bourne parallels are harder than ever to ignore: ha...

Read more

The film of Paula Hawkins's bestselling commuter thriller is taking flak from fans of the book before they've even seen it. Firstly for committing a major crime against casting: the role of alcoholic heroine Rachel is played by Emily Blunt (too sl...

Read more

Provocative onscreen and off, Nate Parker's slave-rebellion drama pulls off a hijacking before it even begins: that of the title of DW Griffith's 1915 silent epic movie known for celebrating the Ku Klux Klan and for demonising angry black men as r...

Read more

The kingdom in question, of course, is not the one within the British Isles, but Botswana – or Bechuanaland, as it was known in the post-war years when crown prince Seretse Khama (David Oyelowo) came to London to study, and fell unexpectedly in lo...

Read more

'Sicario' director Denis Villeneuve's colour-drained, mournful sci-fi drama 'Arrival' plays like a more mainstream filmmaker got his hands on Jonathan Glazer's experimental alien masterpiece 'Under the Skin' and added moments of international intr...

Read more

A troubled boxer. A committed coach. A horrifying accident. A whole lot of tears and yelling. Yes, if your problem with 'Million Dollar Baby' was the lead character's lack of a penis, welcome to 'Bleed For This', in which Miles Teller takes the we...

Read more
Average User Rating
3.7 / 5
Rating Breakdown
5 star:

0

4 star:

2

3 star:

1

2 star:

0

1 star:

0
I went there just a couple of times but I think is one of the best cinemas in London. The rooms I saw are little and intimate, the seats incredibly comfortable. The staff was very friendly, they helped us to find our seats and also the food is amazing, you can find everything in the shops inside.
I loved the fact that you can book online and then collect your tickets at the machine. After the film, a little walk in the centre of London is simply necessary! :D