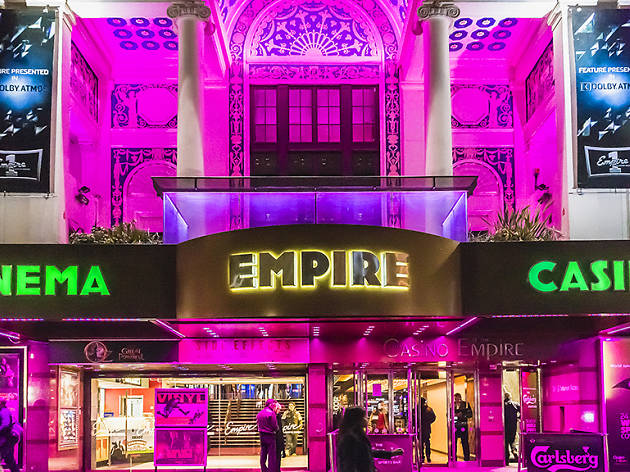 One of London's oldest cinemas (it opened as a theatre in 1884, and as a cinema following World War II) the Empire in Leicester Square was until recently home to London's biggest non-Imax cinema screen. It's now been refurbished, with its massive main auditorium separated into one full Imax screen and one smaller, 400-seat Impact (ie, big but not quite Imax) theatre. There are also a number of smaller screens tucked away throughout the building, making a total of nine. Don't come here to watch an award-winning three-hour Turkish drama. The programme is as mainstream as you'd expect from a central London multiplex, with all the big Hollywood hitters. The prices, too, reflect the cinema's tourist-friendly location. Snacks are the usual hot dogs, nachos and popcorn.
Venue name:
Empire Leicester Square
Contact:
Address:
Leicester Sq
London
WC2H 7NA

Do you own this business?
After 2004's straight-to-DVD sequel, the superior original is re-released, digitally restored, to mark the film's twentieth anniversary. Aside from making fans feel very old, this is also likely to make them feel just as jubilant and light-footed ...

Read more

Before he slipped on the bat mask, the film director side of Ben Affleck suggested a young Clint Eastwood in the making, with films that told wholly American tales of morality and heroism. This ably-executed Prohibition-era drama is his fourth mov...

Read more

This interstellar sci-fi misfire dreams up one of the most intriguing 'what would you do?' scenarios in recent movie memory – and takes it precisely nowhere. The setup is essentially 'Red Dwarf' meets 'Robinson Crusoe', as cryogenically frozen int...

Read more

That's Manchester, Massachusetts, a small fishing community that's the setting for this devastating tale of buried trauma from American director and playwright Kenneth Lonergan ('You Can Count on Me'). Casey Affleck gives a complex, brooding centr...

Read more

The kingdom in question, of course, is not the one within the British Isles, but Botswana – or Bechuanaland, as it was known in the post-war years when crown prince Seretse Khama (David Oyelowo) came to London to study, and fell unexpectedly in lo...

Read more

Or 'Pan's Labyrinth 2: The Oscar Years'. When Spanish filmmaker JA Bayona's debut 'The Orphanage' was released back in 2007, many proclaimed him the rightful heir to Guillermo del Toro: creepy and inventive, the film bore a notable debt to the Mex...

Read more

'Sicario' director Denis Villeneuve's colour-drained, mournful sci-fi drama 'Arrival' plays like a more mainstream filmmaker got his hands on Jonathan Glazer's experimental alien masterpiece 'Under the Skin' and added moments of international intr...

Read more

After a decade-long absence, Mel Gibson returns to directing with a brutal war film that has a rousing tale of God-inspired heroism at its heart. 'Hacksaw Ridge' is the true story of Desmond Doss (Andrew Garfield), an army medic and decorated WW...

Read more

What's your pleasure: a frothy spy romance or a grim World War II drama? How about both at once? 'Allied' sets itself up as a modern day answer to 'Casablanca': the early scenes are set in the Moroccan city under German occupation, and like the be...

Read more
Average User Rating
3.7 / 5
Rating Breakdown
5 star:

0

4 star:

2

3 star:

1

2 star:

0

1 star:

0
I went there just a couple of times but I think is one of the best cinemas in London. The rooms I saw are little and intimate, the seats incredibly comfortable. The staff was very friendly, they helped us to find our seats and also the food is amazing, you can find everything in the shops inside.
I loved the fact that you can book online and then collect your tickets at the machine. After the film, a little walk in the centre of London is simply necessary! :D