New Year's Eve parties in London
See in the New Year in style at one of London's best NYE parties and club nights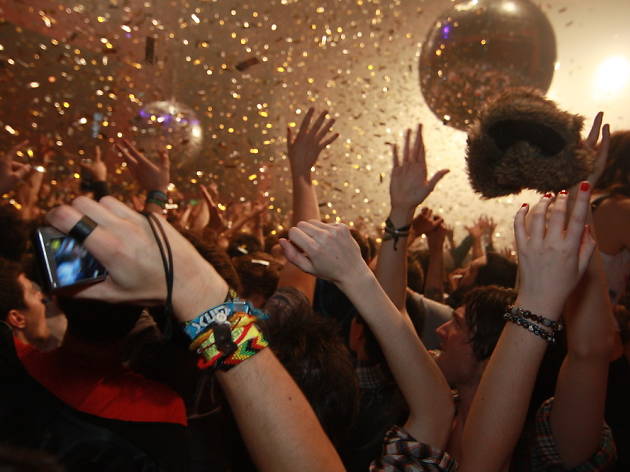 London is chock-full of incredible New Year's Eve parties, from quirky fancy dress events to heads-down raving. Our definitive list of events rounds up the many nights taking place, making it easy to track down your perfect NYE bash, whatever you're looking for. And remember that once you've made it through New Year's Eve into 2017 and maybe caught a few fireworks on the way, you can do it all over again on New Year's Day.
RECOMMENDED: Find New Year's Day parties in London
Organised by Vintage Festival curators Wayne and Gerardine Hemingway, the Southbank Centre's New Year's Eve Party should offer a stylishly retro way to see in 2016. Pop-up venues inside the Royal Festival Hall include The Torch Club for full '30s and '40s entertainment and sounds, the Soul Casino with music ranging from deep funk to Northern soul, 1960s-themed bar The Pick Up Joint, The Style Studio for 1970s and '80s disco tunes, a Tiki bar, live rock-and-roll, and 1980s and '90s pop in Bar Bonkers. Just before midnight the party moves to the terrace to watch the fireworks over the Thames. The dress code: pick a decade and dress glamorously. Three-course meal and buffet options are available for those who want to splash out. RECOMMENDED: Find more New Year's Eve parties and read our guide to celebrating New Year in London
Read more
Sing Auld Lang Syne round the dinosaurs at the Natural History Museum's first-ever NYE ball, with pop tunes care of Guilty Pleasures. Dinner tickets available. 
Read more
Incognito Dance, a Latin dance company that hosts workshops, courses and club nights, are putting a party on for New Year's Eve, which doubles up as a celebration for their fifteenth birthday. Dance the night away to salsa, bachata and kizomba, plus save some pennies with the inviting BYOB policy.
Read more
Make your way through five different venues before the clock hits midnight with the 1 Big Night Out crew, who'll have free drinks for you, as well as drinks discounts, queue-jump tickets and a free t shirt.
Read more
One for all the '80s lovers longing to see in the New Year to synthpop, electro, new wave and post-punk. Expect plenty of Depeche Mode, The Cure, Soft Cell and more.
Read more
Residents and guests spin the best power ballads and disco, pop and rock anthems as the two nights combine to see in 2017 in style.
Read more
Carl Cox heads up a packed lineup with enough power to not only fill the gargantuan Tobacco Dock but also to charge into the beginning of 2017. Hot Since 82, Andhim, Anna, Butch join Coxy.
Read more
Tunes for your NYE pre-party
You're having a party, you say? Not sure what to cue up on your iPhone? Rest assured, we've got you covered. In fact, we're worried that our playlist of the 100 greatest party songs may actually cause your dancefloor to spontaneously combust in an explosion of pure joy and body-moving ecstasy.
Read more