Todd is a DJ: Time Out talks to Todd Terje
He's worshipped globally, but can anyone pronounce the disco master's name? Releasing one of the year's best albums may change that...
By Oliver Keens Tue Mar 4 2014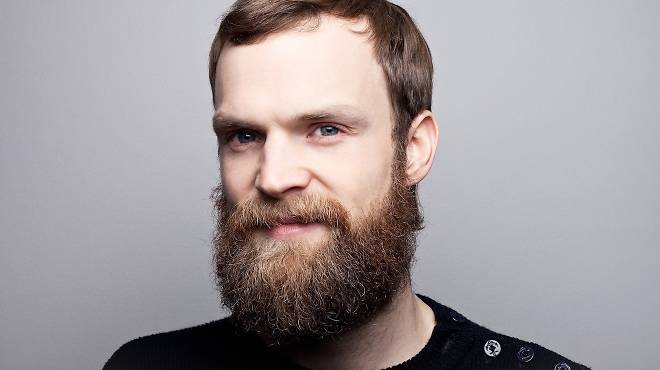 © Christian Belgaux
Back in the mid-2000s, when aggressive electro and dubstep ruled, a more mellow Norwegian stood out like a fjord. Todd Terje (pronounced 'Terr-yeah') was editing unlikely songs for dancefloors.
In contrast to the loftiness of the 'underground' dance crowd, camp disco and funky pop were in. The Bangles, Roxy Music, Paul Simon (and, tellingly, M's kitch '80s classic 'Pop Muzik') all felt Terje's touch. This poppy aesthetic has bled into his own synth-aided disco tunes. The incredible rush of 2012's 'Inspector Norse' was the tipping point. It's now so popular that people chant his smooth riffing instrumental licks in anticipation when he DJs – like an Oasis crowd singing 'Wonderwall'.
Now, it's album time. No, really: his debut LP is called 'It's Album Time'. Not only is it one of the best things we've heard this year, he's leaving the decks to present his music live – synths and all – at Oval Space this Saturday. What we don't know is if he'll be bringing his mysterious 'home synths' along...
'I actually don't even know what ecstasy does'

What influence did Norway's party scene have on you?
'The absence of a functional techno scene forced us to think out of the box. When I started DJing in Oslo around 2000, I quickly learnt to play a very, very mixed bag – be it bossa, funk, disco, rock, broken beats, jazz etc. It's a good thing, as restricting yourself to a 4/4 beat isn't very exciting.'

Why does the word 'techno' scare so many people?
'When I hear the word, I think of '90s documentaries about youth culture, accompanied by drugged-out kids in stupid clothes dancing in unpleasant and cold-looking warehouses. Add a stupid grin on their faces and the word "techno" easily turns into something I wouldn't touch with someone else's... well, finger.
'Then again, I never tried any drugs, I actually don't even know what ecstasy does. I guess I should know, as 90 percent of the people I play to are on drugs. By the way, many, many years after those documentaries, I actually do like some techno.'



Bryan Ferry sings on your LP. Does working with him make you think, 'Damn, I need to buy better clothes'?
'Working with anyone makes me think that. I have awful clothes. I can easily wear the same jeans for a month without changing. Not very hygienic, but it's very, very difficult for a tall skinny guy like myself to find clothes that fit. And I'm also very, very lazy.'

The references to 'Inspector Morse' and Monty Python sketches are curious.
'Well British TV has always been pretty big in Norway, there's something similar in our sense of humour. Lots of sarcasm and long shots that make you proud you finally understood the jokes, like in Alan Partridge, 'Father Ted' or 'The Fast Show'. Plus all the crime series of course.'
'Even my booking agents pronounce my name differently every time I meet them'

You reportedly asked for twice your normal rate from Robbie Williams' label after he sampled 'Eurodans'. Hero. How did you celebrate the windfall?
'Haha, that "twice the amount" story... Stupid Norwegian tabloid journalists always aim for the lowest common denominator, even if it takes a little lie. Anyway, I haven't really celebrated it yet, as I didn't feel like I had done any work. After big projects I do like to splash out on fancy restaurants or something to mark the end, but this time I contributed passively. They called me up to ask if it was okay to use snippets of 'Eurodans' in 'Candy', It was fine with me – as long as I got a writer's cut!'



How different is it to entertain a room with a table of keyboards than a case full of CDs?
'I have to wake up that other half of my brain. I'll probably be sweating and looking like I'm in agony for the whole concert. There will be bottles thrown.'

What are some of the biggest misconceptions people around the world have about Norway?
'That the fjords and mountains are everywhere, that we eat fresh fish everyday, that we're actually Sweden. Definitely the latter.'


Do you correct people when they say your name incorrectly (as in 'Terrrrj')?
'I stopped correcting them many years ago. Even my booking agents pronounce it differently every time I meet them, so I don't expect much.'



How much of a fetishist are you for synths? And how do you stay productive when you could just make trippy, abstract noises all day long?
'Very much. My studio is growing slowly, new gear and gizmos coming in at a steady pace. But I've realised that everything can't be up and running at the same time. When my attention is needed for a project, I tend to zone in and forget that my amazing Zonkamatic 9000 is right by my side. Besides, I have my "home synths" anyway, just for domestic pleasure.'
Let's be honest. There are few better DJs to have blasting out the tunes at your birthday than Norse space-disco warrior Todd Terje, who continues his effortless, accidental domination of dance music with a set celebrating XOYO's second birthday (as in, the second birthday since its refurb and reopening). Terje can always be relied upon to play a storming
Celebrating two years of clubbing excellence since its refurb and reopening, Shoreditch club XOYO continues the birthday celebrations after a show with Norwegian disco don Todd Terje last weekend. Tonight it's the turn of UK bass behemoth Oneman to unleash a mix of sludgy techno, dubstep, and skull-shaking house cuts. Supporting are rising talent Cashmere
---
Watch Todd Terje's 'Inspector Norse' video
---
Let's be honest. There are few better DJs to have blasting out the tunes at
Still big around Europe and not exactly under-appreciated on his UK home turf,