What's the deal with… Bondax?
Get the lowdown on the daisy-fresh teenage production duo
By Oliver Keens Tue Oct 1 2013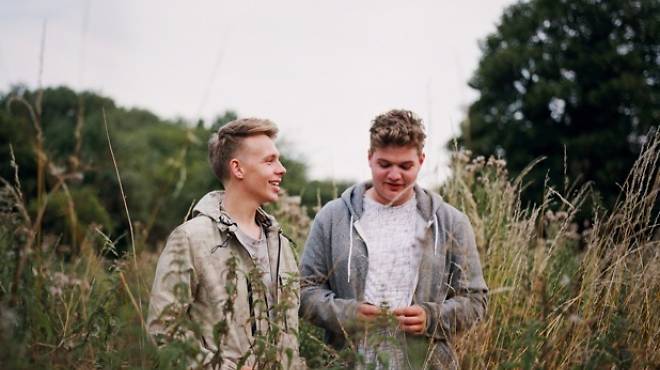 Is it true Pharrell Williams is 40 years old?!
Yup. He may still have the sharp looks of an eagle, but he won't be the fresh face of R&B for ever.

Holy moly, we need some fresh R&B talent. Fast.
I'm way ahead of you. Meet Bondax, purveyors of some of the most daisy-fresh streetwise beats we've heard all year. Unlike Pharrell, Timbaland et al, these guys have time on their side. George Townsend and Adam Kaye met three years ago while at school, aged 16. George handles the production, while Adam plays the instruments.

And what makes them R&B contenders exactly?
Unlike their more floor-focused contemporaries Disclosure, Bondax make hyper melodic dance music aimed at hearts not hips. Shimmering single 'Baby I Got That' sounds like a hundred orgasms layered on top of each other, while their silky (and free) remix of Blackstreet's 'No Diggity' has been passed around the net more than that sneezing panda clip.

Phew, where can I see them?
Despite only just being old enough to get served in pubs, they're throwing a monster 5am warehouse party this Friday at Factory 7 in Shoreditch. I believe the word is 'swag'.

They've got the sexy tunes, the fly party, they're sorted! Where are these talented playboys from by the way – LA? Miami? Paris? 
No, Lancaster.
The Horrors, Little Dragon, The Dandy Warhols, Bondax, Basement Jaxx, Roots Manuva, Hercules & Love Affair, Gilles Peterson, DJ Yoda, Sink The Pink, The Cuban Brothers, Ella Eyre, Kwabs, The Antlers, Saint Raymond, Hypnotic Brass Ensemble and more. Continuing the trend for festivals that started in someone's back garden and then got huge, Standon Calling returns for its tenth year of boutique fun. The big scoop this year is an exclusive set from US rockers The Dandy Warhols (yep, them of 'Bohemian Like You' fame). Joining them on the bill are electrifying dance-pop genre-splicers Basement Jaxx, UK hip hop star Roots Manuva and a shedload of other acts. The theme has been announced as 'A Town of Two Faces': think Tarantino's 'From Dusk Till Dawn' meets the Wild West, and prepare for a
Faithless, Hardwell, Motörhead, Clean Bandit, Rudimental, Tom Odell, Bondax, Fear Factory, Hannah Wants, Octave One, Napalm Death.It's fair to say that Exit, dreamt up by three university students back in 2000 as a ten-day party after Slobodan Milosevic's resignation, is now one of the biggest hitters of the European festival scene. As ever, there's a healthy mix of acts on offer inside the incredible fortress setting, including a fair bit of heavy rock and metal from Motörhead, Nalpam Death and co., plus poppier ventures (Clean Bandit, Tom Odell) and plenty of DJs to up the beat quota.
Duke Dumont, Eats Everything, Gorgon City, Jamie Jones, Loco Dice, Maceo Plex, MK, Nina Kraviz, Seth Troxler, Sigma, Ten Walls, Wilkinson, Bicep, Bondax, Dusky, Heiei, Joy Orbison, Paul Woolford, Skream + more. Still a young-ish gun in the ever-expanding Croatian dance festival scene but certainly one of the most popular, Hideout returns for another year of hedonistic dance antics and boat parties. Once again, the line-up will delight dance music devotees of all kinds (though house and techno are the primary sounds), as well as those who just like a good party. There are tons of big-name DJs as well as plenty of underground aces on hand, and as you'd expect, most of the arenas are open-air and beachside, making for plenty of sunrise DJ sets. Expect the party-loving crowd to be whooping
---
Watch the video for 'Giving it All'
---