What's the deal with… Bondax?
Get the lowdown on the daisy-fresh teenage production duo
By Oliver Keens Tue Oct 1 2013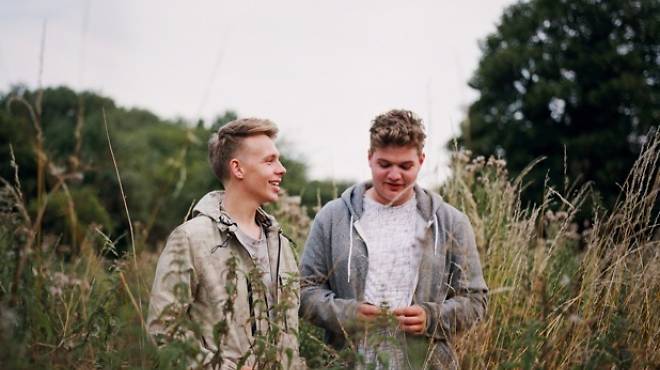 Is it true Pharrell Williams is 40 years old?!
Yup. He may still have the sharp looks of an eagle, but he won't be the fresh face of R&B for ever.

Holy moly, we need some fresh R&B talent. Fast.
I'm way ahead of you. Meet Bondax, purveyors of some of the most daisy-fresh streetwise beats we've heard all year. Unlike Pharrell, Timbaland et al, these guys have time on their side. George Townsend and Adam Kaye met three years ago while at school, aged 16. George handles the production, while Adam plays the instruments.

And what makes them R&B contenders exactly?
Unlike their more floor-focused contemporaries Disclosure, Bondax make hyper melodic dance music aimed at hearts not hips. Shimmering single 'Baby I Got That' sounds like a hundred orgasms layered on top of each other, while their silky (and free) remix of Blackstreet's 'No Diggity' has been passed around the net more than that sneezing panda clip.

Phew, where can I see them?
Despite only just being old enough to get served in pubs, they're throwing a monster 5am warehouse party this Friday at Factory 7 in Shoreditch. I believe the word is 'swag'.

They've got the sexy tunes, the fly party, they're sorted! Where are these talented playboys from by the way – LA? Miami? Paris? 
No, Lancaster.
Snoop Dogg, Foals, Bastille, Rudimental, Disclosure, London Grammar, Kendrick Lamar, SBTRKT, Warpaint, Factory Floor, Sam Smith, Moderat, Katy B, Pusha T, John Hopkins, Chromeo, Clean Bandit, Soul II Soul, Danny Brown, Bondax, Tensnake, Cyril Hahn, Gold Panda, DJ Koze, Jacques Greene, Ryan Hemsworth, Thundercat, No, not a Blur tribute festival but a huge two-day offering from a top notch Manchester production team offering a top-notch mix of DJs and bands that leans more towards dancier and electronic endeavours (as shown by the addition of beat bigwigs like Disclosure, SBTRKT, Moderat and Flying Lotus), but also with some cracking guitar antics from Bastille, Foals and Warpaint, plus epic hip hop from headliner Snoop Dogg.
Suede, Frank Turner and the Sleeping Souls, De La Soul, 2ManyDJs, Happy Mondays, Miles Kane, Tom Odell, Clean Bandit, Bondax, Gorgon City, Ella Eyre, Andy C, Zane Lowe, Mr Scruff, Newton Faulkner. 2014 is the big tenth anniversary for this family-friendly, Lake District-located festival. Think real ale, rolling hills and babbling brooks as far as the eye can see, providing a stunning backdrop for a range of mainstream and alternative bands, broadly covering indie, rock, folk and some ace DJs in the mix, too. If you're craving a bit of a buzz amongst all that serenity, you can find Charlatans frontman Tim Burgess peddling caffeine fixes at his own coffee stall, as well as a late-night cinema, children's area and real ale festival. Line-up is still TBA, but last year's included Basement
---
Watch the video for 'Giving it All'
---