Alan Davies's top ten stand-up comedians
The 'QI' and 'Jonathan Creek' star reveals his favourite comics
© Muir Vidler
Continuing our series of comedians naming their favourite comedians, here we have Alan Davies – aka crime-solving magician's assistant Jonathan Creek and Stephen Fry's 'QI' sidekick – who's coming to the Hammersmith Apollo as part of his 'Life is Pain' tour. Here are his top ten (living) stand-ups.
10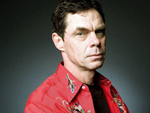 Rich Hall
'When he finds someone youthful in the front row and says, "Hey kid, how old are you, for Christ's sake?" you know he's going to weave some improvised joy that will have the kid in question laughing as much as the crowd. I loved him as [his convicted country music star character] Otis Lee Crenshaw too, and I would go up to the Gilded Balloon studio most nights at the 1998 Edinburgh Fringe to see that show.'
---
9
Andy Kindler
'At the Montreal Comedy Festival in 1995 Andy Kindler and his friends, among them Blaine Capatch and Sarah Silverman, ran a noon seminar in the hotel where all the comedians were staying titled "How to be a hack comedian". The room was packed with comics who roared with laughter as every little trick of the trade was ruthlessly demonstrated and ridiculed. I can't believe there was an act in the room who didn't recognise their own worst traits at some point.'
---
8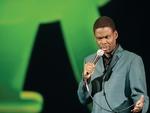 Chris Rock
'If only for his routine about parenting a daughter: "Keep your baby off the pole." Like Steven Wright, Louis CK, Jerry Seinfeld… they all just pick up a mic and make you laugh continually. And like Bill Cosby, there's no set and no showbiz, just stand-up.'
---
7
Kiki & Herb
'I love a drag act. In Edinburgh a few years ago I saw this duo four times. The faded glamour, the rage, the hilarious backstory of their relationship over the preceding decades. Very funny.'
---
6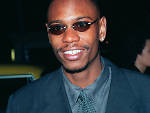 Dave Chappelle
'On holiday in New York in 1994 I saw him at the Comedy Cellar. He made lots of good jokes about us white folks and then told us that he didn't hate us, he loved us, and it was because he loved us that he wanted to tell us what black people have been saying about us behind our backs. I still remember that joke nearly 20 years on.'
---
5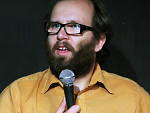 Daniel Kitson
'His MCing of the last night at the Red Rose Comedy Club a few years ago was joyous. Warmth, wit and occasional savagery disguised with a knitted tea cosy. He's my number-one choice for a "QI" guest and he steadfastly refuses to come on. Shame, as he would be hilarious. His storytelling stuff is good but his spontaneous wit at a stand-up gig is second to none.'
---
4
Lee Cornes and Steve Frost as Dickie Valentino and Reg Prince
'Lee Cornes was the funniest comic on the circuit when I started in 1988, even though he spent most of his act asking if anyone else was too warm. He and Steve Frost hosted a show at the Hackney Empire together around that time. Dickie was a vile little egotist and Reg his giant idiot sidekick. They worked away at the crowd until poor Reg was cheered every time he appeared and Dickie was having kittens over it. Hysterically funny. Loved the pair of them in "The Wow Show" too.'
---
3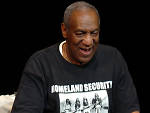 Bill Cosby
'At the Albert hall in the early '90s he gave a masterclass in stand-up comedy. No set, no light show, just talent and humour. I'd never been part of a unanimous, spontaneous standing ovation at a gig, but I was that night. I'd seen Dave Allen around that time and he was arguably funnier, but I can't have him because he's dead.'
---
2
John Hegley
'I always try to see John's shows at Edinburgh. I find it emotional watching him now. It gets me a bit tearful. His vulnerability is on show as well as his stern schoolmaster tone. His gigs with "The Popticians" in the '90s were unfailingly joyous.'
---
1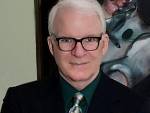 Steve Martin
'His "Wild and Crazy Guy" concert video from 1979 is my most played item. Never fails to make me laugh.'
---
AS the elusive US comedy heavyweight and 'Chappelle's Show' star heads to London, we offer some essential viewing to get you pumped (or bring you up to speed)
Rated as: 4/5
Critics choice
This Aussie character comic takes aim at his audience, and he kills it.
Buy tickets
The ten shows that'll make you laugh most this month
Nearly 30 years on, 'Whose Line…' is back and fresher than ever. You couldn't make it up
More info
See latest comedy features
---
Read more comedy interviews