Monty Python interview. Say no more.
The biggest reunion in comedy history is about to take place at the O2 Arena. We speak to the five surviving Pythons and find a bickering comedy 'family' who aren't going to go quietly
By Ben Williams. Portrait Andy Gotts Tue Jun 17 2014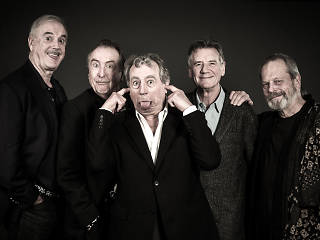 It's 10am on November 25 2013 and I'm sat at my computer frantically clicking 'refresh'. I let out a yelp 43.5 seconds later and clasp my head in my hands. Like thousands of others, I've failed to nab tickets to the most anticipated comedy show of the century: Monty Python, live, for the first time since 1980. (If, like me, you missed the boat, never fear: nine more shows have since been added.)
To call the Pythons 'comedy icons' feels almost disrespectful. Their status speeds past 'comedy royalty' into 'godlike geniuses'. You'd be hard-pressed to find another comedy group who have had such a profound influence on comedy, heck, even British culture at large. The list of Python-inspired comedians is longer than a pair of John Cleese's trousers, the 'Dead Parrot Sketch' has been quoted by everyone from Margaret Thatcher to 'South Park' and, last year, a question about the Pythons was even added to the British Citizenship Test.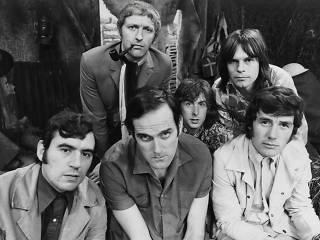 The Monty Python team in 1969
Since their unofficial split after 1983 movie 'The Meaning of Life' the five surviving Pythons, now septuagenarians (combined age 361) have ventured off in wildly different creative directions. So, as I speak to each separately over the phone from their respective homes across London and LA, I start with the big question: why reform at all? 'We need the money!' says Terry Jones. Eric Idle explains why: 'We were meeting last August in gloomy circumstances because we had just been sued by this twat,' he says. The 'twat' is Mark Forstater, co-producer of 'Monty Python and the Holy Grail', who claimed he was underpaid royalties from Idle's 'Spamalot' musical. The Pythons lost the court case, and it left them with a hefty legal bill.
But filling the coffers isn't the sole reason, Cleese insists. 'The Daily Mail immediately tried to spoil everything, as it does, by saying we were only doing it for the money,' he says. 'It'd be very interesting to know whether there are any Daily Mail journalists working for free! Most people work because they have to, but some of us are lucky enough to do things that we enjoy. So we're certainly doing it for the money, but also because we think it's going to be a fun experience. At 74 I welcome these experiences.'
Financial need may have triggered the reunion, but now it's a reality all five Pythons seem rather excited about it. Seventy-one-year-old Idle, especially, is in his element. He's taken on directing duties and is putting together the running order. Why has he been landed with most of the actual work? 'I was the only one who was available,' he says, 'having carefully positioned myself into a nice retirement. This is the worst I've ever been paid for nine months' work!'
'Monty Python and the Holy Grail'
Gilliam says Idle has been pushing to reunite for some time. 'I think he had the script already written,' he says. But Gilliam, the self-proclaimed 'least recognisable Python', 73, hit the headlines last month when he deemed the reunion 'depressing' and that the Pythons had 'sold out'. 'Oh, he's such a little arsehole!' says Idle, when I mention the comments. 'He's got to be the one that's always more holy than everybody else. He'll be saying he's the only real artistic one, but that's because he equates artistic success with box office failure.' Cleese, too, sighs at Gilliam's remarks. 'Terry finds a lot of life depressing,' he says, drily. 'He's been engaged in a lifelong struggle with reality, and I think he's losing.' Gilliam, however, laughs when I quote his words back at him. 'We "sold out" in 43 seconds, is what I actually said,' he claims. 'For me, Python was a long time ago. On one hand it's very nice, but on the other it's kind of depressing because it's like time stood still. I never left Python; I thought I'd got quite a long way from it, but not really. You can never escape your family.'
'Family' seems the most apt word to describe the Pythons' relationship. Like siblings, they've had their spats over their 50 years. 'We exasperate each other sometimes with our different ways of looking at the world,' says Michael Palin. 'But we are the only five people who know what Python really is all about, and that's quite something. It's like being keepers of some strange mystery.' 'We'd fight over what sort of chairs to use,' says Idle. 'But disagreement was the healthiest form of collaboration. Criticism opened the door to where a sketch would go next.' Tensions between Cleese and Terry Jones have been the most widely reported over the years. Jones claims they only locked horns occasionally, but he does think Cleese 'underestimated' him. 'I think he thought I was tagging along with Michael Palin,' he says. 'John was always the head, and I was the bowels! But he's much kinder now.'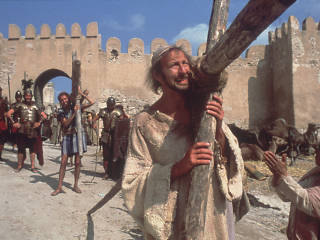 Graham Chapman as Brian in 'Monty Python's Life of Brian'
One family member is missing, however. Graham Chapman died from cancer in 1989. But he will still be a part of the reunion shows. 'Luckily we have film footage of him,' explains Idle. 'He's even going to sing, for fuck's sake!' So what would Chapman have thought about reuniting? 'I think he would have found it extremely silly,' says Palin. 'Python is six people, so it's like a six-legged table: take one leg away and it's a bit wobbly. We're not going to have anybody dressed as Graham, God forbid – God has forbade us, actually – but he will be there.' 'We never knew what he was thinking half the time,' says Gilliam. 'Graham was a classic pipe-smoker: he always looked very wise and knowledgeable, but I'm not sure if that was [what was] going on in his head or whether it was just blind panic.'
Reminiscing about Chapman brings back fond memories for the Pythons. Despite their differences, they shared some extraordinary experiences before going their separate ways. Palin says the 'sheer joie de vivre' of doing the early 'Monty Python's Flying Circus' TV shows is what stands out for him. 'The first time I heard the "Dead Parrot", the first time I read out the "Spanish Inquisition": those were the best moments.' But Palin, 71 and the youngest Python, is also the first to admit it wasn't unalloyed comedy gold. 'Some of it was crap,' he says, 'and I look back and I groan. But it was usually justified by the three or four good sketches that were in every show.' Gilliam thinks that was the group's genius: 'We could do crap better than anybody else, and get away with it!'
'Monty Python's Meaning of Life'
When 'Flying Circus' first aired in 1969 the BBC gave the Pythons an extraordinary amount of freedom. In these times of tabloid outrage and compliance cops, could the programme have been made? 'Definitely not,' says Cleese. 'In those days the departmental heads were trusting of their producers. One of the things that makes me saddest about the way the country has gone since I was young is the BBC. I look back at what was a magnificent institution. Then, for economic reasons, that wonderful institution was thinned down.' Gilliam agrees: 'Everything now has to be pre-digested for the nation by frightened executives who don't want to lose their jobs. For creative people it's very, very destructive.'
Either way, it's academic. There won't be another series of 'Flying Circus'. Or another Python film. The O2 shows next month have been announced as Monty Python's farewell performances. The final show has been dubbed 'The Last Night of the Pythons' and will be beamed live to cinemas across the globe. Is this really it? 'It's got to be the last time,' says Idle. 'We're not going to become the Eagles, trolling around the world. It's a nostalgic farewell. And it's better than a fucking funeral!'
Monty Python in 2013 © Andy Gotts
Gilliam, however, typically refuses to toe the party line: 'I think we called our last tour "Monty Python's Final Tour",' he recalls, 'so I would never trust anything Python says. The sad thing is the "Awful Family" sketch isn't going to be in the show. I always enjoyed asking for more beans and just being completely vile. But I do like being shot by John, when I'm singing my one and only composition, "I've Got Two Legs". Doing that while dangling from the roof of the O2: that'll be fun.'
Still, for the 15,000-strong crowd each evening – and the thousands more watching in more than 2,000 cinemas in 36 countries across the world – it'll be a moving finale. For Gilliam it will 'just be a relief that we're all still standing. With the last show being filmed, we might end up doing a homage to Tommy Cooper and dying on stage,' he says. Fingers crossed that won't happen. But, if it does, what could be a more fitting finale than a live performance of the 'Dead Python Sketch'?
'Monty Python Live (Mostly) – One Down, Five to Go' is at the O2 Arena, Jul 1-5, 15, 16, 18-20. Tickets available through montypythonlive.com and 08448 560202 'The Last Night of the Pythons' will be broadcast live to cinemas on Jul 20. 'Monty Python Sings (Again)' is released on Jun 30.
Interviews
---
---