Amour Fou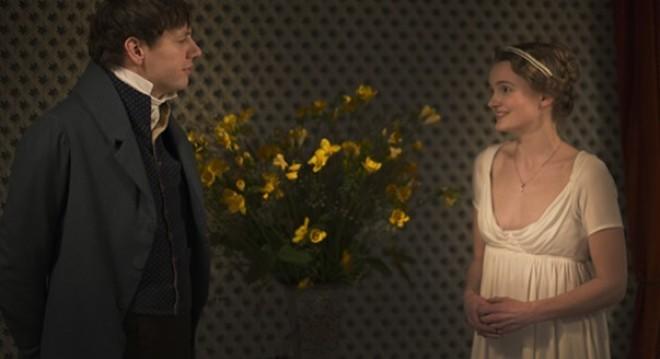 Time Out rating:
<strong>Rating: </strong><span class='lf-avgRating'>4</span>/5
Time Out says
Sat May 17
Jessica Hausner's entrancing feature, billed as a 'romantic comedy' (a dark one at that), begins with the stoic's equivalent of a meet-cute: it's 1811 in Berlin. Heinrich (Christian Friedel) is an author with an exceedingly melancholy disposition. Henriette (Birte Schnoeink) is a woman determined to live out her life in servile deference to her businessman husband (Stephan Grossmann). The writer is smitten at first sight; the lady demurs his affections. When Heinrich later proposes that they die together in a suicide pact, Henriette blanches. But her feelings change after she is diagnosed with a terminal illness.
Those in the literary know are surely familiar with these particulars, since they actually happened between the great German novelist and poet Heinrich von Kleist – most famously the author of 'The Marquise of O' – and his cancer-afflicted friend Henriette Vogel. (The duo's shared grave at Kleiner Wannsee still draws visitors.) Theirs isn't a romance informed by physical lust or passion for life, but by an all-consuming obsession with death.
Hausner, whose rigorous, radically feminist films like 'Hotel' (2004) and 'Lourdes' (2009) seem equally derived from Chantal Akerman and Stanley Kubrick, recognizes the comic possibilities – intentional and otherwise – of the scenario. It takes some time to get acclimated to Heinrich's gloomy pronouncements ('Would you like to die with me?' he wonders, as if inquiring about the weather), as well as to the literal stiffness of the performers. (When Henriette remarks that she feels like a marionette, it comes off as a knowing acknowledgment.) Even the wallpaper in Henriette's drawing room – very Charlotte Perkins Gilman – seems as if it might come to life and swallow the characters whole. You're not sure whether to laugh at or recoil from these people and their oppressive surroundings.
That tension actually works to the advantage of 'Amour Fou', drawing you in the more you submit to Hausner's chilly rhythms. The movie adheres to the basics of the von Kleist-Vogel story while pushing off into several provocative thematic areas of its own. Especially pointed is the question of whether Henriette is a willing participant in von Kleist's depressive mania. Is she suffering from a self-made crisis of the heart, or is this an ailment brought on by the stigmas of the patriarchal society in which she lives? (The gender politics get knottier, even as the film's surface remains unyieldingly austere.) One thing's certain: this is no swoony love story. It intoxicates all the same.
Author: Keith Uhlich
Release details
Duration:
96 mins
Users say
<strong>Rating: </strong><span class='lf-avgRating'>0</span>/5