Beyond the Sea (12A)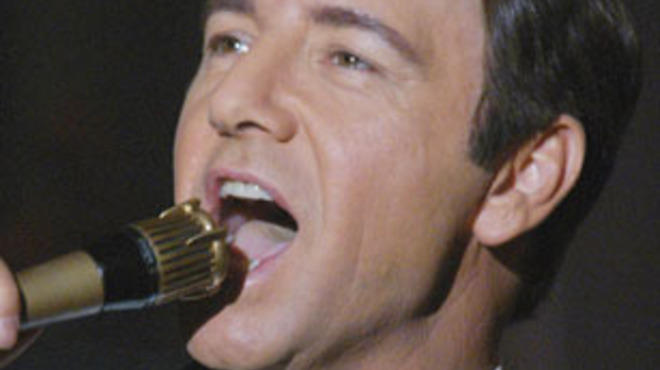 Time Out says
One of the choicest passages in the 1981 camp-horror classic 'Mommie Dearest' finds the twentysomething Christina Crawford, recently cast in an afternoon soap, languishing in her hospital bed following emergency surgery and fixing her groggy eyes on the television screen, where she glimpses an all-too-familiar face: mummy Joan, it seems, has seized the grand vocational opportunity presented by Christina's indisposal and taken over her daughter's telly role, in blithe defiance of both common courtesy and a 35-year age difference. Christina's fog of bewilderment may gather over audiences of 'Beyond the Sea', because the fresh-faced ingénu who was surely intended to portray wholesome actor-singer Bobby Darin has been nudged aside by a middle-aged guy named
Kevin Spacey
. Jowly and creased, his nose thickened with coarse prosthetics, director-star Spacey re-envisions Darin's career-boosting 1958 'American Bandstand' performance of 'Splish, Splash' (televised when Darin was 22) as a Humbert Humbert daydream, as nubile, ponytailed bobbysoxers scream and swoon over the oiled-leather oldster.
The viewer's confusion might deepen once Spacey starts pawing at doll-like teen bride Sandra Dee – the role is credited to
Kate Bosworth
, but the 'Blue Crush' babe bears little resemblance to the worryingly wan and thin creature, tottering on toothpick legs as if forever on the crumbling edge of 'nervous exhaustion', you see onscreen. Fatigue is the watchword here, since Spacey's long-gestating labour of love recalls the equally trying 'The Life and Death of Peter Sellers' in its queasying maternal fixations and creaking meta-narrative gimmicks. The auteur's first and biggest mistake, of course, was choosing himself for the lead – he should have opted for Faye Dunaway.
Jessica Winter
Author: JWin
Release details
Rated:
12A
UK release:
Fri Nov 26, 2004
Duration:
121 mins
Cast and crew
Director:
Editor:
Production Designer:
Cinematography:
Producer:
Cast:
Music:
Users say
<strong>Rating: </strong><span class='lf-avgRating'>0</span>/5