Cannes Film Festival
Everything you need to know about the film world's most famous festival in 2014
By Time Out editors Thu Apr 17 2014
Cannes Film Festival so far...

The biggest films at Cannes 2014

What's going to happen this year?

The Brits are storming Cannes!

The Palme d'Or effect
Descending on the Croisette this year will be filmmakers including Britain's Mike Leigh and Ken Loach, Canada's David Cronenberg, Turkey's Nuri Bilge Ceylan, Belgium's Dardenne brothers and the US's Tommy Lee Jones. Actors and actresses including Nicole Kidman, Robert Pattinson, Juliette Binoche, Marion Cotillard, Ryan Gosling and more will also walk the festival's famous red carpet. Below, you'll find details on all 18 films competing for the Palme d'Or.
The 2014 Cannes Film Festival competitors
---
More reviews from across the festival
Dir: Frederick Wiseman
Wiseman turns his inquisitive lens on the employees, patrons and paintings of London's National Gallery.
Read review
---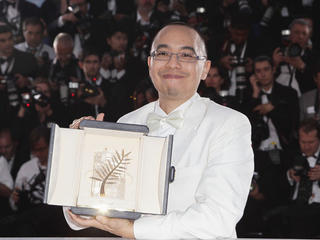 As the 2011 Cannes Film Festival came to an end, to equal amounts bewilderment and pleasure, Terrence Malick picked up the Palme d'Or for his history-spanning magnum opus, 'The Tree of Life'. So, we took the opportunity to take a long glance back at some of the past winners of world cinema's most prestigious prize.

Take a look at our top ten and let us know what you think. Did we get it right, or have we missed a winner who you think should be in the list? Whatever your view, leave a comment at the bottom of the page.
Take a look at the ten best Palme d'Or winners at Cannes Film Festival
---
The best films now showing
It's the one we've all been waiting for. And it's a solid gold winner
Cumbers is at it again, playing another tortured, flawed genius
See more Time Out film reviews
Read a review of...
Regular Time Out film features