Charlotte's Web (U)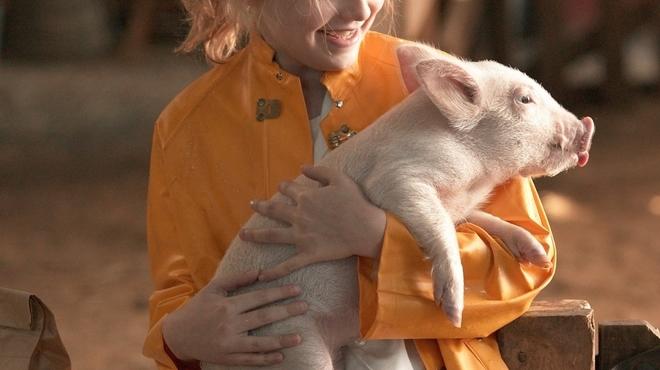 Time Out says
Tue Feb 6 2007
The eponymous character in this faithful, live-action adaptation of EB White's quaint 1952 tale of friendship, salvation, sacrifice and mortality isn't, as the title suggests, some noirish femme fatale. Rather, she's an innocent spider with a propensity for literacy. But then most schoolkids already knew that.
The film begins with the sight of a runty piglet called Wilbur being carted off to slaughter. Alarmed by the prospect of a cute piggy ending up in the smokehouse, the farmer's daughter, Fern (
Dakota Fanning
), convinces her father to reprieve it, at least temporarily. Sadly, when Wilbur becomes too big to handle, he's dispatched to a neighbouring farm to await the breakfast table. But then something miraculous occurs… In the doorway to Wilbur's new pen, a spider's web appears with the words 'some pig' emblazoned across it. It's a 'Field of Dreams' moment, a spiritual occurrence that attracts hundreds of folk from far and wide. Seems the little fella could be saved after all… White's endearing book has long been considered one of the most sensible children's books on the subject of mortality and the cycle of life, and
Gary Winick
's anthropomorphic 'Babe'-like effort handles those aspects with care and sensitivity. But in the main it's a dull slog punctuated by unfunny fart jokes and tired knockabout humour. Of the all-star voice cast –
Julia Roberts
,
Steve Buscemi
,
Robert Redford
– only
John Cleese
is recognisable and rather annoyingly at that. Still, youngsters will warm to the barn's talking animals and perhaps even shed a tear at the sight of a spider shuffling off the mortal coil. Arachnaphobes, though, are advised to approach with caution.
Author: Derek Adams
Release details
Rated:
U
UK release:
Fri Feb 9, 2007
Duration:
97 mins
Cast and crew
Voices:
Cast:
Director:
Screenwriter:
Producer:
Cinematography:
Production Designer:
Editor:
Music: