Eden (12A)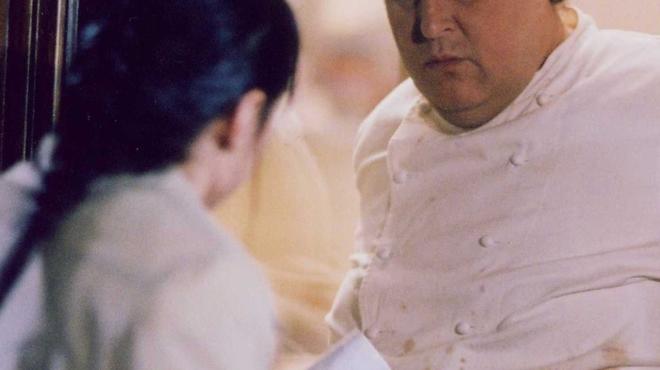 Time Out says
Tue Mar 13 2007
Writer-director
Michael Hofmann
's curious, ooh-so-sensitive, romantic drama mixes elements of adult fairytale, erotic foodie movie and miserablist outsider film. It's set against the sylvan but, seemingly, socially-regressive background of Germany's Black Forest, but all the characters are strictly those found only in movieland.
Josef Ostendorf
is passive and affecting as plump, gentlemanly, master chef Gregor who strikes up a platonic relationship with neglected wife Eden (
Charlotte Roche
, out wide-eying Amélie), after the proffered chocolate cake he makes for her Downs Syndrome daughter Leonie hits the mother's G-spot. It's primarily a two-hander. Hofmann charts the beauty and the beast's innocent culinary 'orgies' with delicacy and directorial confidence, but his parable is spoilt by the crude moral oppositions set up by the script. Eden's jealous husband Xaver – who embarks on a pathetic and vindictive vendetta against the altruistic gourmand – is a preening, insecure jerk surrounded by boozy, boorish mates; Gregor loyally employs a deaf waiter at his three-table, loss-making restaurant. Even the presence of sweet little Leonie (Leonie Stepp, herself Downs Syndrome) seems, discomfitingly, a mere index of liberal identification. There are seriously off-key moments, too – notably, the revelation that Gregor served up his stepfather's dog to him as Sunday dinner. An over-filled smorgasbord of sweet intentions, then; clearly too soft and sentimental but, equally, hard to dislike. The saving grace is a modicum of spiteful, deadpan humour at dumbkopf Xaver's expense.
Author: Wally Hammond
Release details
Rated:
12A
UK release:
Fri Mar 16, 2007
Duration:
98 mins
Cast and crew
Cast:
Director:
Production Designer:
Editor:
Cinematography:
Music:
Screenwriter:
Write your own review