Inside Llewyn Davis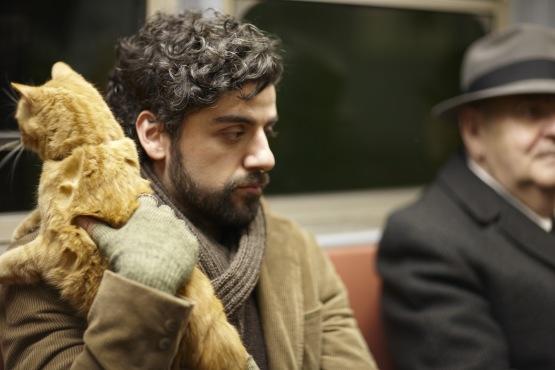 Time Out rating:
<strong>Rating: </strong>5/5
User ratings:
<strong>Rating: </strong>4/5
Rate this
Time Out says
Sat May 18
You can size up the Coen brothers' blacker-than-black, early 1960s time capsule 'Inside Llewyn Davis' from all sorts of angles. Is it a sideways look at a music scene? A reverential portrait of a unique time and place in recent-ish pop-cultural history? A melancholic but also extremely funny riff on what it was like to be a struggling folk singer in Manhattan in 1961 who didn't go the way of the scene's big noise, Bob Dylan? Is it a love letter to the absurdities of being an artist? You could even, at a stretch, call it a slippery, askew glance at Dylan himself – similar in its total swerving of the traditional music biopic to Todd Haynes's 'I'm Not There'. Dylan's definitely here in spirit, and if you look hard enough, maybe even in person.

Whatever you call it, it's special. As if the cover of 1963's 'The Freewheelin' Bob Dylan' album had come alive with its muted colours and its snowy, scrappy streets, 'Inside Llewyn Davis' offers a few days, maybe a week or two, in the life of a fictional folk musician Llewyn Davis (Oscar Isaac). The Coens say they very loosely based Davis on the memoir of Dave Van Ronk, a musician on the scene at the time.

Davis is a wound-up – almost washed-up – beatnik, whose life is falling to pieces after some fleeting success in a pop duo. All he wants to do is make a living playing the simple, earnest folk music he loves, but the music industry is showing him no love and the only work he can get is as a session musician on a ropey single.

Davis performs at the Gaslight Café in the Village (where we see barely veiled versions of the Clancy Brothers and Peter, Paul & Mary performing well-known folk songs live). He has a fractious relationship with a spiky, angry ex-lover (Carey Mulligan, sweet as pie on stage, sour as lemons off it), and flits between friends' sofas, showbiz offices and bars, taking us on an odyssey of memorable side characters.

These include his agent's brash, elderly secretary, a pushy, snapping older sister and a ginger cat which belongs to some uptown academics and which he manages to lose downtown. Davis also takes a trip to Chicago, hitching a ride with a vile, bitter jazzman (John Goodman) and his near-silent young sidekick (Garrett Hedlund). This is still a world of half-colours, whose palette barely ventures beyond browns, black and greys. The times haven't quite a-changed yet, and someone forgot to tell the '60s of 'Inside Llewyn Davis' that they've started.

Here are the Coens in the miniature, funny-weird-sombre mode of 'A Serious Man', and this film is almost as explicitly Jewish in the characters it chooses and their behaviour and language. In a lovely, strange moment we meet a Jewish-Chinese couple who've given their kid the new surname Greenfung. The love the Coens show for the music at the film's heart nods to 'O Brother, Where Art Thou?' too, of course, and they put centre stage songs like 'Fare Thee Well', which bookends the film, sung by Davis at the Gaslight.

The Coens poke a bit of fun at the folk scene and at Davis along the way (whose ego can do with pricking). But the mood is generally tender and warm, with a brilliant dash of the surreal (witness the too-narrow corridor with diagonal doorways in the building where some of Davis's friends live). The film's on the right side of nostalgic, too, and nowhere near the warped, exaggerated visions of musical revolutions that cinema often opts for. At its core is a character, Davis, played with a lot of sympathy, although not without an unpalatable edge and totally selfish streak, by Isaac. When we see him getting beaten up in an alleyway at the beginning and end of the film – the same event repeated – we're sorry, but we also know he kind of deserves it. The Coens have given us a melancholic, sometimes cruel, often hilarious counterfactual version of music history. It's a what-if imagining of a cultural also-ran that maybe tells us more about the truth than the facts themselves ever could.
Author: Dave Calhoun
Release details
UK release:
Fri Jan 24, 2014
Duration:
105 mins
Write your own review