Oscars 2013: the winners
The full list of winners from the 2013 Academy Awards
Thanks to a strong and diverse slate of films, the 2013 Academy Awards ceremony was an unpredictable affair: in the big six categories (Best Picture, Best Director and the four acting categories) not a single film took more than one award. Everyone assumed before the night that 'Argo' would take Best Picture, but it was far from a sure thing. In fact, the only truly safe bet was Daniel Day-Lewis and the Academy agreed, granting the British actor a record-breaking third Best Actor Oscar.
Overall it was a good night for 'Life of Pi' (four awards including Best Director and Best Cinematography), 'Argo' (three awards including Best Picture and Best Adapted Screenplay) and 'Les Misérables' (three Oscars including Best Supporting Actress). And it was a perfectly respectable evening for 'Lincoln' and 'Django Unchained', each of which garnered two prizes apiece. Commiserations to 'Beasts of the Southern Wild', 'The Master' and 'Zero Dark Thirty' – but hey, it's surely nice just to be included, no?
---
The best of film on Time Out
---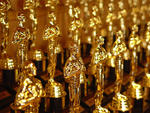 Take a look at the full list of 2013 Oscars nominees
Best films now showing
This old-school spooker is officially 2014's best horror film
David Fincher's dazzling adaptation Gillian Flynn's twisty page-turner
Pawel Pawlikowski makes a striking return to form with this heartbreaking Polish melodrama
See more Time Out film reviews
Read a review of...
Regular Time Out film features