The 100 best romantic movies: musical
Experts including Tom Hiddleston, Joan Collins and EL James vote for the best films about love and romance
Now we know which are the 100 best romantic movies of all time. But which are funny and which are heartbreaking? Which depict a dignified romance and which are saucy tales of lust? Which are strictly arthouse and which are simply cheesy? We've applied 19 handy labels to the 100 films in our list. Here you'll find all the films we think deserve the label 'musical'.
Got something to add? Tell us what you think in the comments below.
The 100 best romantic movies: musical
26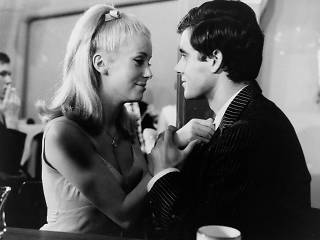 The Umbrellas of Cherbourg (1964)
Director: Jacques Demy
Cast: Catherine Deneuve, Nino Castelnuovo
Best quote: 'People only die of love in the movies.'
Defining moment: A sad, bittersweet meeting in the snow, two lovers seeing each other for the first time in years.

 
All things bright and beautiful
You'd need to have a sliver of ice lodged in your heart not to be moved by 'The Umbrellas of Cherbourg' – a musical that has even hardened musical-haters melting into puddles. Not that it's a musical in the belt-'em-out tradition. Instead, every word is sung rather than spoken as 17-year-old Geneviève (Deneuve) falls sweetly and madly in love with car mechanic Guy (Castelnuovo).
'Umbrellas' is one of the most ravishing films ever made, wrapped in candyfloss colours to match the blush of first love. When Guy is drafted to fight in Algeria, Geneviève is certain she will die of grief. But time passes and Geneviève doesn't die. Love fades. And that's the bittersweet message inside this exquisitely sugar coated pill. CC

Read the Time Out review of 'The Umbrellas of Cherbourg'
---
49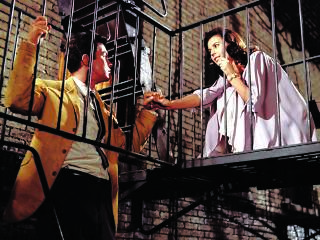 West Side Story (1961)
Directors: Jerome Robbins, Robert Wise
Cast: Natalie Wood, Richard Beymer, Russ Tamblyn
Best quote: 'There's a place for us, somewhere…'
Defining moment: It's as camp as Christmas, but Maria (Wood) singing 'I Feel Pretty' while anticipating her next date with Tony (Beymer) is a magical moment of romantic exuberance.
The song of the streets
Baz Luhrmann's 'Romeo + Juliet' may have made all the tweeners' hearts melt (and scored a higher place on this list), but the real hep chicks and finger-poppin' daddies know which version of Shakespeare's play is the real leader of the pack.
'West Side Story' is like no other musical: sure, it's sappy ('Mariaaaaaaaaaa') and slightly ridiculous, but it's also brazenly political ('if you're all white in A-me-ri-ca!'), sneakily self-mocking ('Hey, I got a social disease!') and ferociously, aggressively emotional: the operatic finale is a masterclass in three-hanky audience manipulation. Also, the film contains perhaps the single best song ever written for the musical theatre: 'Somewhere', the ultimate romantic ballad for trapped and dreaming lovers. TH

Read the Time Out review of 'West Side Story'
---
67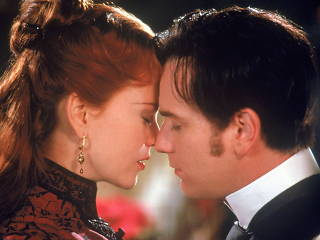 Moulin Rouge! (2001)
Director: Baz Luhrmann
Cast: Nicole Kidman, Ewan McGregor
Best quote: 'Come what may, I will love you until my dying day.'
Defining moment: David Bowie, Elton John, The Beatles and more are pressed into service in one mega-mixed Elephant Love Medley.
Nothing left toulouse
Baz Luhrmann takes the lavish staging of Bollywood, mashes up elements of the Greek myth of Orpheus together with Giuseppe Verdi's opera La Traviata, and throws it all into a kaleidoscopic blender along with some of the catchiest Western pop songs of the 20th century.
As with Luhrmann's inspirations, events are entirely passion-powered, as Ewan McGregor's 'oh-so-talented, charmingly bohemian, tragically impoverished' writer Christian conceives an amour fou for Nicole Kidman's courtesan Satine, serenading her with lines like 'the greatest thing you'll ever learn is just to love and be loved in return'. Of course, given the consumptive Satine is carrying more tuberculosis bacteria than your average badger colony, the greatest thing she's likely to have passed on to poor old Christian is a highly infectious lethal disease. CB

Read the Time Out review of 'Moulin Rouge!'
---
69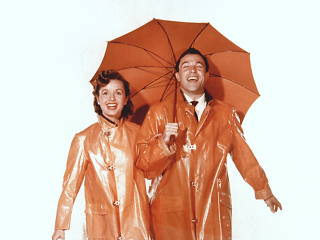 Singin' in the Rain (1952)
Directors: Stanley Donen, Gene Kelly
Cast: Gene Kelly, Debbie Reynolds, Jean Hagen
Best quote: 'Here's one thing I learned from the movies!'
Defining moment: When Kathy (Reynolds) jumps out of a cake in front of Don (Kelly) at a party.



Stormy weather
The story of the transition from silent movies to the 'talkies' has created a sub-genre all of its own, including movies from 'Sunset Blvd' (1950) to 'The Artist' (2011). Here, it's a light-hearted affair set in the late 1920s as silent star Don Lockwood (Kelly) bumps into Kathy Selden (Reynolds), a chorus girl, when he leaps into her car and she pretends to be a serious actress.
It's a classic case of chilly antagonism thawing into true love as Don and Kathy finally fall for each other and become colleagues when his studio wants to make a talking picture and she has to step in to replace the unappealing voice of movie star Lina Lamont (Hagen). But more famous than any romance, surely, is the opening-credits song-and-dance sequence of Kelly and co performing the title tune? DC

Read the Time Out review of 'Singin' in the Rain'
---
78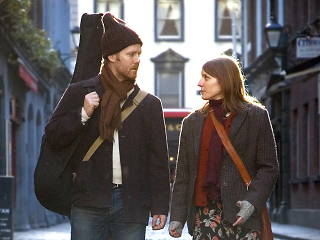 Once (2006)
Director: John Carney
Cast: Glen Hansard, Marketa Irglova
Best quote: 'What's the Czech for "Do you love him"?'
Defining moment: In a local music shop, an impromptu jam session between the two near-strangers shapes the gorgeous, Oscar-winning ballad 'Falling Slowly'.
 
Busking out all over
On paper, everything about this microbudget Irish folk musical sounds insufferably precious: on the streets of Dublin, a struggling thirtysomething busker meets a shy Czech flower seller and they form an immediate bond over his songs, from which a chaste will-they-or-won't-they flirtation evolves as they proceed, quite literally, to make sweet music together.
Yet there's a rare authenticity and sincerity to this intimate miniature that never so much as grazes the gag reflex, from the gentle chemistry of the non-professional, refreshingly non-pretty leads (collaborators and lovers in real life) to the naked emotional candour of their songs (one of which won a deserved Oscar) to the heartbreaking matter-of-factness with which the film resolves their ambiguous relationship. A wisp of a love story, but a perfect one. GL

Read the Time Out review of 'Once'
---
90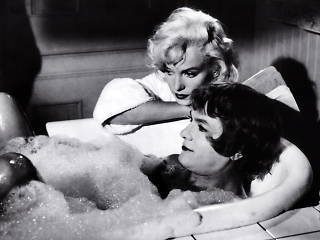 Some Like It Hot (1959)
Director: Billy Wilder
Cast: Marilyn Monroe, Tony Curtis, Jack Lemmon
Best quote: 'Nobody's perfect!'
Defining moment: Curtis, in disguise as a rich Brit, takes Monroe for a date on someone else's yacht.

 
Love comes in spats
The romance in 'Some Like It Hot' is very much of the anything-goes, outsider sort. Wilder's brilliant, high-energy transvestite comedy is a celebration of folk from the other side of the tracks dressed up as a madcap farce in which Curtis and Lemmon spend most of the film disguised as female musicians and on the run from the Chicago mob in 1929. It's also, of course, a vehicle for Monroe's beauty, charm and amply-platformed cleavage (seriously, check out her dresses in her two musical numbers).
Most of the fun lies in gender-bending games of mistaken identity that would make Shakespeare proud. But there's also some real feeling here, both between Curtis and Monroe and, most bizarrely if fleetingly, between Lemmon and an ageing playboy. Delightful and giddy. DC

Read the Time Out review of 'Some Like It Hot'
---
97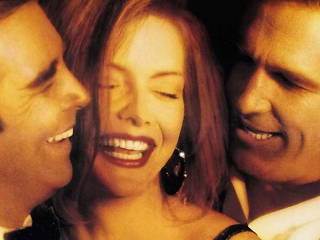 The Fabulous Baker Boys (1989)
Director: Steve Kloves
Cast: Jeff Bridges, Michelle Pfeiffer, Beau Bridges
Best quote: 'You're not going to start dreaming about me and waking up all sweaty and looking at me like I'm some sort of princess when I burp?'
Defining moment: Michelle drapes herself atop Jeff's piano for a smoky rendition of 'Makin' Whoopee'.
Another season, another reason
He knows he shouldn't. She knows she shouldn't. But they can't help themselves. For decades, talented but feckless Jeff Bridges has been working hotel lounges in an easy-listening piano duo with his steady-Eddie brother (and real-life sibling) Beau, but when the work dries up they take on a vocalist – Michelle Pfeiffer's Susie Diamond, a world-weary former escort seeking the showbiz spotlight.
Suddenly, the trio's a hit, but there's something in the air between Jeff and Michelle, which could break the act apart if they choose to respond to it. First-time writer-director Steve Kloves matches awkward adult emotions to razor-sharp dialogue, so naturally Hollywood picked him to adapt the 'Harry Potter' saga (!). Still, we'll always have the Airport Ramada… TJ

Read the Time Out review of 'The Fabulous Baker Boys'
---
---
The best songs from the top 100
Read a review of...
Regular Time Out film features
The best films now showing
This old-school spooker is officially 2014's best horror film
David Fincher's dazzling adaptation Gillian Flynn's twisty page-turner
Pawel Pawlikowski makes a striking return to form with this heartbreaking Polish melodrama
See more Time Out film reviews